Dishing Out Small Bites
Twin Beach Players invite restaurant patrons to listen in on private conversations and confrontations
reviewed by Margaret Tearman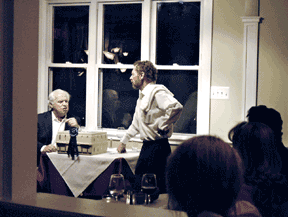 We've all been there: Sitting in a restaurant, enjoying a quiet meal when our attention is drawn to the conversation at the next table. We may be uncomfortable eavesdropping, but curiosity overrules and we lean closer, hoping to hear it all.
Such was the scenario April 22, when Twin Beach Players reserved a table at North Beach's Westlawn Inn to dramatize five one-act plays, none longer than 15 minutes. These vignettes, however, invited the restaurant's patrons to listen in on private conversations and confrontations.
Themed things that can happen in a restaurant, the vignettes served small bites of dinner theatre while the restaurant's business quietly carried on around them.
Westlawn Inn's first-floor dining room served as a stage; the set was a table for two. The inconspicuous, intimate setting delivered a restaurant within a restaurant.
"We wanted to do something different," said Lee Travers, owner of the Westlawn Inn. Travers and Twin Beach Players' Jeff Larsen conceived the two-Sunday run of dinner theater. "Together we hope to offer the community something they can't find anywhere else in the area."
Players Bess Wilkins and Peter Davis were delightful in the first course, "Awkward Silence," as they snappily revealed, in paired soliloquies, what they'd never say aloud on their blind date.
Next on the menu, in "Salmon Tribunal," diners overheard a confrontation between serial wives. Older first wife (Jeanne Kelly) reveals to younger second wife (Stacy Hook) that roles are reversed; she is back as the newest other woman.
In the third small plate, "Business Lunch," Phil and Josh Cosman, proved that even the most preposterous marketing ploy is feasible when paired with a good bottle of wine and buffalo steak.
In the fourth, "Dog Gone," Larry Kelly, Kim Hart and Marianne Rude didn't let anyone in on the con until the dog-gone end.
Dessert arrived in the fifth act of the evening with Tom Wines and Elizabeth McWilliams sweet as a struggling actor and agent in "Cleveland Waits."
Directed by Jeff Larsen, the five plays were perfect tapas, tasty and easily digested bites of laughter on a Sunday evening in otherwise quiet small town.
"We hope to do this again," Travers said. "I think it's a good marriage."
They do it again at 8pm Sunday April 29. Dinner reservations are fully booked. You'll have to listen in from the bar: 410-257-0001.