Color Your Garden with

the Best of Local Botanicals
A Green-Thumb Guide to Chesapeake Plant Sales
by Carrie Madren
As spring blossoms, your garden, landscape — or your window box — beckons. You can color your pallate with plants and flowers from a big-box store, your local nursery, even the supermarket. But you'll be hard-pressed to find the selection and value offered at the many seasonal Bay-area plant sales.
Advantages to shopping plant sales include quality, price and service. A hearty selection — many sales offer flora from expert gardeners' own collections — often includes varieties not found at stores. Most sales offer plants at bargain prices, especially when seedlings or divided stalks are extras from members' yards. As a bonus, you can talk to green-thumbed gardeners who can tell you where to put your plants and how to care for them.
Here we've culled the basics on Chesapeake Country's plant sales to help you navigate your way to a lush and blooming garden.
---
Who: Lower Marlboro Nursery
When: Fri. April 27, 10am-5pm; Sat. April 28, 10am-5pm; Sun. April 29, 11am-4pm
What: Browse hundreds of varieties of native perennials, trees, shrubs and woodland plants, plus exotics. Owner Mary-Stuart Sierra cultivates most of the plants from seed. Among Sierra's natives you'll find varieties of columbines, asters, phloxes and much more. Exotics include Latin roses and hybrid lenten roses.
Why: "I carry a lot of rare and unusual plants, mostly natives that you will not find in standard garden centers," says Sierra.
Where: Lower Marlboro Nursery, 7011 Flint Hill Rd., Owings: 301-812-0808.
---
Who: Bowie-Crofton Garden Club
When: Sat. April 28, 7am-1pm
What: Among homegrown stock, you'll find lilac bushes, butterfly bushes and black-eyed Susans. One club member specializes in rare-colored daylily varieties. Also browse bedding annuals, woody plants and hanging baskets from local nurseries and vegetable plants.
Special this year, Eric Butler from Center Peace brings in a variety of orchids.
Master Gardeners aid you in solving plant or pest mysteries.
Why: "Prices are dirt cheap," says club member Pat Clunies. "People can try out a plant without a lot of expense." Proceeds go towards scholarships to a University of Maryland student studying agriculture or horticulture.
Where: In front of Bowie Library, off Rt. 450 & Belair Dr., Bowie: www.bcgardenclub.org.
---
Who: Historic London Town and Gardens
When: Sat. April 28, 8am-1pm
What: Flora from Historic London Town and Gardens' eight-acre woodland gardens includes perennials, annuals, herbs, trees, shrubs, wildflowers and plants for your kitchen garden. Vegetable plants include beans, cucumbers, peppers and nearly 30 tomato varieties.
Find unusual native and exotic plant species, plus a collection of cold-hardy camellias hybridized right here.
As you browse, get expert advice from Arundel County Master Gardeners and London Town's director of horticulture, Cathy Umphrey.
Beyond plants, take free guided tours the William Brown House, and London Town's other sites. Kids find their own games and crafts, too.
Why: Buy some hard-to-find varieties of common plants. Camellia fans will enjoy cold-hardy camellias bred onsite by Dr. William Ackerman.
Where: Historic London Town and Gardens, 839 Londontown Rd., Edgewater: 410-222-1919.
---
Who: Calvert Garden Club
When: Sat. April 28; 9am-noon
What: Locally grown flora from garden clubbers' personal collections. Choose from shrubs, perennials, annuals and small trees. Score daffodil bulbs, hostas, daylily and more. Dine on grilled hot dogs as you browse, or indulge your sweet tooth at the bake sale table. A white elephant sale and popular raffles round out your visit.
Why: "We don't guarantee anything, but if someone buys something that doesn't make it, they can bring it in the next year and we'll exchange it," says club member Adele Maguire, whose fellow members can also add a dollop of advice on how to keep your new plant alive.
Where: Historic Linden House, Church St. off Main St., Prince Frederick: Adele @ 410-586-9353; www.calvertgardenclub.com.
---
Who: Maryland Pride Nursery
When: April 28 & 29, 9am-5pm (Rain date: May 5 & 6)
What: Gain leafy privacy for your yard with screen trees like Leyland cypress and green giant arborvitae. Or color your landscape with crepe myrtle that blooms from mid-July until frost. Also find small trees like southern magnolia and holly trees, as well as 40 varieties of plants like hostas and daylilies, all grown onsite.
Why: "I grow the trees you get when you don't want to look at your neighbor," says owner Ralph Nolletti. As you buy at this weekend sale, your dollars will benefit both the Charles County Humane Society and Operation Second Chance, which assists in recovery and rehabilitation of wounded service men and women.
Where: Maryland Pride Nursery, 15674 Prince Frederick Rd. (Rt. 231), Hughesville, Charles County: Ralph @ 301-274-0483.
---
Who: Four Rivers Garden Club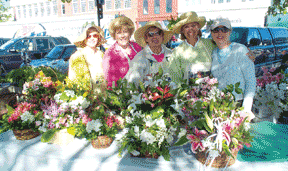 For 65 years, members of the Four Rivers Garden Club have offered plants, cut flowers and more at Annapolis City Dock the day before May Day.
When: Mon. April 30, 8:30am-2:30pm
What: This more than 65-year-old May Day eve tradition — from the oldest garden club in Anne Arundel County — has kept downtown Annapolis in bloom every May first. Plants come potted, ready for your garden, or as fresh cut blooms for your May Basket. Some 20 colorful, pre-made May baskets sell out quickly to eager buyers lined up before 8:30am. Browse a variety of potted perennials, annuals and herbs. Also find fresh baked breads and sweets, a gift table and more.
Why: "Many of the perennials and cut flowers are from club members' private gardens," says Four Rivers Garden Club member Marti Boyd. "You can find unusual things that have been growing well in this area."
Where: Next to Market House, near City Dock, Annapolis: 410-349-0610.
---
Who: Battle Creek Nature Center
When: Sat. May 5, 9am-1pm
What: Find over 30 types of herbs with native perennials from Lower Marlboro Nursery. There's no art sale this year, but you'll find art in blending herbs from Hillcrest Nursery in your summer fare.
Why: Keep your kitchen garden green while you help raise money to keep Battle Creek open year-round.
Where: Battle Creek Cypress Swamp, Gray's Rd. off Sixes Rd., Port Republic: 410-535-5327.
---
Who: Alice Ferguson Foundation at Hard Bargain Farm
When: Sat. May 5, 11am-4pm
What: The Alice Ferguson Foundation's plant sale coincides with their spring farm festival, so families can amp up their home gardens as they enjoy farm demonstrations. Plant sale offerings include annuals, perennials and native plants purchased fresh from local nurseries, typically colias, pansies, impatiens, marigolds, purple coneflower, black-eyed Susan and more.
Then take a wagon hayride to the river and back, and try out cow milking, butter churning and wool spinning. After a picnic lunch overlooking the Potomac, meet a bird of prey from Clearwater Nature Center from noon-2pm.
Why: Get double value for your drive as you entertain kids — and yourself — and cross plant shopping off your list. Raises funds for the garden volunteers to maintain the formal garden.
Where: Hard Bargain Farm: Take Exit 3A from I-95; south on Rt. 210; right on Livingston Rd. right on Biddle Rd.; left on Bryan Point Rd. to the farm: 301-292-5665; www.fergusonfoundation.org.
---
Who: Friends of Helen Avalynne Tawes Garden
Cindy Holschuh, Nancy Weber and Don Myers, Friends of Helen Avalynne Tawes Garden Club members, above.
You might get lost amid all the native flowers and herbs at Battle Creek Nature Center, opposite.
When: Thurs. May 10, 10am-4pm
What: Just before Mother's Day, Tawes Garden bursts forth with blooms and flora you can take home. Find a rainbow of annuals, plus vegetables, aromatic herbs and ready-made hanging baskets.
If plants won't satisfy your maternal tribute, browse a selection of non-plant gifts.
Why: Impress mother with fresh blooms as you help raise funds to keep urban Tawes garden green and growing.
Where: Tawes Garden, off Rowe Blvd., by the DNR building, Annapolis: 410-260-8189.
---
Who: Calvert County Master Gardeners
When: Sat. May 12, 8am-noon
What: From Master Gardeners' private collections come native plants and non-native plants including perennials, shrubs, vegetables and herbs, plants for butterfly garden. Plus black-eyed Susan, goldenrod, ferns and ground cover and native grasses.
Bring botanical oddities — or photos — of your dying specimens to the plant clinic, where gardeners can help diagnose your plant woes.
Why: Get sage advice from Master Gardeners, who provide detailed planting instructions in the form of labels like you get at the nursery.
Where: Calvert Country Market, Prince Frederick Shopping Center: 410-535-3662.
---
Who: Historic Sotterley Plantation
When: May 12, plant sale 9am-noon; Plant exchange begins 10am sharp
What: Buy varieties of annuals, perennials, shrubs, small trees and bulbs from Sotterley Garden Guild.
Or join in the free plant exchange. Bring herbs, perennials, vegetable plants, seedlings, bulbs or seeds to swap with fellow gardeners. Gardeners then line up with trays.
Why: Gardeners can get rid of extra seeds or divided plants, while not-quite-green-thumbs score freebies. Plus, proceeds benefit Sotterley's Gardens.
Where: Historic Sotterley Plantation, off Rt. 245, 44300 Sotterley Ln., Hollywood, St. Mary's County: 301-373-2280.
---
Who: Chesapeake Beach Garden Club
When: Sat., May 12, 9am-1pm
What: Members of the Chesapeake Beach Garden Club dig and divide in their own gardens to bring you hearty local selections. Shares from members' gardens typically include tomato plants ready to be transplanted, tulips, houseplants, cannas and more.
Buy also potted spring flowers like petunias and pansies, or hanging baskets brimming with miniature gardens.
Those who prefer to nurture their own recruits will find an abundance of seeds for sale at low cost.
Why: "We have a hodgepodge of everything, a whole bunch of very successful plants that spread easily," says club member Nancy Feurele.
Where: Chesapeake Beach Railway Museum, at Rod 'n' Reel, Chesapeake Beach: Nancy @ 301-855-2919.
---
Who: Historic Annapolis Foundation
When: May 12 10am-4pm; May 13 noon-4pm
What: Blend botanical history into your garden from some 400 different varieties of 18th century heirloom and modern plants.
Flora grown onsite by volunteers includes heirloom flowers, vegetables and herbs, native trees, hard-to-find perennial native orchids, and shrubs and more. Spruce up your summer fare with heirloom tomatoes and dozens of herbs.
Saturday morning's the day for serious shoppers who flock in to snatch up the rarest plants in most limited supply. Sunday the atmosphere relaxes; gardeners amble through the sale chatting up the volunteers for planting advice.
Why: "People find our prices are low for heirloom plants, and people like taking a piece of the garden home," says foundation horticulturist Mollie Ridout. Your dollars will help keep the Paca Garden lush year-round.
Where: William Paca Garden, enter sale at 1 Martin St., Annapolis: 410-267-8146.
---
Who: Providence Center
When: Year-round with special spring extended hours thru May 19: Mon.-Thurs. 8am-4pm; Fri. 8am-6pm; Sat. 9am-2pm. Special Mother's Day sidewalk sale on Sat. May 12, 8:30am-2pm.
What: The greenhouses of Providence Center — which employs disabled adults — offers special spring selections. Find hundreds of varieties of plants grown on-site: Easter lilies, mums, azaleas, tulips, daffodils, hyacinths and hydrangeas. Plus you'll find houseplants, herbs, vegetables, wetland plants and some perennials. Homeowners with wet areas find wetlands plants and grasses in over 30 different varieties.
On May 12, a Mother's Day sidewalk sale includes hanging baskets full of greenhouse flowers, plus pottery, woodwork and crafts made by Providence Center employees. (At Park Plaza, near Bill Bateman's restaurant off Rt. 2, Severna Park.)
Why: Meet the hardworking and friendly growers who work to keep plants growing in Providence Center's greenhouse. Plus, your dollars go to keep plants and people growing.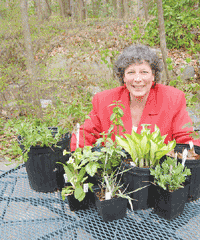 Debi Mallonee of Severna Park, shows off some of the plant varieties offered at the Annapolis Horticultural Society at the Anne Arundel Farmers' Market.
Where: Greenhouses behind the Bradbury building, 370 Shore Acres Rd., Arnold: 410-757-7800.
---
Who: Annapolis Horticultural Society
When: Sat. May 19, 7am-noon
What: At the weekly Anne Arundel Farmers' Market, the Annapolis Horticultural Society offers extras from their collections. Browse mainly perennials, mixed with shrubs, vegetable plants, a few annuals and more.
This year, the club focuses on unusual groundcovers — which tend to self-seed or spread out rhizomes — like lily of the valley and other aggressive persicarias including Japanese anemone — bearing a daisy-like flower — and ajuga, robbiae, ribbon grass and more.
Arrive promptly. Early birds scoop up most plants between 7-9am.
Why: Shop for fresh local groceries and plan your garden in one shopping trip. Knowledgeable horticulture club members answer your gardening questions.
Where: Anne Arundel County Farmers' Market, corner of Riva Rd. & Truman Pkwy., Annapolis.