Editorial
Batter Up: Baseball Returns to D.C.

Letters to the Editor
Bears: Round 3
Rave Reviews
Shaping Chesapeake Country Audiences

Commentary
Walking Past Slavery
In the Lifeline Expedition, you and I probably didn't see the same thing. That's a lesson worth learning.
by Lucy Oppenheim

Bay Life
Tailor to Kings and Queens
At the Maryland Renaissance Festival, Cynthia Andersen Will Dress You, Too
by Louise Vest

Bill Burton on the Bay
Wearing My Other Hat

Dock Of The Bay
This Week You Can Dream — and Even Buy — Big
As Presidential Race Heats Up, Soccer Moms Battle It Out
the Plant Professor
Way Downstream

Earth Journal
Witch Hazel; by Gary Pendleton

Earth Talk
Nothing Nutty about Rising Allergy Rates
—Lynne Whetzel, Ithaca, NY

On Our Cover:
Our Lead Story
Fall is for Farms ~ Farming Plays Up Autumn's Best to Attract You
In Chesapeake Country, many farms make it their business to share with you as they reap the rewards the hard, year-long work of farming. By bringing customers to farms to enjoy an experience as well as buy the fruits of the harvest, agritourism helps modern farmers continue a way of life that's fast disappearing; by Carrie Steele.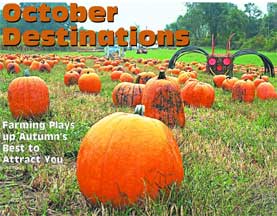 Curtain Call
Chesapeake Music Hall's Kiss Me Kate
Reviewed by Dick Wilson

Movie Review:
Ladder 49 – Jonathan Parker