On Our Cover:
From Soccer Mom to Soccer Coach
Photo by Vivan Zumstein
Title IX put girls on the field; necessity is recruiting their mothers.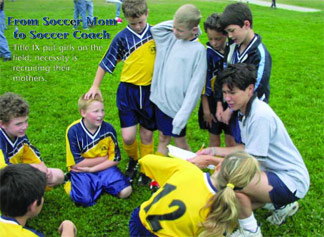 From Soccer Coach to Soccer Mom
by Vivian Zumstein
Your son has been assigned to a team with no coach. If a parent doesn't step forward, we will disband the team. That's how many parents — mothers as well as fathers — get sucked into coaching boys' and girls' teams.
New Digs at Old London Town
Visitor center rises to link past and future.
In this new century, London gets closer every day to the town founded in 1683 as a tobacco port. by Becky Bartlett Hutchison