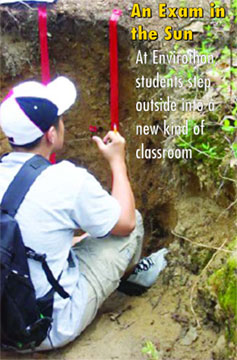 On Our Cover
An Exam in the Sun
photo by Carrie Steele

Dock of the Bay
An Exam in the Sun
Thomas Point Light Comes Home
Cash-Strapped State Agency Refuses Ready Money
Lockdown Lifted
Ask the Plant Professor
Way Downstream
EarthTalk
Safe herbicides for your garden
Battling for Parole
Look again at Parole…and imagine it with people.
As a new owner takes on the old battle ground that's Parole Plaza, citizens still hope for the return of the best of both worlds in people-friendly development. by Sonia Linebaugh.

Bill Burton on the Bay
Airport Insecurity.

Chesapeake Outdoors
Angling fanatics keep on trying.
Carr-Tunes
How Much for that Wetland?

Pugh's Music Reviews
On Undiscovered, Local Musicians Step into the Limelight.

Not Just for Kids
The How-To Cowboy™ Presents Another Secret, Magic How-To Fun Trick
How to Float Your Boat
Editorial
Tribes Plus Trash Spells Trouble for Anne Arundel County
Letters to the Editor
Why I Read Bay Weekly
Outfaxing the Faxers
Unitarian Church Concerts Raise $6k

Bay Reflections
Lights of My Life
by Maureen Miller