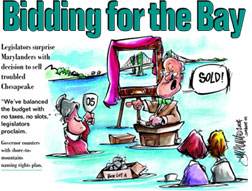 On Our Cover
Bidding for the Bay
– Illustration by Jim Hunt
The General Assembly has moved forward with its plan to auction the Bay, opening an account on eBay and issuing a statement saying in part, that "the Chesapeake Bay is Maryland's and we will do with it whatever we want … until the highest bid comes in."

Dock of the Bay
One Bear Crosses Over
Ask the Plant Doctor
Lockdown at Truxtun Park
Second Chances on Too Much Fun
Way Downstream

Bidding for the Bay
by Louis Llovio
Legislator surprise Marylanders with decision to sell the troubled Chesapeake. "We've balanced the budget with no taxes, no slots," legislators proclaim. Governor counters with shore-to mountains naming-rights plan.

Check out our updated archives for 1993!