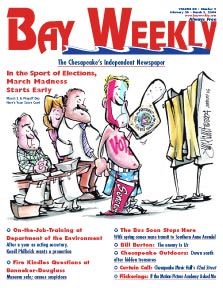 On Our Cover
In the Sport of Elections,
March Madness Starts Early
– Illustration by Jim Hunt
The way you love basketball, baseball or boxing, some people love politics. True fans wouldn't miss the action in Maryland's March 2 primary, because they know they might never get closer to their hero, never have a more intimate moment with democracy, than when they're behind the privacy screen voting.


In the Sport of Elections, March Madness Starts Early.
March 2 Is Playoff Day
From White House to Congress, from courthouse to school board, from New York to Boston, you need a score card to keep track of the players. by Sandra Olivetti Martin


If the Motion Picture Academy Asked Me
by Jonathan Pakrer
Our annual Oscar's Preview



On-the-Job Training at Maryland Department of the Environment
After a year as acting secretary, Kendl Philbrick wants a promotion

Fire Kindles Questions at Banneker-Douglass
Museum safe; causes suspicious

For South Anne Arundel, the Bus Soon Stops Here
With spring comes mass transit

Way Downstream
In Washington, Chesapeake Country's congressional delegation makes the grade, says League of Conservation Voters…

In Crisfield, a fast ferry comes closer…

This week's Creature Feature: In Australia, proposed trophy-crocodile hunt brings back memories of Sweetheart.