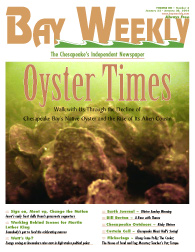 On Our Cover
Oyster Times
In a restored reef, Chesapeake Bay's native oyster, Crassostrea virginica, thrives, bringing back with it the whole ecosystem. Photo courtesy of PaynterLab of the University of Maryland Center for Environmental Science.

Oyster Times
by M.L. Faunce, Sandra Martin and Mark Burns
Walk with us through the declining times of Chesapeake Bay's native oyster and the rising times of its alien cousin, Ariakensis.


Sign On, Meet Up, Change the Nation
Iowa's early frost chills Dean's grassroots supporters

Working Behind Scenes for Martin Luther King
Somebody's got to feed the celebrating masses

Watt's up? Energy saving as lawmakers raise ante in high-stakes political poker

Earth Journal ~ Winter Sunday morning

Way Downstream:
In Virginia, developers say that even for $30 millon, they won't spare the ax on ancient trees surviving Bayside on Crow's Nest peninsula…From Yale University, science we can all use: discovering how mosquitos find us can help us block them…In Maine actor Paul Newman — there last summer to film Maine novelist Richard Russo's Empire Falls — likes the state so well he donates $10,000 to help build an 18-mile bike trail…In Hong Kong, among the spots feeling SARS' wide ripples are snake (as in steak) houses…plus, last but not least, this week's Creature Feature: From Washington, D.C., GloFish — genetically engineered deco-fish that glow in the dark — drive two consumer groups to court.