If the biggest shows in town — the United States Sailboat and Powerboat Shows — seem appallingly large, varied and complex, that's because they are. Here's advice on how to get the most from your visit.

It's an awesome view you'll see waterside in Annapolis, with as many as 500 brand-new boats in the water, tethered along 1.1 miles of floating docks, all contained in an area of five acres or so.

Right next to the boats are more than 200 tents accommodating exhibitors of almost every known type of boating equipment, gadget and apparel. Food and drink are plentiful and excellent along the show's peripheries at open kiosks and numerous restaurants.

This is the scene at the October United States Sailboat (Oct. 9–13) and Powerboat shows (Oct. 16–19), which have come a long way since founder Jerry Wood, who died this year, created the first in-the-water boat show in Annapolis in 1970.

More than a means to the end of getting out on Chesapeake Bay, these big annual shows are spectacles in themselves — full of fun, reward and good buys and bargains.

"I go for the experience," said avid Annapolis boater Tom Heyer, who cruises the Severn River. "When I was a kid, my dad used to take me to the New York Boat Show at the Coliseum. It was a great experience, but having an in-water boat show on a bright sunny day in October takes the experience to a whole 'nother dimension. It's the most excited my wife gets about boating all year."

But these shows are not lined up like a parade where everything passes by sooner or later. No. You've got to go to it.

Here's advice on how to get the most from your visit to the appallingly large, varied and complex spectacle of the U.S Boat Shows.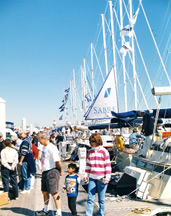 On the Docks
This city on the water was created by a crew more than 150 strong. Two water teams, each with its own dock master, configured and assembled the mile-plus of floating docks, supported by 50 temporary, newly driven pilings. The city is supported by 560 bolts, 1,400 feet of fire hose supplying fresh water to boats for cleaning, 200 tents, 500 wooden floor sections covering nearly an acre of land and 57 miles of wire for electrical power to land and sea.

Into this city first maneuver 250 sailboats. On Monday, October 13, they vanish overnight, to be replaced by 500 power boats. You can step aboard most of them at your own pace.

You'll see boats from the U.S., Canada, Europe, South Africa, Australia and Taiwan. Little boats like Vanguard's eight-foot Optimist pram. Two dozen catamarans will be there. So will some three dozen boats in the most popular range, 30 to 40 feet. And there'll be plenty of big boats for dreamers and serious buyers. Biggest of the show is the 70-foot Nautor Swan.

"We were barely able to fit all the boats in this year because of the addition of seven boats over 60 feet," says Boat Show general manager Jim Barthold.

Many new boats are being introduced at this year's show. Beneteau, for example, is unveiling three new models: the Beneteau ST, 323 and 373. Dufour is also showing three new yachts: the Dufour 34, 40 and 44. Wauquiez and Najas Yachts are also showing off their new stuff.

With so much to see, you'll be glad there's a program. Magazine size, it's produced by Chesapeake Bay Magazine and included in the price of your ticket. Find it at entrance gates and information tables.


Browsers and Buyers
Like the boats, Boat Show goers fall into classes:
Party-goers, for whom the fun is the occasion, not the boats.

Kids in the candy store, to whom everything looks good;

Hands-in-pockets buyers;

Cash-and-carry buyers.
Boat show exhibitors — who pay from $6.50 per boat foot, length times beam, for on-water spaces and $1,250 for land booths or tents to show their wares — wish we were all the last sort. We aren't.

"I personally don't need another boat. I've got more than one already," said sailor Bob Bockting, of Bethesda, who docks in Deale. "But I like to look at boats and boat stuff and daydream, so once more this year I'm going to one, maybe both, of the United States Boat Shows."

Bockting has the experience to know what interests him. He'll likely study his program, plan a few visits and pace himself, making sure to leave time for lunch.


Others in the crowd will follow the winds of fancy. Such show-goers might inspect and board the first half dozen boats they see before realizing there's far more here than could be seen in a day.

Still others are following a scent. Buddy Norris, captain-owner of Lighthouse Charters, looks forward to a life at sea when his wife retires a couple of years down the line. He's going to this year's Powerboat Show to investigate and explore live-in trawlers.

"I'm in the market for a boat," says Norris. "Most dealers don't stock all the boats a manufacturer has to offer. The Boat Show is a great time to have all the boats you're looking at lined up."

Norris won't be buying at this show, but he hopes to narrow down his search.

A decade of boat shows helped David Stover of Huntingtown narrow his. "When I first started going, I went and dreamed," says Stover.

Soon Stover's visits became quests. "As I gravitated toward fishing," he explains, "I'd look at boats and accessories, things that pertain specifically to my sport to increase my knowledge of what's out there."

From boat to boat he'd prowl, and at each stop he'd pick up piles of literature, over which he says, "I'd pore for months."

Stover found the boat of his dreams not at a boat show but in a North Carolina marina, where he'd gone as his passion for fishing turned oceanward.

"We'd trailored our Wellcraft down for the fishing. But coming in from 35 miles offshore, I felt the hull flex," Stover remembers. "That's when I decided boats made for bays and rivers didn't have much business in the ocean. So I went to marinas to see what people down there used."

Carolina Classics met Stover's standards. He prowled the 2001 boat shows researching electronics. When the system that satisfied him required a remake of his 28-foot boat's console, neither he nor Carolina Classics flinched.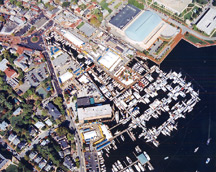 Stover skipped last year's boat show: He was playing with his new boat. This year, he's going again, to inspect Carolina Classics' new models. "One is going to come from the factory to be at the boat show with Larry Baker of Anchor Yachts on Turkey Point Road. "That's why I'm going," says Stover.

As a methodical shopper, Stover is not alone. Read Goode, of Richmond, also visits boat shows to push the pencil over specs.

When Goode hits a boat show, he walks at a fevered pace, leaning forward as if to tell everyone he is in a hurry. "I always ask. How was it made? What's the thickness of the Fiberglas? How was it assembled and where was it made?" says Goode, who's a hands-in-pocket customer more likely to do his research at boat shows, then hunt the Eastern Seaboard for a used model of his boat.

Over the years, Goode has developed another standard: Will it keep him dry when he's out on the water? "The most important thing for me when buying a boat is whether or not it's what I call a dry boat," says Goode. "Does water constantly hit the console and you when driving at high speeds?"

Like Goode, Stover and Norris, many buyers know what they are looking for — whether it's a new outboard motor or the latest boat maintenance technologies.

"You get a chance to speak with manufacturer representatives who are very in tune with their products and can explain new developments," says Annapolitan Heyer. "I had mixed experiences with different bottom paints until I found a representative willing to take the time to really explain the science behind different paint formulations," said Heyer.


At the United States Boat Shows, browsers and buyers will find one-stop, hands-on shopping, with plenty of opportunity for comparison. But in these crowds, you won't get to drive or sail the boat of your dreams. Tom Heyer advises would-be buyers or those curious about how a yacht handles itself in Chesapeake's traditionally light winds to seek an on-water appointment.

"If you see a boat you like, be sure to ask whether there is a chance to go out on a demonstration," he advises. "Annapolitans have a great opportunity to line up appointments at the show, as many of the boats stay in Annapolis and dealers are all set up to provide demonstrations in the weeks following."

Under the Tents
As a break from going aboard boats, head for the tents. To describe the tent exhibits as a gala array does not do them justice. You'll find the latest electronic equipment on display as well as numerous gadgets, mostly at reduced prices.

Boat manufacturers frequently offer boat show specials, meaning discounts on the boats themselves and on equipment. Some packages make it well worth making a deposit on the boat of your choice while at the show.

"Values and prices are better here than anywhere else in the nation," says Jonathan Bartlett, business manager for North Sails. "We are going to be very competitive with prices at this boat show."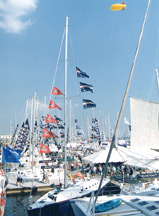 Custom equipment such as furniture, special rigging and sails and canvas can be ordered at reduced cost. Subscription bargains for most boating magazines from the U.S. and the U.K. plus nautical books are also available in abundance.

The boat shows are the place to get good prices on clothing for yachting and for foul weather conditions. Many other items, such as gold and other jewelry are also displayed. The shows are also the best place to view and plan for yachting charters and vacations at locations in the islands and around the world.

Other valuable distractions are the seminars offered by Cruising World Magazine during the sailboat show. Scheduled each day at 10:20am (except Sunday), noon, 2 and 4pm, the 90-minute seminars cover a multitude of topics, including weather by the NOAA weather service, radio and marine communications, the use of gear, boating safety, offshore cruising and fishing. Presented by experts, they're free and open to all — until the room fills up — at the Annapolis Marriott Waterfront Hotel.

When to Go?
The Sailboat Show runs five days, from Thursday through Monday; the Powerboat Show four days, from Thursday through Sunday. Even so, docks are almost always crowded. Is there a best day to visit?

You pay a premium to be an early bird, with $30 VIP opening day tickets costing twice the price of the $16 daily ticket price for adults.

"It costs a bit more for the ticket to the show," advises Rich Johnson of Clipper Bay Yachts in Deale. "But it's worth it. There's fewer people. The lines to get on the boats are shorter. You get to see more, easier."

Others prefer the last day of each show. These days are often less crowded. Many of the exhibitors are packing up their wares and may be amenable to a bit of haggling. After all, it might be useful for an exhibitor not to have to haul lots of unsold gear back home. This is especially true for those exhibitors from overseas.

"It's been my experience that you can get your best deals when you wait until the show is over and buy one that's in the water," says Goode, who found his bargain at the end of the Miami Boat Show. "The owner of Wahoo Company had brought to the show a boat he built for himself. At the show, he found another boat he wanted, and he sold me his 26-foot Wahoo for what I thought was a good price," recalls Goode.

At about 6pm on the last day, each show also offers a parting benefit, known as "change over" on October 13 and "breakdown" on the best day of all, October 19. These are the days that the show, dock and on-shore setup must be moved, changed or removed entirely. In a few hours, at the end of the very last day, all of the show suddenly disappears.

Locally, these days are considered a spectator sporting event. The spectator sport, viewed from shore side, is to watch the mayhem of strings of floating docks, boats under speed, and workers detaching with high precision all of the many attachments. There is great excitement as boats maneuver adeptly to leave, often with a show of speed to please the cheering crowd.

---
Get Ready
What do you bring, what do you wear and how do you transport your treasures?

Dress in boating attire, keeping in mind the vagaries of weather. Wear layers of clothing that can be tied around the waist. Once inside the gates, temperatures can be warmer than outside, even though you're still outdoors.

Boat shoes — shoes with white soles — that are easy to slip on and off are a must because many boats sporting varnish and other sensitive surfaces do not allow shoes when you go aboard for a tour.

There are no food vendors inside the gates to the show, so bring water to stay cool and hydrated.

Vendors give away bags to lug your loot around, and many exhibitors give away goodies. You may acquire so much that it may be smart to take a quick round trip back to your car via the free shuttle service.

A small camera is nice to have along.

A small amount of cash is OK for quick food purchases, but for the most part, credit cards will serve you well — even for a deposit on a 70-footer!

You may also want to bring binoculars to catch a glimpse of the Senator's Cup race between two Swan 45 yachts. Two America's Cup veterans will duel each other as Gavin Brady takes on Terry Hutchinson. The race sails October 10 and 11 in the mouth of the Severn River or out in the Bay.

Get closer to Terry or Gavin by purchasing raffle tickets before October 9 to win one of four crew spots to ride along as they race. (Raffle tickets are on sale at $25 at Boatyard Bar and Grill and Davis' Pub in Eastport, Castlebay Restaurant, Fawcetts Boat Supplies and Maria's Restaurant in downtown Annapolis.
---
Getting to the Boat Shows
Getting to the Annapolis boat shows is easy if you follow the well-planned program. Drive from U.S. Route 50 to Rowe Blvd., following signs for parking at Navy-Marine Corps Stadium. There are free vans to transport you right to the Boat show gates.

From October 5 to 20, all city buses are free for visitors, staff and exhibitors who show their exhibitor's badge or boat show wrist band. You can ride even the most popular routes to the Annapolis Mall and Kent Island.

Arriving early for the 10am opening lets you avoid some of the lines. Once past the gates — tickets in hand ($30 on VIP Day Thursday and $16 the other days) — head for the boats or the tents.