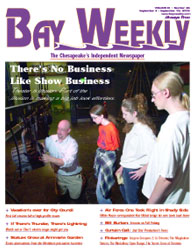 On Our Cover
There's No Business Like Show Business
Photo courtesy of Anne Arundel Community College.
Lighting is part of the illusion of stagecraft. Here Anne Arundel Community College professor Rob Berry — who is also technical director and scenic designer of the college's Moonlight Troupers — instructs students Michelle Fiveash of Ft. Meade, Sandra Bowman of Annapolis and Jonathon Herlehyy of Pasadena in the structure of spotlights.
There's No Business
Like Show Business
by Sonia Linebaugh
Theater is illusion. Part of the illusion is making a big job look effortless. Here's how the theaters of Chesapeake Country get on with the show as the curtains rise on the 2003–2004 season.



MVA: A Sad Reflection of Maryland Government






Maryland
by Zoe Black


Why I Coach — It's Not to Win
by Vivian I. Zumstein