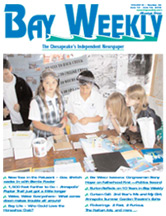 On Our Cover
Water, Water, Everywhere
photo by Eric Smith
Fourth graders from St. Anne's Day School, armed with test tubes and color charts supplied by Chesapeake Bay Foundation, came to Annapolis' Public Works Expo to show how they monitored creeks that flow into Chesapeake Bay.


Bay Weekly Interview: with Sandra Martin:
Congressman Steny Hoyer on Fatherhood First — Politics Second
The congressman's advice for young parents: "Take time to be with your children. To get like me — a lawyer, a doctor or a politician — when you're young, your 20s and 30s, you're thinking of yourself: your career and your future and your success and the competition. You only have so much time, and you ought to spend as much time as you can with your kids."


Bay Life: Who Could Love Such a Face?
by Steve Carr
For eons, horseshoe crabs have linked together the chain of being. Now, they're a weak link.

New Toes in the Patuxent
Gov. Ehrlich wades in with Bernie Fowler
by Sara Ebenreck

1,500 Feet Farther to Go
Annapolis' Poplar Trail just got a little longer
by Gary Starikoff
Water, Water Everywhere
What comes down makes trouble all around
by Eric Smith
Way Downstream


In Annapolis, is Smart Growth dead?…
In New York, environmental group INFORM says we're burying ourselves in cell phones…
In Brazil, mahogany prices just went up — which may be a good thing…
This week's Creature Feature: At Virginia Beach, the mystery of the humpback whale.