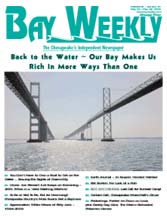 On Our Cover - You Don't Have to Own a Boat
to Get on the Water
photo by Michael Kelley
"I had crossed the Bay on the ferry that ran before they built the bridge," Kelley writes, "and I have crossed the bridge innumerable times during its half-century year life, but I had never before traveled under it by boat. The sounds of the traffic far above on the bridge eerily contrast with the beauty of the bridge and the calming effect of floating on the Bay."


Update: Joe Stewart Just Keeps on Swimming
200+ miles in a 'cold washing machine'
by Stephanie Chizik
To Be or Not To Be, But for How Long?
Chesapeake Country's mute swans get a reprieve
by James Clemenko
Earth Journal ~ Hooded Warbler
by Gary Pendleton
Way Downstream

From Washington, the Clean Beaches Council skips Maryland on its annual list, but Delaware scores three Blue Wave Beaches and Virginia one…
In Virginia, across the Potomac from Charles County, development is pushing right up to the water's edge…
This week's Creature Feature: In the deep blue sea, Canadian biologists write in the journal Nature, long-line fishing has eaten up 90 percent of the big fish.