Dock of the Bay
Local Sailing Living Legend Falls Ill
Annapolis sailor, commentator Gary Jobson stricken with lymphoma
On Thursday, April 24, word spread like wildfire through the local sailing community. Everyone was shocked at the news. Our local sailing hero and ambassador Gary Jobson was diagnosed with non-Hodgkin's lymphoma. Jobson's Annapolis office released a statement concerning his diagnosis.


"Before heading to the America's Cup in Auckland I developed an annoying cough. During my time covering the America's Cup, I became quite fatigued between our ESPN shows," Jobson explained in the statement. "After returning from Auckland I set out on an ambitious lecture tour. As my lecture tour progressed, however, I became increasingly fatigued and the cough did not go away. With the assistance of an inhaler and rest on either side of my programs, I was able to speak. In the last 10 days things turned for the worse."
There is irony to this news, and it was not lost on Jobson himself. "Yesterday I was diagnosed with lymphoma, which is ironic since I have been chairman of the Leukemia & Lymphoma Society's regatta series for the past 11 years," said Jobson.

To combat the disease, Jobson is undergoing chemotherapy.

"Last week I started a series of tests that included a CT scan, a lymph node biopsy and a variety of other procedures," he said in his statement. "For me, it is difficult to walk, and I am out of breath all the time. For the first time in my 30-year speaking career, I have been forced to cancel presentations. I have been advised not to schedule any activities for the next two months. I will be receiving chemotherapy for the next six to eight months to battle back from this disease. I am going to be in a quiet period now for the next 10 days. Apparently, the treatments are hard."

Despite the hardships that await him, Jobson's outlook remains positive. "Sorry to give you this report. My spirits are good. I hope to be around the waterfront later this summer," he said.

Jobson has been ESPN's sailing commentator since 1985, and he is scheduled to cover the 2004 Athens Olympics for NBC. He won the prestigious America's Cup race with media magnate Ted Turner in 1977.

This weekend the Maryland Maritime Heritage Festival comes to Annapolis City Dock, with an open Bay race between two previous America's Cup winners: Freedom and Courageous. Courageous will be skippered by Ted Turner. Gary Jobson was to sail with him, but now he will not.

— James Clemenko

---
The Greening of Annapolis: 2003
Hundreds shrugged off the weather and committed to the cause

The images on Mel Wilkins' rain-drenched shirt summed up the day: brightly colored flowers and leaves obscured by newly deposited splotches of thick, brown mud. The muck was just an obstacle, though, as the portly would-be horticulturist commanded dozens of energetic adults and kids doing the hard work of reforesting the Spa Creek Conservancy.

"These people are a whole lot better than dealing with bureaucrats," declared the retired government contract program manager from Annapolis. "Especially the kids. They don't mind getting dirty or wet."

Such was the sentiment at Greenscape 2003. You had to shrug off the weather and just commit to the cause. But while the rain may have dampened participation at each of the 70 projects all over Annapolis, there were still hundreds of dedicated volunteers shoveling dirt, hauling rock and cultivating more than 2,200 plants and trees citywide.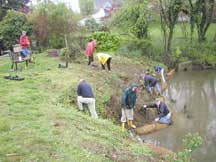 photo by Jim Martin

Community volunteers removed brush, planted shrubs and trees, planted a butterfly garden and stabilized shoreline along College Creek in Annapolis' Murray Hill neighborhood.
At the multi-acre plot adjacent to the Chesapeake Children's Museum, Wilkins methodically managed the planting of more than 70 persimmons, bay magnolias, dogwoods and paw paws — plus the hauling and hoeing of more than 20 yards of soil. A throng of Girl Scouts, Leadership Anne Arundel members, Department of Juvenile Justice Drug Corps kids and their parents, supervisors, spouses and significant others shared in the labor and laughs.
"I'm tired, I'm dirty, but I'm always up for a little community service," said David Lynch of Annapolis. He and his wife Anna, a Juvenile Justice staffer, dug two large holes for red maple and Maryland sugar trees.
You come out, you meet new people and put in an honest day's work," Lynch said. "We brought my friend's daughter to show her that you can give some of your time versus just expecting everyone to give you something."
Foreboding skies and water-logged earth aside, similar energy abounded at Adams Park, where Zora Latham and Vince Leggett, from the Chesapeake Bay Ecology Center, and Annapolis Mayor Ellen Moyer lent a hand to Severn River Association and Green Party volunteers in building two large rain gardens. The rectangular plots will hold back runoff into College Creek and serve as hands-on educational tools for the students at the Anne Arundel Learning Center.
"The event has really become a catalyst for people to do things all year long," Moyer proudly beamed. "We've established some ambitious programs. Maybe they would've come about without Greenscape, but you need to have a focused day to create awareness and bring attention, and that's what Greenscape has been.
"Seeing it all blossom, if that's the right word, seeing the interest and enthusiasm and the mindset for a beautiful and sensitive environment has been pretty awesome," said the mayor.
Predictably, when much of the work ended, so did the rain, and the Arc of Anne Arundel County provided a warm place to dry out with pizza, drinks and pats on the back. But lest ye think there was rest for the weary and sodden, think again. Greenscape chairman Jim Martin has already begun making plans for 2004.
"My goal for next year is do a project in the new inner West Street corridor," he declared. "I'm gonna get the restaurant owners, some of the employees, hotel folk and office workers to come together and make it look great."
— Gary Starikoff

---
The Longest Memory on the Bay Lives On
Library's namesake is Shady Side's 'Miss' Ethel Andrews
from April 1993, Volume I, Number 1


Having lived nearly 105 years in the Chesapeake-surrounded village of Shady Side, Ethel Andrews knows the Bay.

She has not been on the water since she was 99 or 100, when she rowed a boat for a photographer eager to show her spryness. Nowadays, the able-bodied, nimble-minded, sparkling-eyed Miss Ethel stays at home. There, she has three newspapers to read every day and dinner to cook for herself, daughter and son-in-law. She has almost daily visitors, who come to lengthen their short memories.

But days have been when she and a gang of children scampered across the Shady Side peninsula to frolic in the Bay. Afternoons her family sailed summer visitors to the shallow waters off Grandmother's Point, with its sandy beach. Nights began with feasting on the Bay's bounty.

Update: Miss Ethel passed away in 1997, at the age of 108. Still, her memory and legacy lives on. Miss Ethel was known for having the longest memory on the Bay. Now her documented memories and memorabilia are kept in a local library dedicated in her honor. Glorious Shenton, Miss Ethel's daughter, and her husband Howard founded the library.

The Captain Salem Avery House Museum library contains collections on families, history, community events, Chesapeake Bay wildlife and the environment. Materials are in various media: video and audio tapes, many made by the Shady Side Rural Heritage Society; books, magazines, photos, documents and drawings. The library is open Mondays noon-3pm.

Miss Ethel knows Bay comforts and discomforts, Bay steadfastness and changes.

Flies, mosquitoes, which gave us malaria, and sea nettles rank high among Bay discomforts. Miss Ethel remembers, "mosquito netting in the windows … [When] screens were … forthcoming, we knew we were up to date.

Update: Pesky critters remain a nuisance in the Shady Side area, formerly known as the "Great Swamp."

Bay comforts, however, blew away the discomforts. To the sweltering cities of Washington and Baltimore, the Bay spelled summer. People came by the boatful, Miss Ethel remembers.

"Beginning about the middle of June at the close of school whole families began to arrive, bringing their belongings packed in very big trunks, having come on the steamboat Emma Giles from Baltimore. They landed at Nowell's pier which was built by my father at the mouth of Parrish Creek. Those trunks had to be brought by either sail or rowboat up the creek and onto our pier … Many of these people stayed until school began in September."

From 1888 (the summer before Miss Ethel was born) to 1967, her family operated the Rural Home for summer vacationers. A week at the Bay in 1888 cost $3 per person; by 1967, the charge had risen to $40. In its heyday, Shady Side boasted eight boarding houses for vacationers.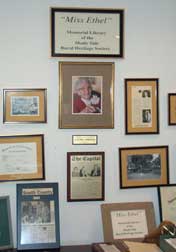 Update: Long gone are the days when the steamboat Emma Giles brought people from Baltimore to the mouth of Parrish Creek. The Rural Home that Miss Ethel and her family owned and operated for summer vacationers burned down some years ago. Now that Shady Side is a commuter community rather than a summer vacation destination, the boarding houses that used to accommodate visitors are gone.

But what Miss Ethel knows best about the Chesapeake, you and I know, too.

"The natural beauty of the great Chesapeake Bay adds luster to my life as it does to others," Miss Ethel remembers. "I enjoy its many changing aspects due to wind and sun. Sometimes it appears angry, sometimes foreboding, sometimes inviting and smooth, or just plain gorgeous and inspirational."

Many of Miss Ethel's words here are borrowed from her 1991 autobiography, Miss Ethel Remembers, published by the Shady Side Rural Heritage Society and available for $10.95.

Update: Get your copy of Miss Ethel's autobiography from the Shady Side Rural Heritage Society (301/261-5234) or at the Captain Salem Avery House store.

— James Clemenko
---
The Sweet Smell of Diesel
Federal rules proposed for cleaner diesel-powered tractors, backhoes, bulldozers, forklifts — and boat engines.
There's something in the air at the White House. If you listen carefully, beneath the din of disease and war news, you can hear it. It's the sound of President George W. Bush and environmental groups harmonizing over the White House's recent announcement of tougher restrictions on off-road diesel emissions — restrictions that will eventually mean less of many things we don't want in our air.

Unveiled by Environmental Protection Agency Administrator Christine Todd Whitman on April 15, the proposed rules force manufacturers of diesel-powered tractors, backhoes, bulldozers, forklifts, generators and other equipment motors to install modern pollution controls. They also require cleaner-burning diesel fuel to be used in land and marine engines. Eventually, land-based diesel engines will have to use fuel containing 99 percent less sulfur.

photo by Jim Martin

West Annapolis Elementary School principal Christine Stockett, crouched at left, plants a butterfly garden with students and parents as part of Greenscape 2003.
Praise for the agreement — which is a departure from unremitting warfare between the Bush administration and environmental advocates — has been effusive from many sides. Richard Kassel, senior attorney for the Natural Resources Defense Council, called it "the most significant public health proposal in decades." Frank O'Donnell, executive director of the Clean Air Trust and one of the administration's loudest critics, lauded Whitman and "her professional staff for taking this issue on."
Meanwhile, Marc Meteyer, fuels specialist for the American Petroleum Institute, declared the proposal "a win-win" that will "give the industry more flexibility and consumers cleaner air at less cost." And Joe Suchecki, spokesman for the Engine Manufacturers Association, thinks the rule "is something industry can work with. We're committed to making the emission reductions."
So what did the White House do right? Possibly it was that they were inclusive, reportedly consulting early and often with all interested parties before devising the rule. But it's also possible they just chose their issue strategically. The proposal won't change anything already in place, and there are no defenders of the status quo because off-road vehicles aren't comprehensively regulated.

These conflict-free bucks buy a big bang for cleaner air. Experts foresee significant cuts in emissions of nitrogen oxide, sulfur and fine particulate matter, which scientists say causes premature deaths, lung cancer, asthma and other respiratory illnesses. The EPA estimates that by 2030, the proposal will have prevented 9,600 premature deaths, 16,000 heart attacks and 260,000 respiratory problems in children.
American Lung Association vice president Paul Billings predicts the rule will result in "dramatic benefits immediately from sulfur reduction" for Maryland. He calculates the rules could result in the pollution-reduction equivalent of removing more than 3.6 million cars from state roads. That number could go higher if incentives for retrofitting older engines and for using cleaner fuel are included in the proposal.
Not everyone, however, is exuberant. Bob Ferris, vice president of environmental protection and restoration for the Chesapeake Bay Foundation, said that, as far as the Bay goes, the difference the proposal would make amounts to only a drop in bucket.
"Anything we do to get that stuff out of there is good, but [the proposed rules are] really a piece of a larger plan that needs to be implemented, something that looks at both mobile and stationary [pollution] sources and addresses carbon dioxide and mercury too," he said. "If we just did a little more, how many more people would benefit?"
There'll be public hearings in June in New York, Chicago and Los Angeles, with a final rule next year.
— Gary Starikoff

---
On the Eastern Shore, ferry-loving officials from Somerset County gathered in Crisfield last week with counterparts from Northumberland County, Va., to lay foundations for the fast ferry that will cross the Chesapeake Bay. They set up a planning authority and launched a feasibility study needed for financing, the Somerset Herald reported. Fittingly, the Virginians arrived by boat …
In New York, Ingrid Newkirk, the former Marylander who founded People for the Ethical Treatment of Animals, known as PETA, says in her will she wants her flesh to be barbecued and her skin to be used for leather-like products. Oddly, Newkirk, a racing fan, wants part of her heart buried along a Formula One racetrack in Germany …
In Ireland, a tiny snail is causing golfers to yell more than Fore! Last year, discovery of the two-millimeter-long Vertigo Anguistior held up construction of the Doonbeg golf course, designed by golfing legend Greg Norman. Now, it's forcing operators of the Lahinch Golf Club in southwest Ireland to drop plans to shore up the coastline to prevent erosion …
Our Creature Feature comes from Florida, where the meeting of a fastball and an osprey has a minor league baseball player in a heap of trouble. Jae-kuk Ryu, a 19-year-old South Korean pitcher for the Class-A Daytona Cubs, bought himself a ticket out of town recently in warm-ups when he whipped a pitch at a perched osprey, knocking the bird to the ground.

The bird suffered a serious eye injury and, with fans outraged, the Cubs sent Ryu to its Lansing, Mich., affiliate to await news of whether he'll be charged with animal cruelty. The Chicago team also sent autographed baseballs for a fundraiser on Friday night, in which proceeds went to the Animal Clinic of Edgewater, Fla.

The bird, named Ozzie, later died.