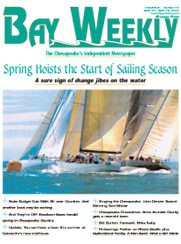 On Our Cover
Spring Hoists the Start of Sailing Season: Rounding the mark on 12-meter racing yachts, sailors jockey for position in one of the many regattas that return to our Bay each spring, summer and fall. Photo courtesy of Ocean Race Chesapeake.
Singing the Chesapeake
John Denver Award-Winning Folk Musician Tom Wisner
by Kent Mountford
"For a guy parading as a singer-songwriter in the Chesapeake boonies for the past 35 years," says Wisner, "getting the John Denver award is like getting an Oscar from God."
Chesapeake Discoveries
Anne Arundel County Gets a New Old Town
by Pat Piper
Buried for three centuries, Herrington sees daylight again.

Spring Hoists the Start of Sailing Season:
A sure sign of change jibes on the water
by James Clemenko
And They're Off!
Roedown Races herald spring in Chesapeake Country
by Louis Llovio

State Budget Cuts Walk All over Counties:
And another boot may be coming
by SOM
Way Downstream

In Washington, Army Corps of Engineers permits Virginia Seafood Council to grow Asian oysters in Chesapeake Bay…

In Annapolis, Assembly balances crab harvest with species conservation…

In California, Batman's Robin is in some deep guano…
This week's Creature Feature: In Iraq, Buster the springer spaniel has never met a weapon he couldn't fetch.