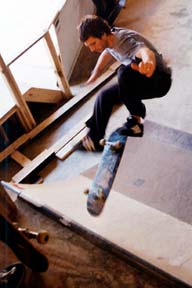 photo by Brent Seabrook
Wayne Brobst flips midair over the lip of a quarter-pipe.

Most Places, the Sport Kids Love Is Still a Crime

by Brent Seabrook
11:15 Friday morning. Franks are smoking on a grill at Sawmill Creek Park in Glen Burnie. Jet airliners float above the treeline. Softball teams cool down on the park's playfields. Retirees play leisurely games of tennis.

On an abandoned basketball court, behind a chain-link fence, stands a collection of metal ramps and rails. Some of the ramps curve five feet into the air. They lead nowhere.

This is Anne Arundel County's sole skate park.

Six skaters are here this morning, and three watchful parents. One parent sits on the two-tiered bleachers, another on a lawn chair brought from home; the third clings to the fence. Two girls, 15 years old, snap digital photographs of a boy a year their senior. His name is Fred Dayton.

Fred rides a battered skateboard down a three-foot quarter-pipe and up a two-foot wedge. He floats through the air, his board whirling beneath his feet. Fred clears the wedge and lands balanced on the board, hard rubber wheels clattering against asphalt and seven layers of laminated sugar maple moaning beneath his weight. As he wheels back around, the board slips from beneath him and he lands flat on his back.

"Get every picture you can of me falling," he laughs as he leaps to his feet.

"We're gonna put 'em on the computer and use 'em as blackmail," photographer Stephanie Henneberry says. Her friend's name is Savannah Elliott.

Stephanie skates a little, but only on flat surfaces; she left her board in the trunk of the car.

"It's funny looking at those pictures," Fred says. "But you don't laugh when someone else falls — like these little kids."

Fred gestures at Randy and Tyler Depfer. They were brought here by their grandfather, James Depfer. They both wear inline skates. It's their second trip to the park since it opened July 1. The senior Depfer says the boys couldn't wait to try it out once the park opened. They worried it would rain before they could.

"They were anxious to get here today, too," he adds.

"You gotta give 'em respect," Fred concludes.

He sets one foot square on his board and pushes off with the other. He complains when the girls miss a well-timed jump.

"You get over here and do this," Stephanie says, holding out the camera. "It's harder than skateboarding."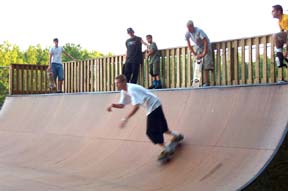 photo by Cristi Pasquella

Half-pipes as well as ramps, quarter-pipes and tricky terrain offer skateboarders at the Dunkirk park plenty of challenge and camaraderie.
Law-Defying Feats

Timing a photograph just right might be difficult, but it's nothing compared to the feats performed by serious skaters. An "ollie" allows a skater to leap straight into the air, his skateboard fixed to his feet. A "frontside" is an about-face done while hovering in mid-air. These maneuvers seemingly defy the laws of physics, but in reality skaters are just exploiting loopholes in those laws.
It takes hours of practice to develop the knowledge and coordination to exploit those loopholes, and enough determination to ignore dozens of failures for every success. But the challenge of skateboarding is also its greatest appeal.
Fred's friends talked him into skating — "It was peer pressure," he laughs — but he continues because he enjoys learning new tricks.
"I just learned to rock and roll," he says, meaning he can now run up a ramp and dangle his trucks, the lower works that hold wheels to wood, over the coping along the ramp's edge. The week before he learned how to 50/50, or ride a rail on his trucks. He still remembers the thrill of his first ollie.
Luke Spicknall "picked up stuff," or learned his first tricks, from his older brother. "Going out and learning new stuff" is what keeps him skating.
"Trying newer and bigger stuff every time you get the chance," he adds.
Luke and his friends, Kyle Jones and Nick Edwards, take turns grinding the curbs at Broadneck High School, in Cape St. Claire. They're all 13 years old. They've staked out a remote corner of the Broadneck parking lot, far away from the softball fields and the tennis courts. They had a homemade park set up on one of those courts, including a stair set, some ledges, boxes and rails — until a couple of days ago.
"It lasted about a month," Nick says. "Then the county came and took it all."
"Don't move to the Cape if you like to skate," Kyle says, over and over again. It's his mantra.
They like to skate at the high school, which has plenty of ledges and rails to grind, but eventually the cops will arrive and threaten to confiscate their boards.
"We don't have the money to go out and get a new board," Nick says.
So they'll leave, maybe go to the library next door.
"There's a nice ledge there," Nick says, "but it's already nubbed."
He means metal "nubs" have been attached to prevent skaters from grinding along the ledge or a rail. Nick says some ledges at Glen Burnie High School have also been nubbed, as well as some handrails downtown, at the community college and at the Naval Academy.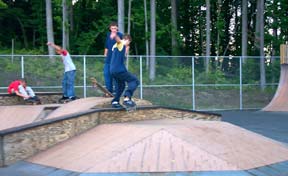 photo by Brent Seabrook

Skaters grind the many rails at Dunkirk District Park.
Hard Knocks

Skateboarding is not a crime in Annapolis — not if you think skateboarding means rolling down the sidewalk. But the law does forbid riding a skateboard "in a careless or imprudent manner that endangers any property or the life, safety or person of any individual." In other words, no tricks, no stunts, no fun.
That law arises in part from concerns about liability. To secure insurance, skate parks must require skaters to wear helmets. Most also require knee and elbow pads. The risk of injury is minimized by wearing such equipment.
Kyle wears his helmet at Broadneck, though he's embarrassed to admit it. Nick doesn't.
"When I'm trying really big stuff I wear it," Nick says. But not, he says, for everyday riding around.
Nick shows me the ugly scrapes and bruises that decorate his shin. His brother broke an ankle. Kyle says he earned stitches and broke a bone in his foot. Luke's brother broke his collarbone.
"It slowed my brother down some," Luke admits.
More recently, Luke's brother was skating at St. Mary's, downtown, when he hooked his back truck and landed on his teeth. He was enjoying his second root canal while Luke rode the ledges at Broadneck.
Skaters talk about injuries the way fishers talk about fish, but skating may be less dangerous than it looks — safer than football, safer than baseball, safer even than fishing. Statistics compiled by skateboard.com show that of the eight million people who went skateboarding in 1997, only 48,000 were injured; of the nearly four million who went fishing, nearly 73,000 were injured.
The threat to property is more significant.
On an access road that runs beside Route 50 between Cape St. Claire and Sandy Point State Park sits the Ski Haus, a lonely brown building made up to resemble an Alpine lodge. A cramped parking lot winds around the southwest side. There, shoved up against the curb, is a collection of plywood pipes and ramps, where kids can sign a waiver, pay $6 and skate all day. The biggest pipe towers eight feet tall. A contractor built it a decade ago. The smaller pipes, boxes and wedges were built by Ski Haus employees over the past couple of years.
"The kids beat them up pretty quickly," says Dylan Dalrymple, Ski Haus's resident skateboard expert. Ski Haus employees repair or replace the structures on a regular basis — and they were made to be skated on. Little wonder, then, that stores and schools have taken precautions against such wear and tear.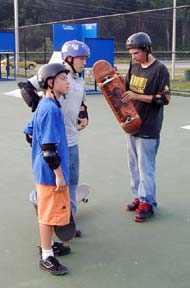 photo by Cristi Pasquella

Michael Thomas, Eric Ray and Michael Hardesty plot their course at the skate park in Glen Burnie.
Nubbed in the Bud

The trouble is, there are few legitimate places to skate in Chesapeake Country.
Kids will skate wherever they can, Dalrymple says — until they get kicked out. "Kids are always getting kicked out of places," he says, "but they find new places to skate every day. The cops can't do much unless you mouth off or destroy something."
Dalrymple describes the courthouse in Annapolis as "a skater's paradise." There are concrete ledges two feet high and lots of rails. The community college also offers a bounty of skating opportunities, but both places get nubbed on a regular basis.
"If you don't have a skate park, it's hard," says Dalrymple.
There are famous concrete parks — built into the ground like swimming pools — in Ocean City and Landsdowne, outside Baltimore. Closer to home, the crown jewel is the multitude of smooth, plywood pipes at Dunkirk District Park. There are also public parks in Bowie and on Kent Island, beside Sawmill Creek.
Fred's been to Sawmill twice since it opened. He says he's happy it's here.
"Yeah, right," Stephanie laughs. "He was like, 'They're building a skate park at Sawmill.' He made us drive by it before it was built."
Fred admits he was enthused.
"I don't have to sit down at home and watch Maury Povich all day," he says. "That stuff depresses me."
Until August 15, there was also a private park on Kent Island. It sat on an access road off Route 50, a wonderland of plywood pipes and ramps hidden inside a corrugated tin warehouse behind the Island Alliance Church. Fitting, since proprietor Wayne Brobst saw the park as a sort of youth ministry. He called it Atonement.
Besides open skating sessions on Wednesday evenings and weekends, Atonement also featured demonstrations by paid professionals. Following a recent demonstration, the church received complaints from the new housing development across the road. Island Alliance had welcomed the park's presence for over a year, but after the complaints, church elders decided to revoke Brobst's lease.
"They don't want that here," Brobst says, "which I understand."
The church will allow him to store his pipes and ramps in the warehouse until he finds a new location for the park, but Brobst has no idea when or where that will happen.
"It's hard to find a big enough warehouse," he says.
"We really need this here," parent Debbie Biello says.
Skating at Atonement kept her kids mentally stimulated, she says, and encouraged camaraderie and self-esteem. "All in an environment where they encounter the spirit of love. This is rare," she sighs. "This is very special."
The kids of Kent Island agree.
"Atonement was the best skate park that ever was made," Jeremy Ashley says.
"It had everything you could possibly ever want to skate on," Nicholas Biello says. "The county paid 10 times as much," he says about the new public park across the highway, "and it's not half as good."
Local skater Mike Bivens plans to open an indoor park next winter, most likely in southwestern Anne Arundel County. He'll call it Empire. Until then, the closest indoor park is at the mall in Potomac Mills, Virginia. Nick and Luke went there for Kyle's birthday.
"It was all right," Nick says.
"We weren't very good then," Kyle says.
Nick's looking forward to visiting Arizona with his family.
"There's a whole bunch of skate spots there," he says. "It's around California, so it's much more common."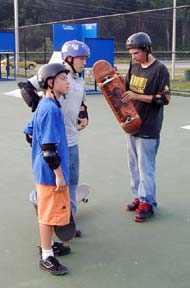 photo by Brent Seabrook
Not Your Father's Board

Once they've found a place to skate, skaters need something to skate on.
Today's skateboards are made from seven layers of sugar maple veneer, glued together and shaped under high pressure. They curve upward around the edges, most drastically on either end. This curvature, called "concave" by skaters, strengthens the board and gives the rider more control.
Most boards, or decks, are about eight inches across. Trucks — the T-shaped pieces of metal to which the wheels are attached — are screwed into the underside after it's been painted with bright designs. The top of the deck is covered with griptape, which is like coarse, black sandpaper and provides grip and footing.
Dalrymple says kids tend to pick their first boards for their cool graphics. Or they'll say "I want Tony Hawk's skateboard."
Inside the Swiss chalet exterior, most of Ski Haus is taken up by skis and surfboards. These are the store's bread and butter, but the skateboard counter is becoming more important. It sits in a prominent spot just inside the front door.
"It doesn't seem to matter what the season, it's always one of our number-one sellers," Dalrymple says.
The counter's doubled in size since Ski Haus started selling skateboards, and one row of decks, or blank boards, hanging from the wall has turned into three. If somebody asks for something by a manufacturer that isn't represented, Ski Haus will order it. The most recent example is Element, a small company until it hired three team riders. One of those, Bam Margera, has been on MTV's infamous Jack Ass.
"I want his board," Dalrymple quotes kids as saying, "because he jumps off roofs."
Evolved
To find the most popular skate shop this side of Route 50, just follow any car with a white star plastered to the bumper. You'll wind up at Evolve on Main Street in downtown Annapolis.

"They have the biggest selection," Luke says.

Evolve is big, bright, clean and airy inside. The sound of distorted guitars blares from hidden speakers. A grinning skull models a safety helmet. One side of the store is devoted to shirts and shoes. The rest is divided between surfboards and snowboards in one corner and skateboards in the another.

Dozens of decks line the walls, their bellies decorated with flaming skulls, evil rag dolls, kids swathed in bandages, Osama bin Laden's face, a silver cross on a black background and a midget clutching a bimbo's buttocks. But there are also more sophisticated designs, abstract animals and street scenes painted in subtle colors or photos of lonely beaches and solitary apartment buildings.

A jar sits on the counter, half-full of bills and change. It says:

"We found it! It took a while, but the Annapolis Skateboard Park has a location in … Truxton Park. We need … Money … Volunteers … A clever name."

The 10 years of Evolve's lifetime is about how long this search has taken. In that time, the store has been at three locations, all on Main Street. "The first location was like a closet," store manager Chris Sadler says.

He agrees that kids tend to pick their first boards based on the graphics or because they like a certain brand. He says the most popular brands now are Element and Flip, but smaller kids relate to the cartoon characters on boards made by Blind and World Industries. The latter's Flame Boy and Water Boy are especially popular.

"They have a bit of a feud going on," Dalrymple says of the two characters.

Ski Haus sells a blank board for $89.95 plus tax. Kids can buy $5 worth of stickers to decorate it, or they can shell out $160 for name-brand everything.

"There's no real difference," Dalrymple says. Except the all-important graphics.

Wheels are also very similar, just different shapes and sizes. Larger wheels let you go faster, but smaller wheels make it easier to do tricks. Like decks, it boils down to a personal preference.

"Most kids'll go through four sets of wheels before they say, 'Hey, I liked that second pair the best,'" Dalrymple says.

The Ski Haus sells several videos and DVDs. Some are instructional, others are team videos that show pros doing impossible tricks.

"They sell very well," Dalrymple says.

Kids also buy magazines like Transworld — which presents a relatively wholesome view of the skating world — as much for the ads as the articles. Dalrymple flips through the glossy pages of shoes and skates.

"This kinda gives us a heads-up," he says, about what kids want.

While healing his broken ankle, Nick's brother spent all his time reading such magazines.

"He looks at shoes all day," Luke laughs.

"He picks out shoes months in advance," Nick agrees.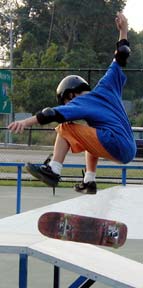 photo by Cristi Pasquella
Moving Up

Skating starts out as an inexpensive hobby, but decks, trucks, wheels, shoes, videos, magazines — it adds up quick.
"It gets expensive when you do it a lot," Fred's friend, Jeremy Miloro, says. "Especially when you start breaking things."
Decks don't last long. Fred broke one when he landed on it wrong. The replacement cost him about $125. Nick's on his seventh or eighth board in less than two years.
"They get worn down," he says, showing how his board's tail is worn through to naked maple. Once that happens, boards begin to chip. Boards also break when you land in the middle. The boys say they replace their boards every three months.
To pay for new decks, Luke works for his dad. Nick gets $25 every other week, as an allowance. Kyle's mom loans him the money, then makes him work it off.
"We also do yard work," Luke says.
Fred works at a grocery store and sells tickets during Orioles home games to support his habit.
"I'm an avid worker," he says.
Jeremy works at Sawmill Skate Park.
Kids can also turn professional. Evolve sponsors a team that performs at local skate parks like Atonement.
One of the pros is Matt Dove, who grew up in Baltimore and lived in Arnold for awhile. Now he lives in southern California, down the road from Bucky Lasek, another Baltimore pro skater. But they're the exception.
"As you get older, it gets harder to skate if you can't devote yourself to it," Dove says.
After high school, Dove picked up a few minor sponsors, like Toxic Skateboards, in Ocean City. Then he competed with the National Skateboard Association, moving from district contests to regionals to finals. He qualified for the finals his first year, but didn't realize he had until it was too late to compete. The next year he won.
Now 29, Dove is sponsored by seven or eight companies, large and small. He gets free products, a travel budget, a monthly paycheck and bonuses for doing well in contests. He makes enough to live on and even saves a little.
Mainstreamed
Dove was in Philadelphia August 10 to compete in the eighth annual X Games, featuring inline skating, bicycle stunts and skateboard tricks. The X Games are televised each year by ABC and ESPN. That exposure has lead to a dramatic rise in skating's popularity. Like punk rock in the '80s, skating verges on becoming an accepted facet of mainstream American society.
"Since 2000," Evolve owner Robby Roberts says, "the thing we've noticed is how mainstream skateboarding's become."
Four or five years ago, there was a hard-core crowd that bought a few boards.
"Now skateboarding is everyone's hobby," Roberts says.
Kids come into Evolve after soccer and lacrosse practice with their parents in tow and their shinguards still on. Every kid's closet has a basketball, a snowboard, a lacrosse stick and now a skateboard.
"It's not frowned upon anymore," Roberts says. Kids see skating on TV. The image is being cleaned up.
"It's not an anti-establishment sport anymore. It's an individual sport," Roberts says. "You progress on your own terms instead of competing with other kids. Not everyone can play football or baseball or basketball. But everyone can skate."
Lots of Nick, Luke and Kyle's friends skate.
"There's about 10 of us, altogether," Nick says.
More telling, perhaps, is Nick's insistence that there's also a lot of kids who dress up like skaters, but who don't really skate.
"They can ride," Kyle says. "But they're not good. They can't do tricks or anything."
"It's become trendy in the last year," Stephanie agrees.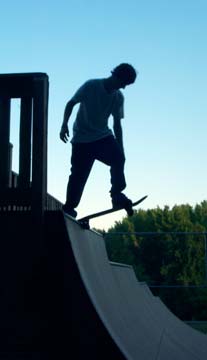 photo by Brent Seabrook
Fred thinks half the kids they know must skate, while Stephanie says it's more guys than girls.
"We get a few girls here and there," Dalrymple says, but he notes there are far more male professionals for boys to model themselves after. Most of Dalrymple's customers are boys between eight and 15, but some are as old as 27 or 28; they ride big, old-school boards on the pipes outside. Roberts says guys in their 30s and 40s are returning to the sport as their kids are.
Over the Pipe

Randy Pettersen's belly hangs over his waistline. His beard is laced with gray. He has not been on a skateboard since the late '70s.
"My last board was a Logan Earth Ski," he says.
He's at Sawmill Creek to try out a board he bought for his son.
"Poured concrete is the way to go," he says, eyeing Sawmill's steel halfpipe. "An acre or two of curved walls gives you room to maneuver."
He remembers ripping off plywood from people's back yards to build ramps.
"That's where it all started," he says, "in swimming pools and driveways."
Randy says he intends to ride the five-foot halfpipe before the end of the day, but eyes it warily.
"I don't have the nerve I used to," he laments.
---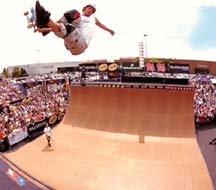 photo by Chris Mitchell

Bucky Lasek performing at the 2001 Mobile Skatepark Series in Baltimore.
Pros Show Their Stuff
August offers a pair of prime opportunities for skateboard enthusiasts to pick up some 'stuff' from the pros.


First, the eighth annual X Games continue in Philadelphia through Monday, August 19. Admission is free if you can find transportation, or you can tune in to ABC and ESPN afternoons and evenings. Log on to www.expn.com for details.

Then, August 24 through September 2, Baltimore natives Matt Dove and Bucky Lasek return to compete in the 2002 Mobile Skatepark Series, a large-scale extreme sports and music festival featuring 90 pro superstars from skateboarding, freestyle BMX and aggressive inline, plus top music talent, an interactive skatepark for kids and teen cultural activities like break dancing, video games, free-style rapping, home videos, graffiti art and best-trick contests. Last year's event was a huge success, drawing over 70,000 fans. Noon-8pm @ White Marsh Mall. Spectators free; skatepark $8 (helmet and pads required): 310/823-1865 • www.asaevents.com.