Myriam Norris talks with dogs.

"Oh, Zoe, look, there's Tuppence and Koa," she says to her nine-month-old Chesapeake Bay retriever, who — one way or another — gets the point.

When Norris unhooks Zoe's leash, the Chessie trots off to greet her four-legged friends. A few minutes later, more tail-wagging, floppy-eared friends arrive. Soon a pack of eight dogs is bounding by, chasing a ball and each other.

Off to one side, out of the way of the canine play, the humans gather. While keeping an eye on their dogs, the humans discuss the drought, the summer heat and the possibility of an afternoon sail. They give each other dog-training tips and home-improvement advice.

Tuppence, Kathy Brandon's dog, is a shepherd-husky mix. Debbie Stodd brings Bailey, a springer spaniel Stodd rescued when he was on his way to a shelter. With Kristina Behncke comes Lincoln, her "hyper" chocolate Labrador retriever, who she hopes a run with the pack will tire out.

When Jim Coleman arrives with Boomer, a golden retriever, everyone explains that Boomer doesn't belong to Coleman. "He's Jim's grandson," they say with a laugh.

This group meets most mornings at the Quiet Waters Dog Park in Annapolis. They say it's a wonderful place to exercise their dogs, but it's difficult to tell who's enjoying themselves more, the humans or the dogs.

"We've become friends because of our dogs," says Norris. "The dogs bond, and the people bond, too." Since meeting through their dogs, Brandon and Norris have indulged a shared interest in art and visited a Turner exhibit in Baltimore.

"The people are so interesting," says Jet Jatlow, whose Shiloh shepherd, Koa, roughhouses with Zoe and Tuppence. "If somebody doesn't show up, everyone gets worried."

The park was designed for the off-leash exercise of dogs, but it has become much more. According to Park Ranger Brad Hunt, visitation at Quiet Waters has increased since the dog park opened. "People will make appointments with each other to meet at the dog park," he says.

"It's a community event," says Michelle Ulrich, the owner of Paws Pet Boutique in Annapolis and a moving force behind the creation of the Quiet Waters Dog Park.

Norris says that for her and Zoe, visiting the park is simply "a wonderful way to start the day."
Going to the Dogs
Dog parks give dog owners a place to exercise and socialize their dogs off-leash while keeping them safe from traffic and away from people who may not want to interact with the dogs.

Anne Arundel County has two dog parks, one at Quiet Waters off Bay Ridge Avenue and another at Broadneck Park off College Parkway on the Broadneck Peninsula. At Quiet Waters, the dog park is about an acre, but at Broadneck, the large dog area alone is more than two acres. Two more dog parks are planned, but the sites have not yet been selected.

Both dog parks are surrounded by high fences, and the entryways are double gated to prevent dogs from intruding on humans in their parts of the park. Inside the fence, each dog park is divided into two sections, one for large dogs and one for older and small dogs. At Quiet Waters, aside from a few trees and benches, the parks are flat, open space to allow the dogs to run. So much running is going on in the large dog park that the grass has been mostly worn away. Broadneck lacks trees and benches, but dogs there run over a rolling landscape and lush grass tickles their paws.

Water, bowls and poop bags for owners to pick up after their dogs are provided. Quiet Waters also has a dog beach, but that area is not fenced.

Only recently have Annapolis dogs and their owners enjoyed such amenities. The Quiet Waters Dog Park opened in December 2001, and the Broadneck Park opened this summer.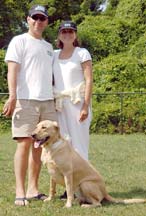 Steve and Joey Bushey take Chloe-Belle to Broadneck Park.
Dog-Gone

For years, Steve Bushey had been bringing Chloe-Belle, his yellow Labrador retriever, to the Broadneck Park every evening after work. Bushey and other owners would let their dogs run on the partially fenced ball fields. Then signs banning dogs from the fields went up. A few die-hards ignored the signs, but there were some unpleasant encounters with other park users.
Many dog owners recall the vacant lot or secluded corner of a public park that had once been the de facto dog park in their neighborhoods. Discreetly ignoring the leash laws, they had let their dogs run free. But so much open land has been lost to development or encroaching roads that letting their dogs off leash became unsafe.
Parkland, of course, is in high demand by sports leagues, mountain bikers, hikers and all kinds of humans needing their own outdoor space to play. Many of those park-users were uncomfortable around loose dogs, and not every loose dog was well behaved.
Some owners adjusted their schedules, sneaking onto the open areas early in the morning or late at night so their dogs could do as their dogly nature demanded and run. Others gave in, resigning themselves to exercising their dogs only at the end of a leash.
In the meantime, dog owners moving into the area were coming into Ulrich's shop and asking where they could find the local dog park. "But I had no idea such things existed," Ulrich says.
Ulrich and a friend, Amelia Mikula, who owns Grateful Pets pet sitting service, did some research and learned that other communities had successful dog parks.
Berkeley, California, had led the way, creating the first dog park in the mid 1980s. The concept made its way across the country, and Maryland's first dog park opened in 1996 in Greenbelt.
A necessary ingredient to every successful park is that the dog owners adopt it as their own. Ulrich and Mikula believed that would happen in Anne Arundel County.
"This is a very dog-friendly area with boat dogs, hunting dogs, all kinds of dogs," explains Ulrich.
After writing letters and lobbying park officials, Ulrich learned that County Executive Janet Owens had called for a study of dog parks. "We then joined forces," says Ulrich. At Quiet Waters, the first dog park to open, the county spent $23,000 for the fencing, and volunteers raised about $12,000 for trees and benches.
Now dog park patrons want more amenities. They have plans for dog-training seminars, planting more trees, sharing information and messages on a bulletin board and throwing a Halloween party for dogs.
"We want it to be more than a fenced area for dogs to run," says Ulrich. "It should be a pleasing place to visit."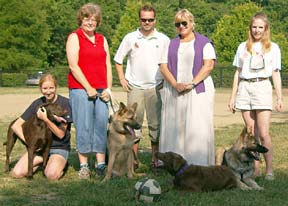 Kristina Behncke with Lincoln; Kathy Brandon with Tuppence, Dan Spogen with cousin Myriam Norris and Zoe; and Jet Jatlow with Koa at Quiet Waters Dog Park.
Well-Socialized Dogs …

"The dog park is the best way to socialize your dog," says Norris. "They grow up more comfortable around other dogs and people. Our house is so isolated, and without the dog park, Zoe would have little contact with people and dogs."
Joan Kelly, who takes both her Balkan hound mix and catahoula leopard dog, the Louisiana state dog, to the Broadneck Park, agrees. "Even with a backyard, the dogs need to get out, see other dogs, run, smell different smells and have freedom," she says.
"Socialization is extremely important," adds Patty Engelberth, who visits the Broadneck Park with Dakota, her German shepherd.
"In some respects they're like people," explains Grandfather Coleman. "They have their friends they like to see."
Not all humans understand canine nature so well. We tend to keep our dogs isolated in the backyard or take them on solitary walks. Few have the chance to interact with other dogs. No wonder they sometimes bark too much or tug at the end of the leash when they meet another dog.
Ulrich explains that the dog park helps overcome such problems. A dog that visits the park is less anxious and better socialized. And, because dogs are much more athletic than humans, playing with their canine friends also gives dogs a level of exercise that no human could provide.
"I can't run as fast as my dog to get him the exercise he needs," says Ulrich of her Jack Russell terrier. But a visit to the park will tire him out.
Ellen Thomas says that after a morning at the Quiet Waters Park, her Scottish and Irish terriers "will be tired all day."
"The dogs go home and collapse," says Jatlow.
It's a common refrain. The dogs go home and sleep away the rest of the day. They're too tired to cause any trouble.
… Need Responsible Humans
Dr. Werner Heimberger of the Annapolis Animal Hospital agrees that the dog parks are a good place to let your dog run. "I support the idea," he says. "And the overwhelming feedback from my clients is very positive. I have nothing negative to say about the parks."

Before visiting the park, Dr. Heimberger says that owners should ensure that their dogs' vaccinations are up to date. Park regulations require the dogs to be vaccinated, but there is no list of all the necessary shots. Dr. Heimberger recommends that owners speak with their veterinarians about their dogs' "lifestyle" so the vet can advise them on the vaccinations the dogs will need.

When visiting the park, especially for the first time, Dr. Heimberger stresses that "owners must be conscientious of their dogs' behavior. Just know your dog so you won't get into a bad situation." You'll be glad to know that this vet has had "very few visits" resulting from altercations at the parks.

Perhaps the parks are mostly peaceable because the owners are taking Dr. Heimberger's advice. Kelly stopped visiting Quiet Waters on the weekends when there can be 30 or more dogs in the park. "It got to be too much for Blue," says Kelly of her 11-year-old catahoula leopard dog. Now they visit the Broadneck Park, which is bigger and less crowded.

"There are going to be fights," warns Engelberth, "but owners do not get upset with each other. Both step in to handle the problems. Tiffs are overcome by communication between the dog owners."

Owners are attentive to their dogs and watchful for any growl that is prelude to a fight. Still, bringing a dog to the park for the first time can be unnerving. Who wants their dog to be the one that doesn't play well with others?

When Zoe was a puppy, Norris brought her to the small dog park. They felt "very daring" on their first visit with the large dogs, Norris says.

Koa spent most of her first visit to the park standing beside Jatlow with her tail between her legs. When Koa did venture out, the approach of another dog sent her hurrying back to Jatlow for protection. But Koa has overcome her shyness and now plays confidently with her friends.

Dan Spogen, Norris's cousin who is visiting from Luxembourg, accompanies Norris and Zoe to the park. "In Luxembourg," says Spogen, "people would be worried that the dogs would hurt each other. The dogs don't play with each other. They just go for a walk in the morning."

"I was very surprised by the dog park," Spogen adds. "I didn't know such things existed. But then I said to myself, in the States, nothing is impossible."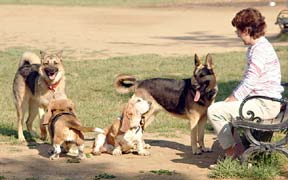 Caryn Jackson with friendly visitors.
Interspecies Fulfillment

At the Quiet Waters Dog Beach, the dogs race up and down the shoreline, kicking up sand and water. Some swim out to retrieve floating toys. When the dogs shake themselves dry, they drench everyone. A few dogs roll in the sand and others escape up the hill, their owners in hot pursuit since the dogs aren't allowed to leave the beach off-leash.
From the dock, a woman surveys the happy chaos. "I don't have a dog," she says, "but I like to come and watch."
When Kevin and Linda Farrell visit the Broadneck Park, they can't take their eyes off their two huskies. "It's so fun because we never had the pleasure of watching them run full out," explains Kevin.
For Norris, the pleasure is in seeing how the dogs interact. "It's strange how they make friends," she says.
Research has shown that dogs and other pets keep us healthier. They lower our blood pressure and stress level and improve our self-esteem. Beth Baker reported in the Washington Post that our affinity for animals, plants and natural settings may be hard-wired into us. It's called "biophilia."
The concept was developed by Pulitzer Prize-winning author and scientist Edward O. Wilson. He defined biophilia as "the innately emotional affiliation of human beings to other living organisms." Wilson claims that "Our existence depends on this propensity, our spirit is woven from it, hope rises on its currents."
Biophilia may explain why we fill our offices with plants and our homes with dogs and cats. "Humanity is exalted not because we are so far above other living creatures," Wilson wrote, "but because knowing them well elevates the very concept of life."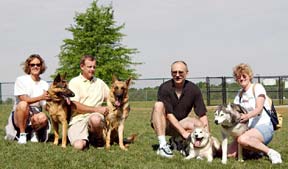 At Broadneck Park, Patty Engelberth brings Dakota and Jerry Brennan brings Leica, while Kevin and Linda Farrell bring brother and sister huskies Broc and Cailia.
Big Dog vs. Little Dog

In the large dog park, the favored game this morning is tug of war with a stick. At the small dog park, there's only one dog, a pug. Its owner is running in circles with a toy, trying to provide some entertainment.
Brandon looks over at the small dog park and says, "That's the frou-frou park."
"There's more action in the big dog park," says Behncke.
A few minutes later, the pug and its owner are in the large dog park. The big dogs accept the pug into their pack without any problems.
During several more morning visits to Quiet Waters, the small dog park is empty. Finally, on a Sunday afternoon, the small dog park is filled with visitors. A mini-dachshund, cocka-poo, schnauzer and several terriers chase each other in a tumbling collage of brown, red, white and black. The owners feign indignation at the thought that the big dog park is the place to be.
"The small dog park is even nicer," says Linda Peppers, who visits every day with her cocka-poo, Calamity. "We have more trees, and another bench is being put in, which is wonderful."
A malte-poo arrives and soon has a pack of dogs chasing her. They race around the benches and through their owners' legs. Then there's the Scottish terrier who won't give up the tennis ball while the schnauzer and mix-breed dog wrestle.
Friends
"I never thought I'd be making friends because of my dog," says Norris.

She drives past the Gate House at Quiet Waters Park and follows the paw print signs to the dog park. Courtesy of her dog, Zoe, Norris is going to a place that has mostly vanished from our neighborhoods and towns.

"It used to be in old-fashioned towns, people would talk more to each other," says cousin Ulrich. "They would meet more often. The dog park is a way to have easy conversation with people."

---
More of a Good Thing: Seattle's Marymoor Park
For dogs who wile their days away cooped up in apartments or fenced alone in back yards, the dog parks at Quiet Waters and Broadneck parks present unprecedented opportunities to cavort and socialize. But there are parks elsewhere in the world that make Anne Arundel's look like large kennels.

One of these nestles in a broad valley half an hour east of Seattle. The 40-acre off-leash area at Marymoor Park has been used as long as anyone can remember. It went wild and untamed until 1987, when the county threatened to close it. A group of dog owners convinced the county council to change their plans; in the years since, the group has built bridges, paths and retaining walls throughout the area, turning it into a paradise for dogs and owners alike.

From the parking lot, where fresh-baked dog biscuits are sold, a bark-paved path winds along the Sammamish Slough. Amphitheater-style steps lead down to the water. Dogs leap from the creek's muddy banks in pursuit of tennis balls. The trail winds onward through lush woods and wetlands; here dogs pause to mark their passage or note the passage of others.

The trail gives way to open fields beyond the woods. There are dozens of dogs here, perhaps hundreds, but nowhere is it crowded. Nor are there fences to hinder running and chasing, only hills to climb and high grass to hide in, mudholes to wallow in and dense thickets to explore.

The dogs roam wild in packs like their cousins, the wolves, until a familiar whistle reminds them that they are indeed domesticated, and have been for thousands of years. They go home happily, minds and muscles exhausted, with bellies full of fresh-baked biscuit.

— Brent Seabrook
---
Needed: Bark Rangers and More
Volunteers are needed at the Quiet Waters Dog Park. Bark Rangers are liaisons for the park rangers, helping visitors understand dog park rules and reminding everyone to keep the park clean. You don't have to be a dog owner to be a Bark Ranger. Contact Ranger Brad Hunt: 410/222-1777.

Many improvements are planned for the Quiet Waters Dog Park. Want to help? Michelle Ulrich: 410/263-8683 or Friends of Quiet Waters Park web.aacpl.lib.md.us/rp/parks/
QuietWaters.

Want dog park rules and advice on visiting the dog parks?