Four clubs and the wonders they've wrought
In our towns and Main Streets, garden clubs work like elves to dazzle us with wake-up surprises. Local garden clubs are no weedy upshoots. The clubs are dedicated sisterhoods — yes, they are mostly women — whose members embrace gardening with as many hours and as much — if not more — enthusiasm as they put in full-time professional jobs.

As does Paula Winkler of LaPlata, an early retiree who says she's almost forgotten what she used to do since becoming so involved in "community service and work with my garden club at the local, district, state and national levels."

Her 128-member Charles County Garden Club is one of the Chesapeake region's two dozen federated clubs, which are part of an international organization of flower lovers. Like all the federated garden clubs, Winkler's puts its knowledge and love of flowers to work in its communities, where they're still picking up after April's tornado.

Annapolis is surrounded by garden clubs. Among them is the Severn River Garden Club, which has its green hands at work at in every nook and cranny of the region. In Severna Park, the Moonflower Garden Club is one of four that have created a sanctuary from urban life at the Hatton-Regester Green along the B&A Trail.

In Calvert County's twin beach towns — North Beach and Chesapeake Beach — you see the flowering of a new era in garden club plantings.

The magic wrought by such clubs supports the rich quality of life in Chesapeake Country. First, the landscapes and gardens are beautiful. If that's not enough, the landscapes, gardens and pots these clubs promote, dig, plant, fund and cultivate boost real estate values. They bring in tourism dollars. And they boost the self-esteem of the community.

Garden clubbers keep low profiles compared to the world of politics and business. But, when we wake up to what they do, we are dazzled by their quiet work done, it seems, with the deft power of elves.

Up Against the Beaten Track with the Moonflowers

by April Falcon Doss
In northern Anne Arundel County, The Hatton-Regester Green lies nestled alongside the B&A Trail, tucked up against Route 648, behind a strip mall within shouting distance of Ritchie Highway. It is an oasis. Traffic swirls by on the busy streets surrounding the green, but the sounds seem to come from another dimension than from the stillness of this tiny swath in Severna Park.

Sprays of hosta and ferns, like soothing fountains, blazing azaleas, rhododendron and perennial delights draw you and many others. Ten benches line the gently curving walk through the green. On one sits a woman in her mid-40s wearing jeans, a pony tail and baseball cap, gazing into the plantings. On another, a picnic is spread: sippy cups, Cheerios, a McDonald's Happy Meal, all belonging to the woman who has brought her two children to the park to eat lunch and play. The four-year-old wends his way behind rose bushes and yews. The baby crawls along the gravel path.

This place of surprising serenity was dedicated in 1999. Prior to its purchase by Anne Arundel County, the Hatton-Regester Green was a private residence with several outbuildings and overgrown trees and shrubs. The Friends of Anne Arundel County Trails created a landscape plan to provide a quiet place of beauty for the community to enjoy, for small concerts, for birds and butterflies. Its plantings are maintained today by local garden clubs: Severn River, Hollyberry and Moonflower.

"I always had this picture of garden clubs being little old ladies sitting around drinking tea and admiring their roses," laughs the Moonflower Club's president, Liz McGinniss, as she describes her path to Hatton-Regester Green.

But McGinniss, a 50-ish nurse, had already been gardening on her own for a quarter-century by 1996, and she wanted others to share the pastime. So she showed up at a meeting at the Severna Park library, out of which the Moonflower Club was born.

"Several of us," she explained, "worked during the day and needed a club that would meet in the evening. That's how we got our name. The moonflower blooms at night."

From four members in 1996, the club has grown to about 25 members, men and women ranging in age from their 20s to 70s. It's a busy group. They meet once each month (except July and August) and attend lectures by master gardeners. They share tips and fellowship. And — nearly every weekend — they garden.

"I was surprised," McGinniss says, "when I discovered just how much garden clubs do."

Of course, the members work in their own yards, too, and McGinniss' Pasadena home has a lush front yard, plant stands on the porch and a thriving house plant in nearly every nook and cranny inside.

Moonflower's members are involved in plenty of other projects, as well. They planted a garden outside the Sunday school rooms of the church where they meet, so the children would have flowers to look at. Each week, one member of the club is responsible for weeding, cleaning, replanting or whatever needs doing for the children's garden. Each week as well, one club member is charged with maintaining the club's swath at Hatton-Regester Green.

In the center of Hatton-Regester Green, the Moonflower Club has installed a water garden edged in river rock and stocked with blooming water lilies and flashing golden fish. The water's peaceful burbling softens the percussive noise of heavy trucks passing nearby. The stone monument erected at one end of the green acknowledges those who have made this public space possible, including the garden clubs that shared the plantings.

"Hatton-Regester Green," reads the inscription, "for all to use and enjoy!"

Last year, the club landscaped two houses built by Habitat for Humanity, donating all of the plants, planting them and teaching the homeowners how to care for them. They've made centerpieces for a local nursing home, they host a greens workshop each year before Christmas, and they use some of the greenery they've made to decorate the church where they meet. They hold a yearly plant sale. They sponsor a youth garden club called the Sunflowers. They make contributions to a local sensory garden for the blind.

All this fits under an ambitious purpose: "to create interest in gardening, in protecting forests, wildflowers and birds, and to encourage civic and community planning."

Of course, they enjoy plenty of fellowship along the way.

"We share ideas and swap plants. We crawl around in the dirt and get dirty. The socializing with other members, the camaraderie and learning more about gardening …" All these, McGinniss says, are the benefits she enjoys, while the rest of the world gets to enjoy the fruits of the Moonflower Club's labors.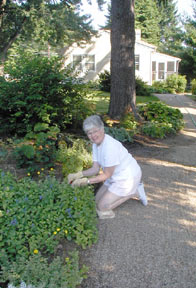 Katie Borland enjoys working with Severn River Garden Club to make "a peaceful place in the middle of a chaotic world."

photo by Cristi Pasquella

Beyond Stress with the Severn River Garden Club

by Martha Blume

Peep into Katie Borland's Severna Park garden basket and you'll find gloves for weeding, a spade, clippers for dead-heading, a kneeler and bags for trash. She's ready to get to work.
With the Severn River Garden Club, Borland lovingly cares for another section of the Hatton-Regester Green Garden, the garden from the steps leading down from Holly Road back to and including the garden at the Chamber of Commerce building.
"In the spring, a call goes out to club members, 'the mulch is coming.' It covers up a multitude of sins," Borland explains. "We divide the hostas. We feed the plants, which say, 'thank you.' We plant as many perennials as we can. If something dies, we take it out.
"Like a room in a house, a garden has to be changed. If something doesn't like living here, you move it."
A member of the Severn River Garden Club since last June, Borland says she takes pleasure helping create "a peaceful place in the middle of a chaotic world."
Borland took up with the Severn River Garden Club after retiring from Anne Arundel County as an English as a Second Language instructor.
Like her, the club's 37 members must live within two miles of the Severn River. Organized in 1925, Severn River Garden Club is one the 10 original garden clubs in the Federated Garden Clubs of Maryland, which means it must work actively in horticulture and conservation. This also makes it a member of National Garden Clubs Inc. Advantages include resources for club programs and workshops.
In addition to monthly programs, the Club branches out in a Garden Therapy Program at local nursing homes to teach residents flower arranging. In winter, the club fixes greenery and wreaths for post offices in Severna Park and Arnold, the Severna Park library and nursing homes. It supports the Hammond-Harwood House, Paca House, Tawes Garden, Chesapeake Bay Foundation, Hancock's Resolution, the Nature Conservancy and the Maryland School for the Blind's Sensory Garden.
The club's gardens at Hatton-Regester and the Railroad Station Garden on Riggs Avenue and Holly Road in Severna Park are popular gathering places for community workers on lunch hour or for exercise enthusiasts biking, running, skating or walking on the adjacent B&A Trail.
The Railroad Station Garden was designed some 18 years ago next to the historical train station for the B&A train. Gardener Joe Ann Kuhn, chairman of beautification for this garden, says it underwent a major renovation about three years ago, with evergreens removed and perennials and annuals added around the perimeter.
One part of the garden grows roses and hellebores in memory of past members. In another corner, iris of every hue and pink peonies encircle a cherry tree. Pink verbena, yellow marigolds and blue plumbago stand in contrast to sedum and boxwood.
Gardening has been a lifelong passion for master gardener Kuhn. Growing up on a farm, it was her job to tend a garden of peonies. "It's a form of therapy, a stress reliever," she says. And it's been an escape during latter years of caring for a husband with chronic progressive Multiple Sclerosis.
Kuhn considers the work she and her committee put into the garden a gift to the community. "Just about any time I work there," she says, "people stop and tell me how much they enjoy it. They like the atmosphere."
Borland agrees. "It makes me feel good and peaceful."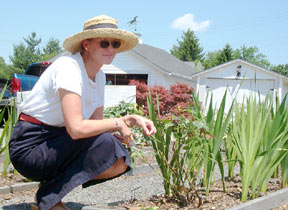 Paula Winkler and other Charles County Garden Club members are still repairing and reclaiming 'green spaces taken by April's tornado.'

photo by Russ Barnes

After the Twister with the Charles County Garden Club

by Russ Barnes

After the tornado roared and twisted through a 24-mile swatch around La Plata on its fateful April visit, the Charles County Garden Club of Maryland ventured out to weigh the damage. One of the first stops was Town Hall with three giant pots of pansies at the main door.
"The roof of Town Hall was blown off," reported Paula Winkler, this year's president of the Garden Club. "But there was not a single leaf blown off the pansies."
That after a storm, which felled some two million trees in Calvert and Charles counties, demolishing 4,012 acres — 17 percent — of forest.
Two months later, Winkler and Diane Kramer, last year's club president, pruning shears in hand, are surrounded by bees in Winkler's lavender and rose garden. The twister, it's apparent, did not touch down here.
"The bees won't hurt you," says Winkler of the thousands harvesting lavender nectar for honey. "You're not what they're after."
April's tornado has given the Charles County Garden Club a job worthy of its energies.
"The main objectives of the club right now," says Kramer, "are to assess the tornado damage, to re-forest the area, and to reclaim green spaces taken by the tornado."
Coordinating reclamation goes hand in glove with the garden club's greater mission of creating "an improved environment for people and animals." The method to their mission is frankly political. The garden club volunteers are in county commission chambers nearly as often as they are out planting geraniums in county pots.
What do they do at the county building and town hall?
"We raise money, we influence decisions and we educate," says Winkler. She's a bit too genteel to say the club lobbies local government, but that's what they're up to.
"Beautification itself is a hard sell," explains Winkler, of her club's work behind the scenes. But there's an angle. Property values are substantially affected by good landscaping. At a Town Hall meeting, club volunteers testified that good landscaping added $90,000 to one homeowner's overall property valuation.
"With that kind of argument," she says, "some of the council members pulled out their wallets and made personal contributions." Public funds were not far behind.
There's no end to what the 128 active volunteers who carry on the Charles County Garden Club can do with a little ready money.
With its work cut out for it, the garden club continues raising money to restore and improve what ill winds uprooted.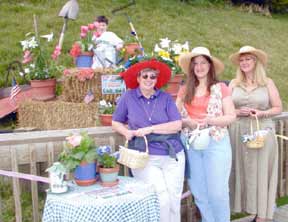 Gardener Jackie Zilliox, left, and other members of the Chesapeake Beach Garden Club at a fundraising sale.

photo by Nancy Feuerle

Spreading Beauty with North Beach and Chesapeake Beach Garden Clubs

by Sonia Linebaugh

Back in the 1960s, when Lady Bird Johnson became first lady, Washington was a city of neglected statues, weeds and blowing trash. By the time she left town in 1969, the city had been transformed into a place known for the beauty of its flowers in parks, circles and corners.
The beauty eventually spread out Pennsylvania Avenue to the Bay's side of the beltway in the form of wildflower gardens in the median strips. Veer off onto Route 260 east toward the Bay, and the wildflowers give way to cultivated plants and trees leading Bayward to Chesapeake Beach and its twin North Beach.
Both towns now boast landscape committees and professional garden planting and maintenance. But the volunteers came first.
You saw their touch in "everything from a Christmas tree on the beach including Santa and hot chocolate to the garden strip next to the boardwalks," says North Beach Garden Clubber and town councilwoman Barbara Gray. For 13 years, the flowering of North Beach's public spaces was the work of its volunteer garden club.
Now Town Hall has taken on some of the heavy lifting, taking charge of perennials while the garden club plants annuals twice a year.
"We don't have to weed and water or freeze our fingers stringing lights at Christmas. We just give the town a donation every year," says Gray.
Now the club has time to branch out. President Sally Donaldson and her son Richard Ball plant and maintain 41 large flower pots in town — though they're trying to get neighbors to adopt each pot nearest them. Member Marc Goodman coordinates a marsh cleanup twice each year. And, there's an annual house and garden tour — a 17-year tradition — that serves as their only fundraiser.
In neighboring Chesapeake Beach, the garden club takes on a different character. "Small and friendly." That's how member Nancy Feuerle describes the organization in its first year. "It feels like you're working with friends who have a common interest."
"We're interested in learning about gardening," explains club president Jackie Zilliox. "But our main goal is the beautification of Chesapeake Beach. The city pays the professionals to do the big public projects. Our goal is to take on the small areas that the city doesn't."
Their first rule, Feuerle explains, "is to think about what we want to see in town that we can personally handle. For instance, the town hall had nothing until we filled two planters out front and a small plot by the entrance to the offices." Coincidentally, the town landscape committee had plans; professionals showed up the same day to plant beds of flowers around the brick building. The big plan and the small worked together.
At the library, the club hung planters and flower boxes featuring petunias. They aim to take on five entrances to the town boardwalk as well. Clearly, they find it hard to stay simple and grow slowly. A proposal to plant an heirloom garden at the Railway Museum has led to research and discussion about plants that might have been popular in the heyday of the railroad, between 1900 and 1930. Planning with the museum curator is merely the first of several layers of approval needed. "But it's not too taxing so far," says Feuerle.
The club's other enthusiasm is to visit one another's gardens and learn from each other. Charlotte Allison shares her passion for heirloom daffodils and roses. When the club met amid her daffodils this spring, she invited members to put tags by flowers they wanted. When the blooming season was over, Allison divided her plants and shared the bounty. Master gardener Pat Hawley protests that she doesn't know much, but she is the one who answers members' questions about pests and other garden problems. Feuerle's own garden is a riot of tomato plants, brilliant orange cosmos, summer vegetables and other flowering plants with a cozy patio that invites lingering over the morning paper.
They raise money in small ways, with $10 annual dues and fundraisers that feature donated plants or baked goods, flea market items or wreaths handmade by club members.
Lady Bird Johnson had the right idea. Beauty spreads. Pass the word.