by Maggie Thomas

Saturday, in the Park …
If You Think It's Chicago, You're Right
On a sultry September evening in 2001, on a covered outdoor stage with neon lights pulsating off the waters of the Chesapeake Bay, singer James Brown twisted and shouted his way through a soulful medley of his hits.
Teens in the sold-out crowd stood on their seats cheering wildly, while their baby-boomer parents danced in the aisles.
It was a scene familiar to famous outdoor arenas, but this wasn't an evening at Wolftrap or Merriweather Post Pavilion.
This raucous, high-energy Labor Day celebration rocked the state-of-the-art Washington Gas Pavilion of the Calvert Marine Museum in Solomons in southern Maryland.
Huh? Say that again?
"We had a huge crowd, very enthusiastic, and a well-behaved, classic James Brown," said Lee Ann Wright, director of development and public relations for the museum. "It was our most successful fundraiser yet."
Each new year renews Wright's pride in the success of the Waterside Music Festival, which has brought major recording artists to southern Maryland for the past 16 years.
Money raised by the Festival brings vital income to this non-profit institution, whose mission encompasses estuarine biology, paleontology and maritime history.
"It is a major source of earned income for us," said Museum Director Doug Alves. "It's also a lot of hard work. But the money we raise is allowing us to do things we wouldn't be able to do if we were relying on county funds."
That one day rock 'n' roll event brought in more than $60,000 to the museum's coffers, money that comes in real handy when there's a new fossil exhibit to prepare or a paleontologist seminar to promote.
On Saturday, June 8, Wright hopes to top it all with the biggest show yet, when Chicago hits the stage after kicking off their summer tour with a Memorial Day concert in the nation's capital.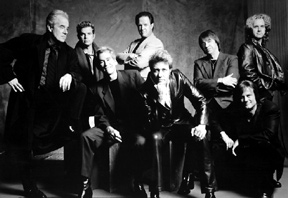 Three Decades of Rock 'n' Roll

The Chicago summer tour celebrates the 35th anniversary of the band. It's been more than three decades since original band members Terry Kath, Danny Seraphine, Lee Loughnane, James Pankow, Robert Lamm and Peter Cetera practiced in the North Side Chicago apartment of saxophone and flute player Walt Parazaider. Back in 1967, the musicians were committed to the dream of a rock and roll band with horns, heavily influenced by Chicago greats like jazzman Lionel Hampton, bluesman Muddy Waters and King of Swing Benny Goodman.
First they were The Missing Links, next The Big Thing, then — on the advice of manager Jim Guercio — The Chicago Transit Authority. Guercio had produced Blood, Sweat and Tears, and with his influence, Chicago landed a contract with Columbia Records in 1969. But their jazz-influenced, self-titled first album didn't make the Top 10, and in 1970 the band shortened its name to Chicago.
The years have been full of changes. Jazz was the band's inspiration, but in the '70s, Chicago leaned more toward mainstream pop with hits like "Colour My World," the 1976 Number-One hit "If You Leave Me Now" and the 1982 Number-One hit, "Hard to Say I'm Sorry." In 1974, the group added Brazilian percussionist Laudir de Oliveira to its lineup. In 1977, after a Best Album Grammy for Chicago X, the band and manager Guercio parted company. In 1985, founding member Cetera left the band, and Chicago brought on Jason Scheff to fill the void. Scheff was accepted by the fans, who put "Will You Still Love Me," on which he sang lead, into the Top 10.
Over the years, Chicago has amassed record sales of 222 million, making them second only to the Beach Boys on America's roster of musical success. Of their albums, 18 are gold, 13 platinum; 12 have reached the Top 10, and five have hit Number One.
So it's no wonder that Calvert Marine Museum's June 8 concert sold out quickly.
"It's a real honor for us," Wright said, sounding more like a fan with every word. "They had offers in big venues all around us, but they liked the idea of the intimacy, of being able to see all the people, feel the enthusiasm. And they know that professionally we know what we're doing."
That's because Calvert Marine Museum has been showcasing talent for 16 years.
A Challenge Met
In these days of tight budgets, in a slow economy where discretionary income is dwindling, non-profit institutions have to fight for every dollar and stretch it to the max. That means they have to be creative in their fundraising efforts.

"The county gives us 66 percent of our operating budget, which we are grateful and happy for," Alves said. "The rest we have to raise. It's a challenge."

That's how the whole thing started, with a challenge issued and met 16 years ago.

In the mid 1980s, the Calvert Marine Museum was a fast-growing infant. It was nurtured by a core group of dedicated volunteers, many from the surrounding business community, who had a vision that required more money than they could raise themselves.

"We wanted the museum to be a hub, a place people could go to for culture," said Ellen Zahniser, who at the time chaired the board of governors of the museum. "There was nothing in the county to do. It was important that we do this."

As luck would have it, former museum director Ralph Eshelman learned that the National Endowment for the Humanities had $600,000 to give away.

But there was a catch.

"We had to meet this challenge grant," Zahniser recalled. "We had to raise $400,000, and they would give us $200,000. We had three years to do it."

Along with husband Skip and good friend Linda McGilverny, a fellow board member, Zahniser conceived the idea of putting on a concert to raise funds. But first, they needed a stage … and some chairs … and refreshments … and people to sell tickets.

"We used a portable stage," Zahniser said. "I rented chairs, our husbands helped us, we sold beer, we did it all. It was unbelievable."

In Wright's recollection, "Ellen basically wrote a check for all of the expenses so that all the proceeds went to the museum. It was a real community effort, but the vision was there."

With that first concert featuring folk guitarist John Jackson, a native Washingtonian, the "Waterside Music Festival" was born.

"We met the challenge," Zahniser said proudly. "We knew it would work. People loved it."

Rock 'n' Roll Baby Boomers

It was another sultry early summer evening, with just the hint of a cool breeze coming from Chesapeake Bay. The portable stage had been set up on the museum grounds. Tall light trees flamed out against the evening sky.
Rows of chairs began to fill with ticket holders, people politely stepping over each other to find their seats. In the first few rows, stately women in jeweled cocktail dresses were escorted to their seats. Men in evening attire stood to the side, smoking and talking in hushed voices.
It was a familiar, comfortable scene for these patrons of the arts, lovers of classical music and jazz. The lights dimmed, signaling the beginning of another Waterside Music Concert, and a hush fell over the darkened stage.
Then, in an explosion of sound and lights, the five members of Los Lobos ran on stage. Their heavy percussions and rousing rhythms shook the ground.
As the kids in the back seats cheered, the patrons up front sat up straight. Some covered their ears. Some got up and left.
It was Memorial Day 1995, and Calvert County would never be the same. With a mandate to "get more people to come and see" the museum, Wright had decided to shake things up.
"The G forces knocked out the first three rows," Wright said, with a chuckle. "It was loud and definitely rock and roll. Some older members chose to listen from inside the lobby."
Still, she added, "It was great. The audience could stand up, yell, dance and have a wonderful time. There were people from teens to the late 50s. They were having fun, right here in their own backyard."
That was part of Wright's strategy. The Los Lobos concert marked the beginning of a fundraising/marketing concept that includes charter sponsors, who have their business names associated with popular music that appeals to baby boomers, "the biggest demographic in the county" according to Wright.
"For me, the obvious thing was to change the face of the music, to get more popular music that appealed to a broader audience," Wright said. "It was the first concert with business sponsors and local caterers and food vendors. The people who were entwined in the business community were also baby boomers who liked this kind of music. They could use their advertising money because their logos were highly visible. It was a great advertising tool."
The Marine Museum's woman behind the music, Lee Ann Wright, director of development and public relations, backstage with B.B. King.
In Fact It's a Gas

Since 1995, the Waterside Music Festival has featured major recording artists like B.B. King, the Neville Brothers, Willie Nelson, Smokey Robinson and Emmylou Harris. In 1998, to keep up with the growing popularity, Wright persuaded Washington Gas to support construction of what is now the Washington Gas Pavilion on the museum grounds.
"My husband thought I was nuts when I thought of it," Wright said. "But Washington Gas said yes right away."
With the addition of the permanent covered stage, the crowds can now reach upwards of 4,500, which makes the festival even more attractive to big-name bands. With modern additions, including state-of-the-art sound and lights, the Waterside Music Festival can now accommodate any kind of musical production. Especially with the help of what Wright calls the "hidden army of volunteers that make it all possible."
"We have a level of sophistication people don't expect," Wright said. "We can handle any type of energy needs that the band can think of."
What's more, said Wright, "We try to make them feel like they're really special." The Solomons Holiday Inn is providing luxury rooms for the band and crew. Moms in the Kitchen catering satisfies their special diets. Ralph's Dodge provides the limos, which Wright calls "a nice way to get back and forth from the gig."
Gig? Oh yeah, it's rock 'n' roll time in southern Maryland.
"Yes!" Wright laughs. "Right in our own backyard.
With the ability to showcase bands like Chicago, the festival will greatly increase the visibility of the museum. Wright estimates that more than 10,000 people have come onto the museum grounds to attend concerts in the last year, including some who "didn't even know we existed" before concert time.
"How many of those would never have known, if we didn't have the concerts," Wright said. "We know general membership increases around concert time. We've raised the visibility.
"It's fun and very rewarding," Wright said. "Who else could bring Chicago here?"
Chicago is sold out, but you can show up anyway and try for standing room only. Otherwise, tickets just went on sale for the Labor Day concert, featuring Travis Tritt.