by Sandra Olivetti Martin with Aloysia Hamalainen
photos by Cristi Pasquella
The Cinderella Story of Nancy Alberts' Horse Next Door
The Maryland horse that almost stole the big race stables in Barn 18 over at Laurel.

In the northwest corner of Anne Arundel County, Magic Weisner lives like the boy next door. When you come calling to the once-grand track, as we did last week, this three-year-old is glad to see you. He'll crane his long, warm-brown neck to look you over. He'll nuzzle you with his velvet nose. He'll show you his oyster-shell teeth. He might even nip you, in a playful kind of way, if you take the liberty of patting the white star high on the bright bay's forehead.

That's when he's off duty. Take Magic to the race track, and you imagine where his name comes from. There, the horse next door runs like magic.

Horse racing, they say, is the sport of kings. Certainly in our day it's the sport of princes. War Emblem, the heir apparent to thoroughbred racing's elusive Triple Crown, indeed commanded a king's ransom. The Thoroughbred Corp. paid nearly $1 million for War Emblem in April, and the company is headed by a real prince, Ahmed bin Salman of Saudi Arabia. War Emblem's famous trainer, the white-haired Bob Baffert, has piled up enough high-stakes wins — four Preaknesses and three Kentucky Derbies — and heart-break losses to hunger for a crown.

So what's a small-town kid doing gaining on royalty?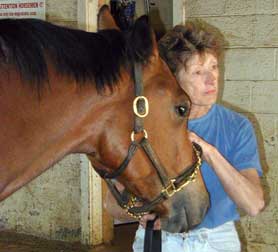 Magic Weisner's owner/trainer Nancy Alberts will be up against Big Money and Big Media rooting for the first Triple Crown winner in a generation.
Magic Moment

The Triple Crown is to horse racing what the World Series is to baseball. To win any of the three races over five weeks that make up the Triple Crown — the Kentucky Derby, the Preakness and the Belmont Stakes — a horse has got to be very good, very fast or very lucky. To win them all and claim the Triple Crown, a horse has got to be legendary. That crown has been claimed only 11 times, and not in 24 years, since Affirmed won it in 1978.
The race for the crown begins with the Kentucky Derby on the first Saturday in May. The 125-year-old Derby is the most celebrated of the three Triple Crown races. The one-and-one-quarter mile race is run at Churchill Downs in the heart of Kentucky racing country, with miles of white-washed fences surrounding acres of bluegrass where herds of blueblood horses graze. Because of its fame, the Derby draws the biggest but not necessarily the best qualified three-year-old thoroughbreds. Two dozen hoped to enter this year's race, which closes its gates at 20.
In such a field, any horse can win. This year's dark horse was the dark bay War Emblem. Running at odds of 20–1, War Emblem leapt into the lead and kept it, astonishing fans and handicappers with his easy win by six lengths.
War Emblem was running out a Cinderella story of his own. Until a month before the Derby, he'd raced in relative obscurity in Illinois. But his victory in the Illinois Derby caught the sharp eye of Baffert, who needed a Derby horse. He turned War Emblem into a contender in weeks.
Now, since the running of the Preakness, there's more at stake than the honor of the Triple Crown. First, the winner of each race takes hundreds of thousands of dollars from a million-dollar pot divided among the top horses. Second, $5 million is promised by the recent corporate sponsor of the Triple Crown, Visa, to the horse who takes all three races. But that's a drop in the bucket to the third pot of gold.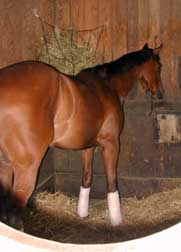 If the winner is a stallion — as is War Emblem — he stands to earn tens of millions of dollars in stud fees, perhaps well over $100 million. The 1977 Triple Crown winner, Seattle Slew, who died this year at 28, in between the Derby and Preakness, was still breeding mares — a quarter-century after his success.
Expectation rises with the second jewel in the Triple Crown. Maryland's own Preakness Stakes is the shortest race of the three at a mile and three-sixteenths. Going into the Preakness, the Derby winner is on everybody's minds — though he is not necessarily everybody's favorite. Was War Emblem just a flash in the pan? Could he prove versatile enough to win another big race — another distance at another track? Maybe he could, and maybe he couldn't. Still, his trainer Baffert had won four of the last six Preaknesses.
The moment War Emblem thrust his nose over the Preakness finish line, expectation soared — with superstitious anxiety keeping pace. To follow in the footsteps of Citation, Seattle Slew and Secretariat, the dark horse still had to win the Belmont Stakes three weeks later on June 8. Twenty-five horses have come to Elmont, N.Y. with two jewels in their caps; only 11 have claimed the third, the longest race at a punishing mile and a half. Would War Emblem make it an even dozen, winning the crown for Baffert — who's failed twice by a literal nose?
But we're getting ahead of ourselves. Up in Baltimore on the third Saturday in May, the Preakness field narrows to serious contenders as well as a favorite son or two. In this year's field of 13, that son was Magic Weisner.
---
Cinderella Story

Until a few minutes after 6pm on Saturday, May 18, the only person who saw the magic in Magic Weisner was his mother — his human mother, that is. Nancy Alberts owns and bred the three-year-old thoroughbred, raising, riding and training him as well.
In him, she said, she saw "the horse of a lifetime."
From birth, he'd seemed to have his dam's great heart. She, Jazema, is a horse the 56-year-old Alberts, of Jessup and the Laurel Race Course, couldn't resist. Alberts bought Jazema, a daughter of Kentucky Derby winner Bold Forbes, for one dollar when crippled knees seemed to doom the filly. Surgery, followed by Alberts' mothering, brought her to the track, where she started in 68 races, winning 14 times and taking home some $86,000.
But some of those victories were in claiming races, meaning the winner goes to the highest bidder. Each time, Alberts tracked Jazema down and bought her back.
When Jazema retired, Alberts bred her, though, she says, given her history, "I was a crazy fool." To Alberts' delight, none of Jazema's foals were "crooked."
With Ameri Valay, a horse to whom Jazema had taken a liking, she produced Deliver Hope, who's earned as much as his mother. A second foal nearly died from an early infection. Saved by vet Alan Wisner, that foal became Magic Weisner, a slightly misspelled namesake.
Motherly Love

Alberts — all muscle and bone and handsome in midlife — runs a one-woman stable. Of the six horses she trains, she owns two, plus Jazema, her brood mare. Alberts knows her horses well.
Like a mother, she feeds them three meals a day. A part-time groom helps her keep them sleek and brushed to a standard few human children attain. Every three weeks or so, she calls third-generation blacksmith Greg Wheeler to fit them with new shoes. She often exercises them herself, though a broken shoulder kept the wiry trainer out of the saddle much of this spring.
"A colt laid down on me," she relates. "I asked him why he did it and he didn't say a thing. I hate colts. They're a pain in the ass."
Which explains why Magic Weisner must make his fortune in the track, not in the stud barn. He's been gelded, depriving him of parts essential for breeding.
Exercising Magic, as he's called at home, Alberts felt what he might do. When he got on the track — "after he broke his maiden and then his juvenile" — he proved to her he was "real special." In 10 races, nine at her home track, Laurel, her horse won six times and placed twice.
When the time arrived to enter horses in the big races of spring — the Kentucky Derby and the Preakness — Magic had earned more than $230,000. That's big money for an operation like Nancy Alberts'.
She skipped the Derby. But the Preakness was too close to home — and Magic too good a horse — to ignore. Alberts paid the $20,000 entrance fee, expecting to make money on her investment.
"I knew he had a good chance," she said. "Everything he won, he did it easy."
Odds-makers didn't agree. Magic Weisner came to the Preakness starting gate at odds of 45–1.
"I think the reason they didn't pay much attention to him was that I never took him out of Maryland," Alberts said. She could have said I told you so.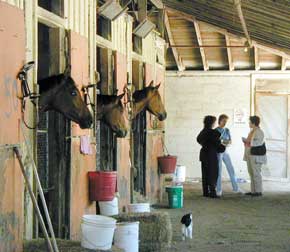 Preakness Magic

The second time Magic Weisner finished second was April 20, at the $125,000 Federico Tesio Stakes at Pimlico, Maryland's warm-season race track. Alberts hired the jockey who beat her in that high-stakes race, Richard Migliore, to ride her horse in the Preakness.
Migliore had never ridden Magic Weisner before the Preakness, the biggest race of both their careers. Hours before the race, Alberts told her jockey how to run it. "Stay on the rail and run the last part," she told him. Then Migliore donned her colors, red with a white band on the shirt, white with a red band on the sleeves.
Alberts walked Magic Weisner into the paddock, saddled him and handed over her best hope to Migliore.
Nancy Alberts is a short woman, a couple inches over five feet. In the owners' box, she couldn't see the track. So she sprinted for the nearest television.
"I saw as he was going round the first turn how he just sat there, which I planned to do, and got the rail. Then as soon as they went around the backside I never saw him again," said Alberts, reliving the seconds when her heart hardly beat.
As Derby winner War Emblem overtook pace-setting Menacing Dennis, the cameras held a tight focus on the leaders. What was happening behind them Alberts could only imagine.
What her horse was doing when she couldn't see him was just what she expected: finding a hole in a wall of horses. "You don't have to worry about this horse going through a tight hole," she'd advised her jockey. "You just have to steer, and he'll go wherever he sees any opening."
The next Alberts saw of her horse was "the white nose band I had on him starting to roll." Then, she says, "I went 'All right. Here he comes.'" He was just at the point where she had told her jockey to "head for home."
After the race, Migliore recounted its final split seconds: "When he moved to pass that third horse and pass the second one, I thought I was going to win."
But Magic Weisner ran out of track. War Emblem passed the finish line with a still-accelerating Magic three-quarters a length behind.
"I expected him to run good, but this was just really" — she searches for a word — "rewarding. In a longer distance …" Alberts mused five days after her big win. "If another horse had pushed him …"
Then she pulls herself back to reality. "The other horse, War Emblem, wasn't quitting in the Preakness. You can't take anything away from him."
Still, by placing, her horse had turned her $20,000 into $200,000.
History in the Making?

So Nancy and Magic are going to the Belmont. It'll cost her another $20,000, but horse racing is a gamble she knows how to make.
Horses are all Alberts has ever done. They're in her blood back to her grandparents, who owned the only livery stable between Philadelphia and Wilmington. Much of her life, she worked for other trainers, developing her own stable a horse at a time. She approached fame a quarter century ago as groom to Cormorant, who finished fourth in the Preakness won by Seattle Slew.
All along, Alberts has lived the life she's wanted.
"I never dreamed of being in any big races. All I dreamed of was having the horses make money — earn their own keep — and be useful," she said. "I've had cheap horses, and no matter what I've had, I've made my living. I've got new cars and my own house."
Going to the Belmont seems the next logical step. "I want to go," she says, "because I want to win."
Of course, she'll be up against Big Money and Big Media, which will be rooting not for the underdog but for the first Triple Crown winner in a generation. But last week, she had more practical things to think about. New shoes for Magic. Hooking her gooseneck horse trailer up to her truck and driving — with her brother following — to New York.
The make-up of the field of the third jewel in the Triple Crown will determine her strategy — how much of Magic's blazing speed to use and when.
There'll be more strategizing in Kentucky, where War Emblem is stabled. No longer is the Maryland horse obscure; Baffert and the prince know all about the Magic that nearly cost them the Preakness. Racing is a brutal business, and there are gameplans to thwart opponents and box them in.
But Alberts says she isn't letting Bob Baffert or his big-money dream of winning the Triple Crown bother her. All that she's really got room to think about, she says, is her horse.
"He just likes to be not in front, lay off the pace, then close," Alberts says. "He's got his mother's heart."
And if Magic has no magic in New York, well, Jazema and Ameri Valay got together again this spring.