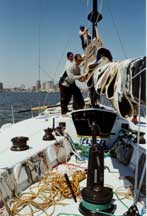 But Some of the Racers Will Be Back Sooner Than You Think

story and photos by Brent Seabrook
The crews who sail on in the Volvo Ocean Race face massive waves, torrential rains and gale-force winds, but nothing so discouraging as empty ocean ahead and an empty dock behind.
After a week of clear blue skies, the morning of their departure from Annapolis dawned wet and gray. A large depression sat just north of the Chesapeake, ringed by smoldering clouds. Forecasters spoke of thunderstorms and tornadoes. An empty dock is just what the Volvo crews expected as they readied for the seventh leg of the race. But hundreds crowded the shoreline as the morning wore on, despite the pouring rain and gusting wind. Team News Corp's navigator Campbell Field called it "a fantastic send-off."
Amer Sports Too was the last Volvo 60 to arrive in Baltimore, so the first to leave Annapolis, followed seconds later by Djuice and Tyco. Team SEB's supporters waved flags and flares that matched the boat's lime-green hull.
"Good luck, and see you in four years time," an amplified voice said, perhaps optimistically.
On the Mark
Campbell Field nestled into Team News Corp's navigation station. The bulkhead hummed beneath his feet as the winner of Leg Six motored toward the starting line. Through a slat above him, Field could see where skipper Jez Fanstone stood on the deck, exposed to the wind and rain. This was Field's first outing as a member of Fanstone's crew, but he took to his role.
"No time for settling into it, actually," he said. "A baptism of fire due with the approaching weather."
His new comrades were calm, focused and ready for another victory as they hoisted sail. All eight boats sailed together to the starting line, passing beneath the Bay Bridge. The bridge should have been crowded with pedestrians, but wet weather had canceled the annual four-mile walk from Eastern to Western Shore. Boatloads of weatherproofed spectators lined the sides of the channel.
All hands are on deck when entering or leaving port. Once under way, crew members sleep in shifts, four on and four off, below deck where bunks share space with ship controls, electronics and the galley.
And Away
From the start beneath Sandy Point Lighthouse, Annapolitan tactician Gavin Brady led Team SEB to an early lead. Neal McDonald aimed Assa Abloy straight at Illbruck Challenge. Illbruck had lost half an hour after being rammed by Team SEB outside Miami, but steely skipper John Kostecki called McDonald's bluff, and Assa Abloy veered away at the last moment. Ten minutes later, however, McDonald had passed Kostecki and Kevin Shoebridge's Team Tyco to pull even with Knut Frostad's Djuice. After an hour of racing, Grant Dalton's Amer Sports One stole the lead from Team SEB.
"After a wet start and a very nice farewell, we settled into our route down the Chesapeake," News Corp watch captain Matt Humphries reported. "Very close racing, as usual, with thunderstorms breaking out around us, but none in our path yet."
The wind whipped around necks, whistled down the creeks and whirled across the Bay, sweeping the boats south along the Western Shore. The crews scrambled to avoid staked pound nets and crab pots. The wind shifted as night fell, pushing the boats out of the Chesapeake and into the open ocean.
Amer Sports One led the charge around 2:30 in the morning, followed closely by Illbruck, Assa Abloy, News Corp and Tyco. Most of the fleet sailed due east, but the Nautor Challenge boats — Amer Sports One and Too — angled away to the south. So far their gamble has not paid off: Grant Dalton's boat has fallen to sixth place and Lisa McDonald's Amer Sports Too is dead last.
Into the Gulf Stream
The boats struggle to get into the Gulf Stream. If they can beat the cold wind sweeping them toward Newfoundland, the Gulf Stream currents should push them gently toward the shores of France.
The crews hope to be in La Rochelle by May 11. Their original course would have carried them through the ice floes of the North Atlantic, but after the havoc chunks of ice wreaked in the South Pacific, race officials decided to prohibit sailing north of the 40th parallel — which runs from Philadelphia to Madrid — until the fleet nears the Azores.
The ice drifts down from the west coast of Greenland and settles southeast of Newfoundland after funneling through an underwater canyon between the Grand Banks and the Flemish Cap. It was just south of the disaster-prone Grand Banks that the Titanic ran into an iceberg. The region is also known for the violence of its storms, as warm Gulf Stream waters collide with frigid Labrador currents.
The race will finish in Kiel, Germany, on or around June 9. From there the sailors will disperse around the globe. Several will come home to roost in Annapolis, including two from Team Tyco.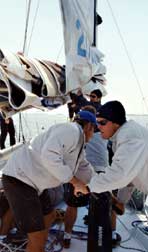 Homeboys
Team Tyco sail master Grant Spanake settled in Chesapeake Country five years ago. He grew up in New Zealand, alongside a burgeoning sailing scene.
"In the yacht club after a race having a beer, the whole yacht club would be full of world-championship people," he said.
Spanake's family sailed, and when his cousin raced in the Americas Cup, Spanake decided to follow in his footsteps. This is his fourth around-the-world race.
Fellow Annapolitan Jonathan Swain began racing dinghies in South Africa. He moved on to bigger boats and offshore races.
"Luckily I met the right people, made the right contacts, and one thing led to another," he said.
"The kids in this country are lucky, being able to move up through the college ranks, and I think a lot of those kids moving up through those ranks can be recognized. The opportunities are definitely out there."
This is Swain's second around-the-world race. His first was with Chesapeake Country's own Chessie Racing. Would he jump at the chance to sail on another Chesapeake-based yacht?
"Yeah, sure," he said. "If the offer was good, and the campaign looked like it was gonna be serious."
For Spanake and Swain alike, sailing is serious business.
"It's a great thing, getting paid to sail around the world," Swain said. "But at the same time, it's a job. And it's a hard job."
"We were in the loft until five o'clock this morning, cutting a sail," Spanake said.
Spanake's only been on board Team Tyco the last two legs of the race; before that he worked on the shore crew.
"You can't sail design, sail coordinate, and sail," he said. "It's too much, and you do a bad job on all of them."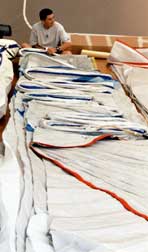 Sails Talk
The sails require constant attention. Strictly though on-board weight is controlled, Team Tyco carries a sewing machine, so repairs can be made on the fly.
"It's like a racing engine," Spanake said. "When you start, everything's in tune, but eventually the sail changes shape, and you have to re-cut the sail, just like you re-tune the engine. You know, the sails are the engines of the race — they gotta be right."
Spanake chooses which sails will be carried on each leg. Each boat is allowed to carry 38 different sails throughout the course of the race.
Incredibly powerful winds can be harnessed with the right set of sails. Tyco usually carries 18 on any one leg.
Racing sails are like golf clubs in that each is made to perform within certain narrow parameters. There are small, heavy sails for strong winds, and bigger, lighter sails for weak winds. Running out of slots — or losing sails to the weather — can mean putting with a pitching wedge.
"Some boats are out of slots," Spanake said. "We've still got a few."
The sail limit isn't the only new rule that makes sail choice more important.
"This time we're allowed to use carbon masts instead of aluminum masts," Swain said. "Which means we can push the boats harder."
The number and type of sails Tyco will carry isn't the only important decision to be made. A crew may decide to carry coffee on board, for example, even though it adds seemingly unnecessary weight.
"There are certain luxuries you need on board to keep morale up," Swain said, "and coffee's one of those things."
The key is to find a balance between what works on paper and what works in reality. Spending three weeks on a racing yacht is something like spending three weeks in outer space.
"You get really fit upper-body-wise," Swain said. "But you're not using your legs, so they start atrophying. You get on shore after a month at sea, and you can hardly walk."
The boats carry only dehydrated food, so they must also carry multivitamins to prevent scurvy and oil tablets to provide crew members with essential fatty acids. Bumps, bruises, gashes and rashes are all quite common; Tyco carries a large medical kit, including an IV and suturing materials, and three racers are trained medics.
"The worst is when the weather's miserable and you're cold and tired and you really don't want to get up and go on deck," Swain said. And with your boss standing on the deck above you, it's not like you can call in sick.
So, is it all worth it?
"It's a good living," Spanake said. "I can support two kids and a wife."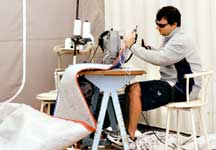 Team Tyco sailmakers Sam Roberts, opposite, and Simon Paul, above, work landside, following the ships from port to port, sewing and repairing worn and damaged sails.
Farewells
Everyone involved with the Ocean Race was sorry to say good-bye to Annapolis.
"I hope this race comes to Annapolis again," Swain said. "There's so much interest here — much more than any other country."
Spanake, though, was sorrier than most. Swain rented out his house in September so his wife and child could follow him around the world, but Spanake's family stayed in Annapolis. They followed him to England for the start of the race, but traveling proved too hard for his pregnant wife; Spanake flew in from Auckland 10 weeks ago for his second child's birth.
"We have a good base of friends here," he said. "This community's been great to me, and I'd like to say thanks."
Spanake and Swain will be back in Annapolis sometime after June 9, but both plan to participate in this year's Americas Cup. Spanake leaves again on June 24; Swain hasn't secured a position yet. Like the rest of us, he'll rely on word of mouth, the press and the Internet to uncover an opportunity.
"Basically a freelance sailor is what you are," he said.
Spanake won't touch a sewing machine while he's home, nor will he make time — in those few precious weeks between races — to sail the Bay.
"I'd love to," Spanake said. "But as soon as I get home, I wanna be with my family."