the Volvo Race Has Come Our Way

by Brent Seabrook
Seven of the eight boats in the Volvo Ocean Race fleet were designed in Annapolis, but they've traveled 31,375 nautical miles to visit us at home.

The last press boat left Baltimore's Inner Harbor at a little past two in the morning on April 18. The air had cooled since sunset, but the captain and his passengers were still comfortable in T-shirts and shorts, despite the breeze stirred up by the boat's motion. The moon hid behind the clouds that gathered on the horizon, casting a shadow across the water. The passengers knelt high in the bow, cameras ready, scanning the darkness for any sign of a sail.

They saw the lights first, the running lights of the press boats, a circle of red and green will-o-the-wisps. From their middle rose a tall triangle of bronze, looking dun in the dim light. It dwarfed the press boats, an elephant among wolves, but quick and quiet as a tiger.

The press boats tightened their circle. Television lamps cast brilliant beams across the yacht's deck. The crew stood motionless, even as they passed the blue Volvo buoy beneath Fort McHenry. A cannonade split the air and a crackle of applause rose from the press boats, but the sailors simply went to work lowering the sails …

Prelude to the Bay
The boat traveled far before it reached Baltimore, and it didn't travel alone. It left England in September, pursued by seven siblings, identical but for the colors of the hulls and sails. The Volvo Ocean Race fleet sailed down the coast of Africa, the boats nipping one another's heels like the brood of some nautical behemoth. They reached Cape Town in November, when it is early summer in the Southern Hemisphere. Then Australia in December and New Zealand in January. From Auckland, it took three weeks of sailing, around Cape Horn and through the frigid waters of the Southern Ocean, to reach the shores of Brazil.

There the crews had time to rest, relax and recover. Some sailors flew home as soon as their feet were dry. Others preferred the glitter of Rio de Janeiro. There was work to do first, of course. The News Corp crew had to replace their rudder and repair damage caused by a chunk of floating ice. The Nautor Challenge yachts — Amer Sports One and Too — lost five sails between them.

"Each one will take two of the sailmakers about 40 hours to repair," sail boss Gerry Moosbrugger said. "For all the other sails, we do routine maintenance. We wash off the salt residues, repair any tears, and replace stitching that has been damaged."

John Kostecki, skipper of Illbruck Challenger, tested new sails shortly after arriving in Brazil, so he could relax before the next leg of the race began. Gunnar Krantz wasn't so lucky. Krantz's Team SEB crew — 23 people, including boat and shore personnel — spent every waking hour repairing their yacht's lime-green hull — damaged by floating ice in the Southern Ocean — and replacing its mast.

As the restart date drew near, a note of anxiety echoed amongst the sailors.

"The three leading boats, Illbruck, ASSA ABLOY and Team Tyco have sailed a hell of a race," Amer Sports One tactician Dee Smith observed. "It is still not clear who will end up winning. If Illbruck does hold onto the lead to the finish, the rest of us will be sailing for second place the rest of the regatta."

The boats were back in the water on Saturday, March 9, fully loaded and repaired. A breeze tugged at the sands of Copacabana. The Brazilian Navy band struck up in the crowded Marina da Gloria. The sailors said good-bye to those friends and family on hand, and bowed their heads while the fleet was blessed in Portuguese.

"The priest who blessed the fleet was certainly committed enough to do it," noted Gunnar Krantz. "For a while I thought he was going to explode when he was holding his speech."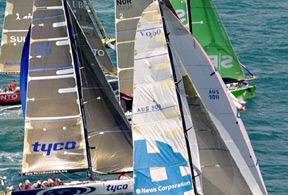 photo courtesy of Volvo Ocean Race
Out of Rio

The thermometer itself threatened to explode as the yachts pulled away from the dock. They wound their way through two miles of boats packed with sweaty spectators. Grant Dalton's Amer Sports One was first across the starting line, but Knut Frostad's Djuice and John Kostecki's Illbruck Challenge were right behind. The fleet split almost immediately, Djuice and Amer Sports One going left and Illbruck Challenge and Team Tyco going right.
Late that afternoon, Team SEB's crew rammed their freshly painted prow straight into John Kostecki's Illbruck Challenge. Gunnar Krantz took immediate responsibility.
"The problem was probably miscommunication maybe or something that went wrong," he said. "We'll look into it further down the track."
A basic rule of yacht racing is that when two boats are on a collision course, the boat with the wind coming over the left (port) side must give way to boat with the wind coming over the right (starboard) side. That's just what Team SEB's crew was trying to do when they ran into Illbruck. Kostecki said Team SEB tore a hole the "size of your fist" in Illbruck's hull, but no one was hurt.
"It was pretty surprising," Kostecki added. "The visibility was good. I don't know — they just mistimed it, I guess, and hit us."
Team SEB wheeled around twice — the prescribed penalty for such an offense — before sailing on. Illbruck's crew had the hole patched before dark, but Kostecki complained that they had lost a half-mile or so. His crew also lost an important sail that night.
"We dropped our Code Zero in the water and then unfortunately ripped it while retrieving it from the sea," watch captain Mark Christensen said. "It wasn't until daybreak that we were mostly back in one piece. We were also in last place, something that had happened on both the first and second legs, but it was still a major psychological blow."
Jez Fanstone's News Corp, meanwhile, had split away from the rest of the fleet. He sailed toward shore, caught a breeze and went from last place to first overnight.
Across the Equator
The doldrums, winds that converge off the coast of South America, disrupted the fleet's rhythm as it sailed northward.

"The last 18 hours have been dominated by cloud action," Tyco skipper Kevin Shoebridge said. "We have been through numerous dark clouds, which bring with them unpredictable wind speeds and directions. Some boats have been hit harder than us by these. Amer Sports One and Djuice have dropped back out of the lead pack by being caught under these clouds. There is no escape when these big clouds get in your path."

When the wind dropped, the temperature rose. Djuice's Stig Westergaard said, "I have already lost count of the days. I do not know which day it is, or even how many days we have been at sea. I dedicate this to the heat, and not to my lack of ability, even though some might claim the latter. And it is hot. We are sweating like pigs."

As the week drew to a close, Illbruck reasserted itself, passing first ASSA ABLOY, then Team Tyco and finally the equator, seven days after leaving Rio.

"We've just been sailing the boat really hard and it seems to be paying off a little bit, and we've possibly been playing the clouds better than our competitors," Kostecki said.

His lead solidified when his boat left the doldrums for the steady trade winds. The trades carried with them a whole new problem, however.

"Flying fish are also joining the party," Team SEB's Tom Braidwood said, "with one of our helmsmen, Magnus Woxen, copping a few in the chest last night. There is 100 bucks on offer for anyone who grabs one mid-flight, with the catch being that you have to eat it on the spot."

Djuice's Stig Westergaard took the threat a little more seriously. "Another one of my fears is to get a flying fish in the eye," he said. "It is not only the concept of being one-eyed; many people have only one eye. It is equally much the fact that this specific sports injury is not too flashy. One could lose the eye in a wipeout, in a fight with lethal pirates or something else a little more macho than a flying fish."

Flying fish aside, Lisa McDonald's crew had their hands full aboard Amer Sports Too. Their water purifier had blown a seal.

"Head in the bilge, bum in the air, legs splayed across floorboards and bulkheads to brace ourselves against the heel of the boat and covered in bilge grime, rust, sweat and salt is how you would have found us," McDonald said.

Caught by a sudden squall, Illbruck lost another headsail — and several miles of its lead. But that was nothing compared to the fate of Grant Dalton's Amer Sports One.

"The weather was a beautiful spring shower," navigator Roger Nilson said. "It was kind of like standing under Niagara Falls." Then the lightning began. "The strikes started to come more often and closer each time until the major one — a flash at the same time as a big bang. I don't really know if we were struck or it was just real close. I think it was just real close. The rest of the crew now have as much gray hair as I do."

Nobody was hurt, but the jolt fried most of the boat's delicate electronic equipment.
Kostecki's lost sails haunted him in the Straits of Florida, where ASSA ABLOY slowly overtook Illbruck. But as night fell and the coast drew near, the wind all but disappeared, leaving the boats to drift north in the powerful current. Finally ASSA ABLOY caught a breeze and shot across the finish line at Miami — six hours later than expected.

Courting Disqualification

Illbruck chose not to protest the damage caused by Team SEB. "We prefer to decide things on the water," spokesperson Jane Eagleson said.
The Race Committee, however, lodged a potentially disqualifying complaint against Team SEB's crew for the damage they'd done to their own boat. In Miami, an international jury listened to witnesses from both sides. Team SEB skipper Gunnar Krantz argued that a seriously damaged boat could hardly have gone from last place to a fourth finish, as his did. Pat Shaughnessy of Eastport's Farr Yacht Design, who designed seven of the eight boats racing, argued that the damage hadn't affected the boat in any structural way.
The jury decided Team SEB was "designed and constructed to withstand damage far beyond what could be anticipated in close-to-shore racing. The design and construction of the boats must be considered when determining whether damage is serious. The damage to Team SEB is not considered serious."
The matter may not be completely resolved, however. With Team SEB's disqualification at stake, four teams have good reason to see the jury's decision overturned.
False Start
The crews rested a couple of weeks in Miami, worked on their boats between news conferences, and finally set out again on April 14 — another stifling morning. Spectators lined the shore to observe the blessing, this time by a Catholic priest, a Lutheran pastor and a Jewish rabbi.

Gunnar Krantz's Team SEB left the dock beneath a dozen lime green fireworks. Cheerleaders lined the decks of Neal McDonald's boat, chanting, "Let's go, ASSA ABLOY!" Two of McDonald's crew members held up a banner that read, "Thank you, Miami."

Sails unfurled, and a swift current carried six of the eight boats over the starting line a moment too early. By the time those boats had turned around, Lisa McDonald had skippered Amer Sports Too to a healthy lead — and put the rest of the fleet behind her.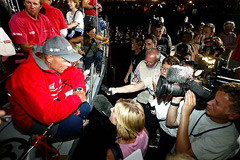 Grant Dalton, skipper of Amer Sports One, has sailed on two previous Ocean Race winners. Enroute to Baltimore, his ship was nearly struck by lightning, frying the on-board electronics.

photo courtesy of Volvo Ocean Race

Coming Our Way

By dusk, McDonald had surrendered her lead to husband Neal's ASSA ABLOY, but it was Jez Fanstone's News Corp that sailed past Fort McHenry three days later — and motored into Baltimore's Inner Harbor half an hour ahead of everyone else.
Rock and roll throbbed across the water, reaching out from the pier like a lighthouse beam. The press boats raced ahead, reaching the pier just before the yacht. Several hundred people crowded beneath a battery of floodlights to greet Fanstone's crew as they pulled alongside the bobbing concrete slab.
The shore crew passed out hamburgers and Heinekens to the sailors, and reporters shoved microphones in their faces. Questions were answered around mouthfuls of beef and beer. Fanstone was handed a small crystal yacht and doused with champagne.
Neal McDonald's Amer Sports One was the next to arrive, followed by ASSA ABLOY, just three minutes ahead of John Kostecki's Illbruck. Illbruck tactician Chris Larson's wife drove up from Annapolis to meet him, an infant daughter tucked beneath each arm.
It was past noon when Lisa McDonald's Amer Sports Too finally touched the pier. Trying to regain her lead, McDonald had gambled on a wind that wasn't there. Now she waits, knowing there are three more legs of this race — three more chances to gamble and three more chances to win.
More to Come …
The crews will laze their battered yachts to Annapolis on Friday, April 26 for a weekend of festivities (See "Eight Days a Week"). See them at City Dock over the weekend and bid them farewell Sunday, when the Volvo Ocean Race resumes at leg seven, which stretches from Annapolis to La Rochelle, France.

The racing yachts — impress your friends by referring to them only as V. O. 60s — will aim to cross the starting line 1pm Sunday, April 28.

Sandy Point Lighthouse, where the leg starts, is one of only two starting lines visible from land. The other is in Southampton, England, where the race began over seven months ago.

The best vantage points are Sandy Point State Park, off Route 50 or — if you prefer a bird's eye view — the Bay Bridge. Happily, the start of the race coincides with the Bay Bridge Walk. But don't drag your feet — you must be on the bridge by 1pm.

You can also see the start by water, from a boat. But you'll have rules to follow. A Spectator Exclusion Zone will stretch from Sandy Point seven miles south to Thomas Point: Stay out of this half-mile-wide zone.

Once the V. O. 60s are out of the chute, spectators may come as close as 250 feet to the racers — but never ahead of them. Also forbidden are speeding or kicking up a big wake, pulling up beside them, or doing anything else stupid or rude. Monitor VHF Channel 17 for updates.

From then on, monitor your favorite skipper's progress at www.volvooceanrace.com.