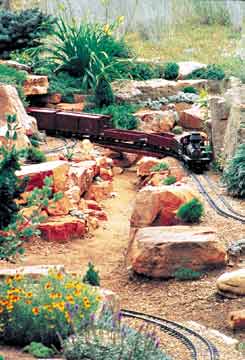 photo by Marc Horovitz, courtesy of Garden Railways
by Pat Harder


When we go to our garden this spring, I will carry my spade and husband Bill his train track. To create the garden railroad of our dreams, we both have plenty to do.
I love the sweet smell of freshly tilled soil, the precision of furrowed fields, the sprout of a newly sown seed and the wondrous birth of spring flowers. I go to my knees, gently digging in the soil of my garden, clearing away winter's protection of the precious bounty beneath, and as always I am renewed by the sight and feel of the new growth. I am ready to live outside for the next seven months. The house will have to find another caretaker.
Husband Bill and I have grown many vegetable gardens together, but the flower garden has been my venture. Now that my mind has lost control over many of my joints, I am no longer able to do it all myself. Still, I refuse to concede my love of gardening to weak knees, a stiff back or thumbs worn by throwing one too many bales of hay on the hay wagon. I know I must find a way to elicit Bill's help without carrying a threatening spade as I drag him kicking and screaming to the garden.
So I lure him with the garden railroad of his dreams, hoping it will evolve without being a nightmare. There's another good reason to make this the year we begin to lay track: Many plants need to be divided, so as we reconfigure the garden we will accommodate the train. Excitement rises as I spin my web. I promise not to be a black widow if he shuns my offer.
Spinning My Web
I have spent many hours at Star Hobby in Arnold waiting for Bill as he drooled over model trains, track and scale buildings to suit anyone's fancy. I have done my share of ogling, too, as I marveled at the exacting precision of scale modeling. As I browse alone this day, I price the track, an engine and a few buildings. I buy the February issue of Garden Railways magazine.

On the cover is a European passenger train traveling through candytuft, sedums, baby tears, dwarf conifers and beautiful flowering creeping thymes. It approaches a trestle bridge over a pond bordered by rock ledges and flowing plants.

I take it home as my enticement, wrap it with care and a prayer. The candles are lit and dinner is calling in the air when I present Bill both a frosty pilsner glass and my gift. It's time! The card reads.

"Time for what?" Bill wonders.

"Open the box," I say.

"How much can I spend?" he asks moments later.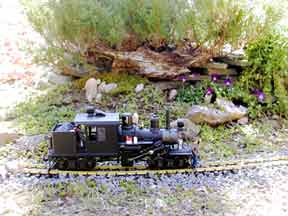 photo by Pat Harder
The Full Monty

Garden railroading is not for the faint of heart. Engines — or locomotives as we'll also call them — can start as low as $50 and rise to $10,000. Track cost will depend on the gauge and the choice of rail. With aluminum rail at $2.45 per foot, brass at $3.30, and nickel-silver at $4.25, the cost climbs quickly.
We set $1,500 as our budget, which means making do with only the locomotive our first year.
We could have started smaller with a less expensive locomotive and a shorter track. But we knew we were in for the long haul, so we invested in quality, not quantity.
This will be an ongoing project and, like a garden, will never be complete. Something will
always look better in another location or need a new feature for added intrigue.
Train gardeners take their inspiration from the real world — Colonial Williamsburg, a desert pueblo whistle stop, a ski village in Vermont or a favorite vacation spot. Our long-term vision is the Pardee & Curtin Lumber Company logging camp, set in Webster Springs, West Virginia, in the early 1900s. Bridges, tunnels, trestles and streams will intertwine a landscape of mountains so real you would think God had gone miniature. Dilapidated houses, out buildings, water towers and the company store will all be weathered to look like they have been there for decades. Trees both standing and cut along with flowers and groundcovers will complete this backwoods railroad scene.
The Phoenix Sound System with all the bells, whistles and background noises is a few years down the road. Realistic scale modeling is all about details, and Bill is a rivet counter (see Talk of the Trade if you can't guess).
In the 1800s, model railroading followed the real thing around the world. As trains became the transportation of the era, models became the standard to sell investors and the riders on their beauty and comfort. The hobby kept pace with the modern world's fascination with full-sized trains.
But Lionel, the leading U.S. manufacturer of model trains, promoted indoor layouts, so outdoor or garden railroading did not catch on here, as it did in Great Britain and Germany.
In the mid 1970s, The Ernst Paul Lehman Patenwert of Germany — trading as LGB trains for Lehmann Grossbahn or Big Train — introduced their G-scale line into the United States. Garden railroading blossomed, and U.S. manufactures such as Bachmann Industries Aristo-Craft and even Lionel got on board G-scale modeling. They produced prototypes of U.S. trains, whereas LGB had followed mostly European stock.
With nearly 30,000 garden railroads, this is the fastest growing hobby in America, according to the Garden Trains Association of Columbus, Ohio. Low-voltage electric makes outdoor use safe. Clubs and organizations have sprouted up across the country to help enthusiasts share information.
It's also a great summer project for family fun. As our grandson once said, "Nobody doesn't like a train!"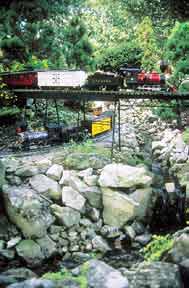 photo by Martha Lang, courtesy of Garden Railways
Dollar for Dollar
With the Pardee Curtin logging camp in mind, we decide on the Climax locomotive. Back in 1893, the Climax Manufacturing Company of Corry, Pennsylvania, began full-scale production of their Class-B locomotive for the logging and mining industry. Today, Bachmann Industries of Philadelphia produces a G-scale — or #1-gauge — Climax Class B as part of its Spectrum Line for the garden railroad industry.

The suggested retail price is $799.95. We wonder what the price of the real thing was in 1893.

For our pricey little locomotive, we shopped first on the Internet, where many resources can be found by entering garden railroad. We searched magazines such as Garden Railways and Finescale Railroader, which also offer articles on how to build a garden railroad without going broke.

Our quest now is to find the Climax at the lowest price. We've learned that model trains' prices vary to extremes. Bill has seen ads for this locomotive as low as $400. Our magazines and the Internet tell us we should be able to purchase the locomotive between $250 and $300, slashing the $799.95.

Please take this as a caveat. Research before buying, and avoid impulse purchases.

Preferring to deal locally, we return to Star Hobby, a mom-and-pop operation run by Dan and Flora Veita with their son Don. They know their business, share their knowledge and keep a good inventory. We buy the Climax off the shelf for $299 along with the #1-gauge track we need and go away happy.

The largest cost in our project is the track at $600 for 200 feet. That's because high-quality track and track bed is like the foundation of a house: It is essential to keep the train running smoothly. We chose Aristo-Craft track, preferring brass rails to aluminum both for maintenance and conductivity of rail to locomotive.

To lay our track, we'll have to divide and replant old plants and buy new plants to bring to life the camp we want to create. Landscaping will take a load of topsoil, which will also provide a base for the track. We'll also be paying for a load of stone-dust for ballast between the track and rails. An added bonus with the stone dust is the look of the stone between the rails and ties of real train tracks. We estimate the cost of both around $250.

So far we've spent $1,149.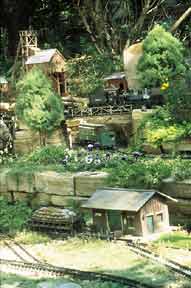 photo by Marc Horovitz, courtesy of Garden Railways
His Garden

Back home, Bill carefully removes the 16-by-6-by-5-inch locomotive and admires its exacting construction and fine detailing. A thick instruction book and a videotape titled Climax Lubrication accompany the train. This is not a toy. This is serious stuff. The entire video is devoted to how to oil the intricate parts of the locomotive.
Unable to wait for the warm, dry weather for laying the track bed in the garden, my husband sets up a small radius on the deck.
With an old power pack, he sets wires to the track, and our Climax makes its first run. Bill checks the sliding windows of the cab, places the engineer at the throttle, watches the stroke of the cylinders and — with instruction book in hand — looks for all those tiny parts that will need lubrication. He drifts to a man's world where woman cannot dwell.
Her Garden

I leave him his space and carry my garden books to the table overlooking the bare garden of winter. Page after page of beautiful flowers puts me in a mind spin. It is a visual overload. I want to plant one of everything I see. As I gather myself back to reality, I accept the challenge of miniature and concentrate on low-growing plants and dwarf varieties of shrubs.
Creeping thymes provide fragrance, flowers and a carpet-like mat that will grow quickly. I can trim or topiary rosemary, santolina or lavender to the shape of small trees. I'll plant them in the garden in their clay pots to limit their growth and dig them up to bring inside in winter if they are not hardy.
Low-growing rockspray cotoneaster, producing a red fruit over a stem of dark green in the fall, will be a good highlight on gray rock banks. The Japanese painted ferns will make a nice backdrop or hedge. The sedums can be another ground cover, along with Mazus reptans with its purple orchid-like flower.
There is no end to the possibilities. My imagination soars. Limiting myself to a meager $200, I'll buy perennial plants and groundcovers, scrounge cuttings from my friends and be frugal with the division of plants on hand. With diligent fertilizing once each week, by July 4 we will have a railroad garden to celebrate.
I can't wait to get dirt under my fingernails and mud between my toes, as my mother, Viola, always said with the coming of spring.
Its All about Control
The power pack for controlling the locomotive is our final investment. Two of the most common are low-voltage electric for $100 or a radio-controlled battery pack starting at $400.
Electric is an easy two-wire connection to the rails, requiring only an accessible electrical source. The downside to electric is the rails must always be clean to maintain contact. On a long outside track, this can be a chore.
Radio-controlled is more difficult to hook up, and batteries run down just when you want to show off to your neighbor. But the battery pack does not require clean rails and allows you the luxury of your favorite lounge chair as you change the train speed at the flick of the wrist.
Bill, my purist rivet-counter, goes for the low-voltage electric and will devise a track cleaner.
In Our Eden

We have invested $1,449 with $51 in pocket for contingencies, which is cutting it close. I may have to cut my meager plant budget and sneak a few flowers into the grocery cart.
But it's worth the cost. The weather is starting to break, birds are singing their songs and trees are sprouting buds. With a grin on my face, I carry a spade. Bill, with a smile, carries train track. We feel the warm sun on our backs as we walk hand in hand to our his-and-her garden railroad.
Mark Your Calendar
June 23—5th Annual Rails-4-Kids

G-Day 2002. Sponsored by Performance Line Partners, the international goal is 2002 new child-converts to garden railroading: www.GDay2002.com.
June 26–30—18th Annual National Garden Railway Convention.
Hosted by the Greater Cincinnati Garden Railway Society @ Drawbridge Inn, Ft. Mitchell, Kentucky. Contact Larry Koehl:
859/344-0671
•
www.gcgrs.org
.
For Local Help

Washington, Virginia, Maryland Garden Railway Society: Severna Park •
410/544-2311
•
www.wvmgrs.org
.