So it's time to get back into shape, you say? What shape?
by Jennifer Dawicki
I can remember the moment it happened. The stretch of 60 seconds when I realized I was in the best shape of my life. I could run up and down the pitch and never tire. That, in fact, is what I was doing: sprinting back to the 18-yard line and marking my man, playing as right fullback for my junior college women's soccer team.

The moment was a post-season game, actually a game in the National Junior College Soccer Tournament. Teams spanning the nation came to Trenton, New Jersey, to compete for the national championship ring. The Super Bowl of junior college soccer, if you will.

Being in shape was what I did, what I was. As a varsity athlete, I was expected to run, sprint, dribble, kick, head and keep my head on a swivel for 90 minutes.

I fear I'll never be that fit again. Yet lifelong fitness is my goal.

How do other people keep fit? I asked myself. To answer that question, I sought out four ideals of fitness: bodybuilder Michael Calhoun; basketball player Bryanna Herring; cyclist Charlie Schryver; and yoga instructor Jan Graves.

What I discovered is that there is no scientific, mathematical equation that equals health, nor any single way to keep your body in tiptop shape. There are as many ways to be fit as there are disciplined achievers willing to take themselves to their goal.
Bodybuilder Michael Calhoun
Hard, Symmetrical and Defined
To win the American Natural Bodybuilding Conference National Championship for the Men's Master Tall Class on November 3 last year, chiropractor Mike Calhoun narrowed his waist and swelled his biceps, chest, thighs and calves. Achieving the fitness of a champion took Calhoun a year.

He'd not always been so fit.

"I was just kind of average," says Calhoun of his physical stature before he began training and competing in bodybuilding. "Five feet eight inches tall and 150 pounds." A chubby little kid who played sports in high school but did not like his body, Calhoun put himself in the weight room to become the man of his dreams. Twenty years later, two years into competition, two inches taller and 40 pounds heavier, Calhoun has pressed his way to the top.

"More than 75 percent of my training is diet," says Calhoun. But not a diet as you or I think of it. In training, he has to consume 4,000 calories, which is double the amount of calories a normal person takes in in a day.

Calhoun's high-calorie diet is called macro-nutritional cycling. He eats a low-carbohydrate, high-protein, high-fat diet part of the week, loading up on carbohydrates every three or four days in two large carbohydrate-rich meals.

"Much of what I eat is steak, hamburgers, chicken, turkey, olive oil, flaxseed oil, broccoli, cauliflower, spinach, romaine lettuce and periodically spaghetti," says Calhoun. "I also use protein powders and other nutritional supplements, mostly vitamins and minerals."

Twenty-some percent more of Calhoun's championship physique he builds by working out. Monday, Wednesday and Friday, Calhoun lifts weights that range from 20 to 650 pounds. Ten exercises on Monday include the rack-dead lift, which is yanking up a bar with 650 pounds from the standing position three to five times for one set. Calhoun does five sets. Other exercises include squats with up to 335 pounds and leg press with up to 600 pounds.

He does all that in a mere 60 minutes in the weight room. Tuesdays and Thursdays he gets his cardiovascular workout. "Saturday and Sunday I may do cardio," says Calhoun. "Or I may just sit around and eat."

Diet gives him the bulk he needs to compete, and weightlifting gives him the muscle definition. Together, those two regimes make 95 percent of a champion.

The top five percentage points are easier to come by. One or two points came from the tanning lotion bottle. Much of the rest comes in front of the mirror. For, says Calhoun, "if you do not know how to pose properly, you will not win a show."

He favors what he calls "the most muscular pose," an attitude struck with hands on hips and elbows akimbo. "This is a great pose for any natural bodybuilder because your physique looks great and thick," says Calhoun.

"Still, I was not the biggest guy in the gym," he laughs. "I never thought I would even be competitive. I went to watch the show. I was impressed, but I didn't think they were the biggest guys in the gym either."


At 100 percent, the Annapolis resident flexed his muscles bigger than the competition.

Calhoun won his championship on muscle definition, hardness, symmetry and physique. Championship muscles must appear to be sculpted from clay, scratched with the details of an artisan and hardened in the fires of a kiln, the muscles are rock solid. The muscles must also be developed equally on both sides of the body to symmetry.

"It is a very freaky look," says Calhoun. "The muscles are swollen with glycogen — which are glucose molecules used to store carbohydrates — and I am dehydrated to enhance to look of my muscles."

So, is this fit?

For Calhoun, it is. For fitness, he says, is all about "feeling as good as you can about yourself."

From a chiropractor's point of view, it works, too. "If more people looked at what they were trying to do as an anti-aging mechanism and form of health improvement," he says, "I think more people would be fit."
Basketball Center Bryanna Herring
Rebounding and Recharging
Bryanna Herring, third-year midshipman at the United States Naval Academy, is a finisher. She scored 52 of her 68 points and grabbed 31 of her 47 rebounds in the last 10 games of the 2000-01 season. With the leading scorer downed by an injury before the game, the forward came through in a December game against UMBC, scoring eight points in the second half to help bolster The Midshipmen to a 47-45 victory.

Just as the 6'1" Columbia Mid rebounds with authority and takes the ball strong to the hoop, she leapt at the chance to be a mid.

Which is by definition to be physically fit.

"If I was not physically fit, I could get kicked out of the Academy," says Herring. "If you fail the Physical Readiness Test, which is given to every member of the Navy once a year and Midshipmen once a semester, you have to attend training sessions until you can pass."

The test consists of a 1.5 mile run that is to be finished by females in no more than 12:40. Herring knocked it out in 10:16. Next come as many push-ups and sit-ups as possible in two minutes each. Fifty push-ups and 98 sit-ups later, Herring had passed. She was unhappy with her score.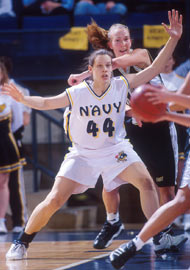 Herring's high standard of fitness commands all aspects of her life. She earned three varsity letters in high school basketball and track, two letters in soccer and the state title in shot put. Knowing since fourth grade that she wanted to attend the Naval Academy helped fuel her academic success as well. Not until she was accepted to the Academy did Herring's high school GPA drop below a 3.5.

"I would be playing basketball no matter where I was," she says. But there is no other place Herring ever wanted to be. She wanted to follow in her father's footsteps.

Now that she's followed him to the U.S. Naval Academy, the routine of her days is structured around fitness. In the morning, she's in the weight-lifting room.

"We do lots of squats, three different kinds," she says. "Hang clean-up and hang snatch, bench press and lat pull-downs are some of the other exercises we do three times week."

After lifting, comes lunch. "Food is my fuel," she explains. "We eat 4,000 calories a day. The meals are well balanced, just not all that tasty."

From 3:45 to 6:30pm, it's time for practice, which consists of many different components. Fifteen minutes of warmup is followed by at least an hour of drills where "we are moving the whole time," says Herring. Another hour of technical work and then scrimmaging rounds out practice. Then on Mondays, the team shoots 100 foul shots.

Thursday is uniform inspection for the brigade, so there is no practice. No matter, Herring will keep herself up to par physically, by Navy standards and her own.

"Being fit is vital to remaining here. As well as being fit, you want to look good. It's part of the atmosphere."

Thus for Midshipman Herring, fitness is a way of life. "It makes you feel better about yourself. It makes you healthier. It makes you fit in."

Cyclist Charlie Schryver
A Cycling Machine
At 5'10" and 170 pounds, James Charles Schryver affects a casual style that disguises his obsession.

"I have always been a little stubborn and obsessive," Schryver admits. "And it takes a little obsession to get into an endurance sport."

His endurance sport is cycling. His heart and the muscles throughout his body must be conditioned to endure, or withstand, stress.

Still, Schryver was not born with the desire to sit on a bicycle for three hours after school. He learned not only to sit that long but also to stay focused and continue on course.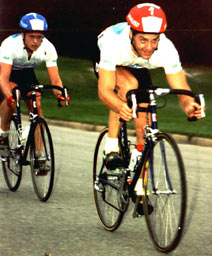 In learning the discipline of cycling, Schryver had the example of his father. "My dad was a bicycle enthusiast," the younger cyclist says. "He commuted from West Annapolis to the David Taylor labs — about five to seven miles — every day by bicycle." Like many teenagers, Schryver laughed at his dad's routine. "I still hear stories about his day riding in the snow."

Schryver had been "a little chubby," until he got into BMX, a trick bike-riding style based on jumps. Jumping his bike at night, he broke his knee.

He worked his way to recovery on a road bike. "Riding a road bike was less dangerous to my knee," says the former teen-age daredevil.

He's been riding the back-country roads ever since. Endurance cycling has made him who he is. Charlie Schryver is not only fit, he's goal oriented. Determined. An achiever. And a man who understands his father.

"Working toward a certain goal is a motivator. You get high from it," he says.

But asked for his definition of fitness, he reverts to his carefully casual style: "To me," he says, "fitness is an even balance of smart diet and exercise everyday."

Jan Graves
Gracefully Battling Gravity
A small clan of women shared morning greetings and slowly made themselves comfortable, shedding layers of winter clothes down to bare feet as the sunlight strained through a layer of snow clouds into a small room upstairs at Quiet Waters Park Visitors Center. Each rolled out a cozy mat to begin the hour of their day devoted to fitness.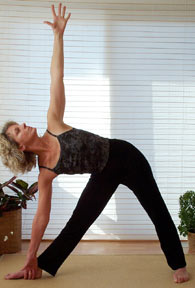 In that hour, Jan Graves guides them through a yoga technique called Inner Strength. It is a low-impact, high-intensity workout to counter the invisible force that controls the way the world moves. Much of the hour, the technique keeps its students prone or supine on their mats.

Used to the strenuous fitness of the soccer field, I was skeptical. Exercising in the position that you sleep in?

"Yoga tones and strengthens the body by relaxing and releasing the tightness in muscles, which in turn creates flexibility," Graves says. "The benefits are physically astounding."

Slowly, I understand.

Yoga is a defense against gravity. The human body is constantly being yanked back to the ground by gravity.

As Graves explains it, "a tree stays upright by an integration of roots that spread out and then pull downward. The body must also develop a feeling of being pulled down into the ground. As a tree also grows upward toward the sky, the body too relies on two-way movement, lengthening the spine upward with the breath as weight drops down toward the feet."

Active in the "fitness arena" for 20 years, Graves discovered the physical and spiritual benefit of yoga a decade ago.

"I felt I was on a mission to reach as many people as possible," she explains.

"The breathing, the postures — or asanas — the balance, the strength and flexibility: All this takes practice. It takes concentration to relax and achieve a flow and not a struggle. It isn't just for the flexible or just the strong. Yoga is the soft and hard, the flexible and strong, the yes and no all at the same time."


Thus Graves developed Inner Strength as a technique each person could welcome into a daily fitness routine. Some people, like her students at Quiet Waters, shape their routine around classes. Others may bring yoga into their homes with Graves' video. One way or another, they've pushed me closer to the answer to my question.

My Ideal
When I played on a team, fitness was a standard I followed. When I left the team, I lost my fitness.

If what I've figured out is right, keeping myself fit throughout my life means creating for myself a routine that follows me — wherever I go and whatever I do. Maybe the discipline I learned on the field will help me live by my routine. Maybe it was just a borrowed discipline and I'll have to create my own standard.

For it's true: I'll never again be the fit 18-year-old who ran tirelessly on the junior college field. That was the past. The future is mine to make — or miss.

---
Fitness Events
The means to fitness are many: yoga, dance, weightlifting, karate, Tai Chi, aerobics, swimming, sports leagues and more. Following is a sampling of options to consider. (Call for dates, schedules and costs.) To find more, consult Bay Weekly's 8 Days a Week calendar for special events or check the Yellow Pages for county parks and recreation departments, as well as medical centers, community colleges, gyms and other fitness facilities.

Yoga
Dynamic Inner Strength w/Jan Graves at Quiet Waters Park, Annapolis: 410/693-7327 • www.jangraves.com.


Unity by the Bay, Severna Park: 410/544-7990.


Anne Arundel Community College: 410/777-2243 • www.aacc.cc.md.us.


Anne Arundel County Recreation and Parks: 410/222-7300 • http://web.aacpl.net/rp.


Calvert Memorial Hospital, Prince Frederick: 410/535-8233.


Anne Arundel Medical Center, Annapolis: 443/481-4000.
Dance
Maryland Hall for the Creative Arts: Irish Step & Ceili Dance, Percussive Dance, Clogging: 410/263-5544 • www.marylandhall.org.


Anne Arundel Community College: Dance Aerobics, Swing and dancing for wedding receptions: 410/777-2243 • www.aacc.cc.md.us.


Anne Arundel County Recreation and Parks: Creative Movements, Ballet, Kinder Dance, Tap, Jazz, Country, Hip Hop, Salsa and Swing: 410/222-7300 • http://web.aacpl.net/rp.


Calvert County Parks and Recreation Department: Tap, Creative Movement, Ballet, Jazz, Vaganova, Middle Eastern and Western Square Dance: 410/535-1600 x. 234.


Davidsonville Dance Club: 301/369-0013.
Martial Arts
Anne Arundel County Recreation and Parks: Tae Kwon Do, Karate, T'ai Chi, Qi Gong: 410/222-7300 • http://web.aacpl.net/rp.


Calvert Memorial Hospital, Prince Frederick: T'ai Chi: 410/535-8233.


Anne Arundel Medical Center, Annapolis: Qi Gong, T'ai Chi, T'ai Chi Ch'uan plus stretching and toning: 443/481-4000.


Calvert County Parks and Recreation Department: Karate, Shido Jiu Jitso, T'ai Chi, Tae Kwon Do: 410/535-1600 x. 234.
Sports
Anne Arundel County Recreation and Parks: Basketball, Volleyball, Flag Football, Girl's Lacrosse, Co-ed Softball, Gymnastics and Swimming: 410/222-7300 • http://web.aacpl.net/rp.


Anne Arundel Medical Center, Annapolis: Water fitness class that includes nutrition: 443/481-4000.


Calvert County Parks and Recreation Department: Fishing, gymnastics, fencing, softball, organized runs/races, t-ball and cycling groups: 410/535-1600.
Hiking/Walking
Anne Arundel County Parks: All kinds of hiking trails plus organized activities at B&A Trail Park, Severna Park (410/222-6244); Downs Park, Pasadena (410/222-6230); Lake Waterford Park, Pasadena (410/222-6248); Kinder Farm Park, Millersville (410/222-6115); Quiet Waters Park, Annapolis (410/222-1777); Jug Bay Wetlands Sanctuary, Lothian (410/741-9330).


Calvert County Parks and Recreation: Lunch and evening walking clubs: 410/535-1600 x. 234.
Fitness Assessment
Calvert Memorial Hospital: Meet with a certified fitness trainer to evaluate muscle strength and endurance, flexibility, aerobic capacity and body composition. $45; 410/535-8245.
---
Copyright 2002
Bay Weekly