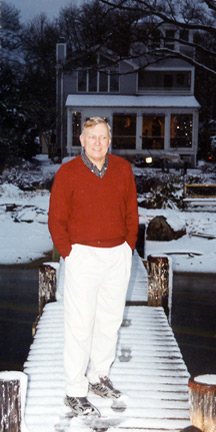 Delegate Dick D'Amato

Wheeling and Dealing in Annapolis

with Sandra Martin & Bill Lambrecht

As the Maryland General Assembly enters its third week, Delegate Richard D'Amato is a busy man. So busy that he has to know what day of the week it is to figure out where he's likely to be.
If this is Monday, Tuesday or Wednesday, he ought to be at the General Assembly in Annapolis, which means you might catch him at his office between meetings and votes and receptions and wheeling and dealing.

If this is Thursday or Friday, he must be in Washington, presiding over the China Commission as its chairman for the last time for some months. That commission of a dozen congressional appointees has visited China three times. D'Amato has just concluded a series of "intense hearings" to advise Congress on how to approach what he calls "this very Leninesque dictatorship that's paranoid and wants to become the premier power in the Pacific."

If this is Saturday, D'Amato must be in Annapolis, at the Capital City Commission, which he describes as a gathering of politicians trying to build solutions across jurisdictions. On that commission, the Anne Arundel County delegation joins the governor, county executive, mayor and superintendent of the Naval Academy …

Unless it's late Saturday afternoon, when he might be home.

Annapolis has been home to D'Amato since 1968, when his first assignment as a Navy ensign brought him to the Naval Academy to teach political science. That's except for the three years he served in Vietnam on a destroyer in the Gulf of Tonkin. He served again in Desert Storm and retired from the Reserves as a captain after 32 years.

Since 1974, D'Amato, 59, has lived on the Eastport side of one bend or another of the Severn River. Most of those 27 years, he commuted into Washington, where he was legislative director or chief of staff for three powerful lawmakers — representatives James Jeffords of Vermont and Robert Byrd of West Virginia and senator Abraham Ribicoff of Connecticut — before serving as chief Democratic counsel to the U.S. Senate Appropriations Committee.

By 1998, D'Amato wanted a job closer to home. On his first try, he was hired by the voters of the 30th District — which runs from Annapolis to Shady Side and from the Bay beyond Muddy Creek Road to Route 2 — where he teams with delegates Virginia Clagett of West River and Michael Busch and the district senator John Astle, both of Annapolis.

Bay Weekly braved snow and freezing rain to track down D'Amato overlooking Lake Ogleton from Bay Ridge at the house he shares with his wife Dorothy, a retired telecommunications executive.
Q Delegate, how long are you going to keep your Christmas tree up?

A I don't know why we have to rush through everything. We're still right on the edge of Christmas. I like it up until the first of March. Dorothy doesn't.

We start arguing about when to take it down just about now. But tomorrow we have mids coming over, and we want it up then.
Q You worked for Congress in Washington for over a quarter century before joining the Maryland General Assembly in 1999. How is your Washington experience good for all of us who you're working for now?
A In the General Assembly, there's always the issue of how to get federal money to fund local projects. I still maintain close ties with Washington, especially Sen. Robert Byrd, who I worked with for years, and my colleagues on the Appropriations Committee. Having been counsel to the Senate Appropriations Committee, I'm pretty familiar with how to get federal money for local projects. Last year the chairwoman of our county delegation, Mary Ann Love, appointed me chair of the federal relations subcommittee charged with bringing home federal money as my job.
Q How's your job performance been on that score?

A We've seized on several projects. First, we wanted federal money to fund our study of terrapins. We wrote to senators Sarbanes and Mikulski in our delegation, sending copies to the staff in Appropriations. We got a quarter of a million dollars from the Department of the Interior for our terrapins.

Even more important was getting the money to rehabilitate the Nike site on the Broadneck peninsula. During the Cold War, army surface-to-air missiles were stored there. The missiles have been removed, but the concrete silos are still there. We knew from working with Anne Arundel County how much it would cost to remove the silos and turn [the area] into ball fields. I knew what [federal] bill the money should go in and how to size the project to make it easy to incorporate. There's a certain threshold of project so small that the other house of Congress automatically accepts it. That's what we did with Nike, and we got $1.5 million in cold cash.

And we got $1.5 million to continue our crab project with University of Maryland's Biotechnology Institute where we hope to boost the stock by breeding crab larvae in the lab.

So there's been a nuts-and-bolts transfer of my Washington experience to Maryland in very specific ways. The timing is good, too, because the federal appropriations process doesn't get rolling until June or May, when we're out of session.
Q You're the only legislator in the Anne Arundel or Calvert delegations who's coming out of experience in Washington. How does that make you different from your colleagues?

A Some members look at the General Assembly as a stepping stone up, maybe to county executive or Congress. They tend to look at this job differently than me because I'm not interested in going back there.

I like doing this. I thought about Congress, but I thought I could benefit people more directly here. I like to figure out practical solutions to problems through legislative techniques.
Q We heard another old Washington hand, Anne Arundel County Council Chairman Bill Burlison, say that redistricting is a terrible mess of confusion. Is the governor's plan pinching you?

A Not like others, who are being thrown in against friends or not able to run again. The 30th District is essentially unchanged.

It's a district I like for its attention to the quality of life and quality of the environment. This district is terrific because it has more waterfront than any other district in the United States. The Magothy, Severn, South and West rivers are all in my district, plus creeks up and down. Since people have so much access to waters, they pay a lot of attention to water and its interface with the land.
Q How is this General Assembly likely to be different?

A It's going to be a little harder to add new initiatives to this budget. We'll have to be fairly creative.

Maryland is very weak, probably the weakest state, in terms of legislative initiatives. By the [state] Constitution, we cannot add to the budget or change priorities.

So what you do is visit the governor and ask him to put your initiative in the budget. If he doesn't, then you visit again after the legislature has taken away a lot of things he'd like and ask to put it into his supplement budget as well as get back some of the things he'd like.

The other way is to get to know cabinet secretaries who have some discretionary budget moneys. Secretary of Transportation John Porcari helped us that way in adding money for studies of submerged aquatic vegetation.
Q Speaking of governors, will Parris Glendening have much political capital to spend now that his term is winding down?

A As a lame duck, your power does tend to subside, but Maryland's governor retains the power of the budget, and he has the power to affect votes and trades.

Glendening is a transactional governor, a dealmaker. You ask for A, B and C, he asks quite directly how are you going to vote on, say, these six things. You say 'I love them and am going to vote positive on all six,' and he'll say, 'okay, I'm going to give you A and B' …
Q On the environmental front, up high on the governor's list is strengthening our Critical Areas law.

A I like his thinking in this area, protecting our critical areas, and coastal bays. When we can't adequately fund all our needs in our state budget, we can try to carve out specific areas and zones like critical areas to preserve while we get more federal money.

Chesapeake Bay is so sick it's like the Everglades. We will never be able to clean up the Bay without massive federal dollars, tens of billions …
Q The figure is $7.2 billion for the Everglades …

A We'll need more than that.

Q Is there the political will to get that done?

A It's always possible when you have strong political coalitions. We have a huge federal budget and some money at the state. If you put together strong coalitions, you can make things happen.
Q What are your environmental priorities?

A This one may sound mundane, but I like it a lot.

I'm the legislative member of the Chesapeake Bay Trust, which makes small grants to non-profits for environmental action and education. It's 10 years old, and so much of its money — it's got $10 million invested — goes to our school children.

They're the solution. Once you get elementary school kids involved, you've hit the jackpot because they get their parents involved. That's what I'd like to see happen with submerged aquatic vegetation.

Chesapeake Bay Trust is funded by the Bay license plate. But you have to renew the Trust every two years, so it has not been able to provide grants on a multi-year basis.

My bill would extend the Trust for six years. It could become a much more mature organization, and a focused one.

I'm very optimistic, and my bill has lots of cosponsors.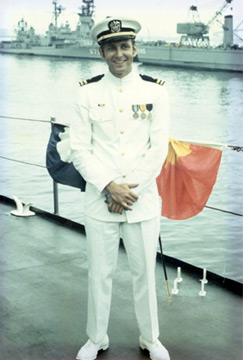 Q The Maritime Museum in Eastport is another?

A Yes, it's a museum to preserve the heritage of working watermen, but it also has space for a working water business. It's on the water in a great location, where McNasby's Oyster House was, which is vacant now. I'd rather have a working business — boat building and water industries — than just a memorial to working the water.

It's a bond bill, so the state funding must be matched. Last year we got maybe $200,000 for design, and this year it will be more, $400,000. But I think it will take $500,000 or $700,000 to do construction.

I expect Annapolis to come up with $150,000 and the county at least $100,000, which should give us all the money we need.
Q Crab revitalization is becoming more and more contentious. What's your thinking on it and on the new Maryland Sea Grant College report that the way we're going about preserving crabs will kill the industry?

A I don't have a position yet because I need to learn more about it.

If I were to say I understand crabs, I'd look like Pinocchio.

From what I do understand, nobody's a crab expert. We don't even know how long they live.

Our crab is a hardy and versatile creature, but we've done some damage to them. We may be affecting genetics because of overfishing.

But my sense is what's putting this resource into crisis is not just watermen but the quality of water as we kill grasses and lose habitat.
Q Is it your sense there have to be further restrictions?

A There probably do, and it will always be a balancing act with watermen and with Virginia. In a perfect world, it would be great to ban taking females — but I don't think that's going to happen.
Q Here's a political question. Recent polls shows that since September 11, many voters now identify themselves with the Republican party. What must Democrats to do to regain momentum by election time?

A In my constituency, voters are strongly registered Democratic, but registration is deceiving, for it's a very independent constituency. When I ran for office, I was advised not to mention my party affiliation. I couldn't believe it. But winning here is really personality oriented, and you've got to run on what you stand for.

I'm used to selling my ideas, my background and my ability to do things. And I think that's what the Democratic party has to do. Basically, [President George W.] Bush was thrown this tremendous challenge, and he did well. So he'll get some coattails, but things change fast in politics. His father had an 83 percent approval rating after the Gulf War and lost. George W.'s rating is similar, and that's going to change

My sense is that you succeed in how you deliver substance.
Q I see you're drinking another cup of coffee. How much do you drink a day?

A Maybe six, eight cups. I get up at 6am and drink two right off the bat. Sleep? Five or six hours a night does it for me.
Q You've lived all these years on the Bay, and I know you're a sailor …

A My boat is Maryland Crab. It's a J-105, the fastest 31-foot racing boat.

After my first bill, to protect Maryland crabmeat from foreign imports with truth in labeling, failed, I became friendly with Steve Phillips of Phillips Seafood. The bill was defeated by well-heeled lobbyists. Phillips hired Bruce Bereano, who worked full time on this and was able to get a majority to oppose it.

But there was a silver lining. I got to know Steve Phillips, and we worked together on a much more important thing that he's given money to, our crab research at University of Maryland's Biotechnology Institute.

Phillips has a J-105, too, that he was going to sell, so I told him I was going to buy his 105. When he didn't sell it, I went out and bought another and had it painted with a blue crab with a cutlass.

I wanted Steve Phillips to see Maryland Crab race by him. But he's a good racer and I seldom beat him.

We go out Wednesday nights out of Annapolis Yacht Club and some weekends, now that I've overcome a serious disc problem from a sailboating accident …

Q What happened?

A It was the Governor's Cup a few years ago and of course we were racing at night in a storm on the Bay. Very sporadically, cells would come through of 50 mph winds, and then it would drop to 10 or 20.

I was on the winches, so I literally wrenched my back apart. They had to carry me off the boat. It took two years of therapy to get over it.
Q What do you do this time of year, when there's no sailing, to balance the stress of the legislature in session?

A I work out pretty much every day. I go to Merritt Athletic Club for racquetball, and then I do Pilates at a new place, Evolutions. Pilates is stretching exercises developed by a German named Pilates, and it's become popular in the States.

And I do a lot of cardio machines and aerobics classes, just to keep balanced. I have a chiropractor, and I do acupuncture with a Chinese doctor named Fang in Severna Park.

So I try to keep healthy holistically.