A Bay Weekly Interview with Christopher Heagy


He's out among 'em so much, you'd think Annapolis' two-year mayor was still applying for the job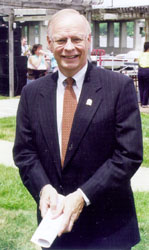 Dean Johnson's road to Annapolis was a long one. In many ways, it was a dream deferred.

"I had always wanted to go to the Naval Academy," Johnson explained. "In high school, my plan was to go to the Naval Academy. I never applied to any other school. I had my orders, my train tickets, my designation. I had my reporting-in date, the whole thing. The day I graduated high school, I got a telegram withdrawing everything.

"I figured my life was over."

Instead of Annapolis, Johnson headed to Washington State in his hometown, Pullman, Washington, a town named after the sleeping-car magnate in a failed economic development scheme. About the time Johnson earned his degree in economics, Uncle Sam asked him "to put on baggy green skin and go to South East Asia."
---
Johnson got his first administrative experience in Thailand as the commanding officer of the army's only refrigerated truck company.

"We delivered fresh food, milk and ice cream. We also delivered liquor because we were the only unit with trailers that could be locked."

Back in the states in 1967, reservist Johnson finally got to see Chesapeake Bay. He took a job in Washington, D.C., and his unit spent summers on the Bay training on landing crafts.

Johnson was already an experienced boater. He learned to sail in high school on Lake Coeur d'Alene in Northern Idaho.

"I learned to sail on an all-wooden boat with manila lines and cotton sails," Johnson says. "No fiberglass, no dacron, no nylon. The boat owner believed in real men and real boats."

In the Reserves, Johnson's love for the water revived.

"One of the reasons we moved to Annapolis was that I wanted to become an active boater," Johnson said. "But I learned three things. One, I didn't have a lot of time after the commute. Two, a boat is a hole in the water you throw money into. And three, it's cheaper to sail with a friend."

Johnson and his wife, Sally, have spent the last 28 years in Annapolis, where they raised three sons, Kevin, 28; Eric, 25; and Stuart, 18.

Last year, Johnson finally went to sea.

"About 11pm last April 12, after I presented the annual budget, I caught a ride from City Hall to New London, Connecticut. The next morning I boarded the USS Annapolis. I spent the next three days 800 feet under the Atlantic.

"It was a dream deferred and changed and buffed and slightly a different color. I never thought that I'd end up in Annapolis, living here, being involved in the community, doing what I'm doing," says the city's two-year mayor.

Now, as politicians court Maryland voters in the last days before the March 7 primary election, Dean Johnson kind of wishes he were among them. Campaigning was no ordeal to him. He loves being out among the people and makes getting around a big part of his job. That's how, he says, he "recharges the batteries."

"I really enjoy the getting out," Johnson says. "There are all sorts of places where people are out and around the community. I'll accept an invitation to any of them. My wife will confirm there is rarely a night when I am home."

Putting his money where his mouth is, Johnson accepted Bay Weekly's invitation to meet 40,000 readers in our pages …

Q As mayor of Annapolis, you're leader of much more than a city of 35,000 people. You're making decisions for a daytime population of 55,000 — decisions that affect a metropolitan area of 150,000. On top of that, Annapolis is Maryland's capital, which magnifies the complexity of managing the city.

What's your vision for this city, our capital?

A The overall objective has got to be balance. That's the real challenge of the job. To keep that balance because that is where the excitement comes from. The city has to be both residential and business. It's got to be both the old and the new. It's got to be both sailboat and powerboat — or as some would say, raghaulers and stinkpotters. It's got to be both small boats and large ones. The moment we lose or significantly upset that balance, we really lose the excitement. It is a constant battle to make sure that this balance stays.


---
Q What does the future hold?

A In terms of population, we'll see a slight increase. In terms of what is physically here, the community obviously feels it should be somewhat the scale it is now: the same level of activity and business. The increase in activity will have to be in terms of infill, building on empty lots and revitalization of old neighborhoods. There is a fair amount of property that can happen on.
Annapolis is the perfect poster child for Gov. Parris Glendening's smart growth activities not only with the neighborhoods that have been successfully regenerated so far but also with what could be in some of the other neighborhoods.

---
Q What experience do you rely on as you do this job?

A I was raised in a family that didn't put any special value on community service. It was assumed that you would be active in the community. That was just the way life was lived. So I'd always been involved in community activities, whether neighborhood associations or local theater, which had actually been my first involvement with the community.

I've been a deacon and elder at church, the chairman of the Anne Arundel County Trust for Historic Preservation and president of the Colonial Players two separate times for five years. I jokingly say that if I could be a producer and deal with the theater's board of directors, each one with their own ego, then I could deal with a city council.

---
Q How did you get into politics?

A It was serendipitous in a way. About 10 years ago, after a neighborhood association meeting, someone suggested that I run for alderman. I was working at the U.S. Department of Transportation, and as a federal employee, I didn't think I could do it. But I looked through the federal code and found the specific exception that applies to Annapolis and Anne Arundel County. So I ran for office and served two terms as alderman.

When I was deciding what to do next, I looked around at what I was doing as an alderman. It was okay, but it wasn't really satisfying. I started listening to who was running for mayor and concluded that I was better qualified than they were. I had a better perspective of the overall community than they. So I figured I should run.

---
Q Did you ever have doubts?

A The main problem was where's the money going to come from. I had to leave my job to run for mayor.

I worked out the numbers and figured that I could survive for a while without the income while I ran. If I won, I'd have another job. If I didn't win, then I'd have to get another job.

That was June 17, 1997, and other than June 18, I have not missed the drive into Washington. I haven't looked back. I just moved along.

---
Q So from an amateur, you became a professional politician. You prove the axiom that work as a volunteer can lead to a professional career …

A I don't know if I'll ever consider myself a professional municipal manager. But I am picking it up and learning quickly.

The city administrator is the professional. I was able to talk Sanford Daily, who was the city manager of Gaithersburg for 27 years, out of retirement.

He handles the day-to-day operating functions of the city. When there are personnel problems, his office deals with those. In the process of assembling the budget, I will sit down with department heads and work out the general direction we are going, but he's the one that makes sure that all cost figures are in so charts are full when they go forward to the council. The city administrator handles the nuts and bolts in every aspect of the business of running the municipality.

---
Q What, then, are your major mayoral responsibilities?
A From the managerial side, I think my major responsibility is providing sufficient resources for the various departments to try to keep them on target in the future, not simply cleaning up today. I try to work with the departments to establish long-range vision and planning. On the community side, I think it is my responsibility to try to keep as many folks as possible involved in the process.

---
Q Tell us a little more about city government. What did you learn as an alderman that helped you as mayor?

A I learned how the city's code is written, how the city's bureaucracy is organized, how a budget is assembled. Technical things.

As an alderman I did not — I guess you can't — understand how the whole city operates. I never saw personnel problems. I never saw or had to have responsibility for developing a career perspective for the various city employees who make a career of municipal employment.

As alderman, I didn't realize that we are a medium-sized business with 435 or so full-time employees.


---
Q During the first months of your administration you went around and met with many civic groups to hear their concerns …

A Still do. Some of them are organized by my office, and some of them are organized by neighborhood associations. I will go anywhere to meet the citizens and let them talk about what is on their minds and let them know what we as a city are faced with.

Each neighborhood has a slightly different perspective. Eastport is different from Homewood/Germantown, which is different from West Annapolis, which is different from my neighborhood, Admiral Heights, which is different from Heritage, which is different from Watergate. Each has its own rhythm.

Some value sidewalks; some don't want any sidewalks. Some of them are old; some are new. Some neighborhoods love marigolds; the next neighborhood hates marigolds but loves roses.

One of the mailing lists we use has 51 or 52 neighborhood associations. That's in a city of 35,000. And each neighborhood has a somewhat different vision of what they want to be.

---
Q As Annapolis evolves in the new century, what are your major concerns?

A One of the trends I don't like — and I have no idea how we deal with — is house prices in this town. The latest figure I have is for 1998, when the average price for a house sold in Annapolis was 28 percent higher than in 1997.

That means the high end of this town is going way up. The average house price downtown is more than I can afford. It's more than 78 percent of the city employees can afford. Only 22 percent of city employees live in the city; most can't afford it. I couldn't afford to move here now.

House prices are such that starting out with a family as when I moved here, I just couldn't afford to do it. This community has such a wide variety of activities that's based on the soccer mom, the PTA mom, little league coaches. Those very people that help build the foundation, but we're squeezing them out when it comes to housing.

---
Q And you feel that when these people are squeezed out, the city loses some of its strength?

A One of the distinguishing features of the town is the way we link together when it comes time to do things. This town is astounding when it comes to volunteers.

Twice a month, I will have a visiting delegation from around the world. When these delegations are in Washington, they will come to Annapolis to visit a "typical" American small town.

Whether they are from Estonia or Romania or Japan or Columbia, wherever in the world — but especially the Eastern European and some of the Asian rim countries — when I start talking about Annapolis and explaining the work our volunteers do, they ask, where do you get your volunteers? Do they get a tax cut? Do they have to sign a contract? Do they get special housing? How do you entice them?

When I explain to these delegations that people volunteer because they love the subject or they simply love their community, the visitors look at me like they really don't understand.

I try to explain that we have generated this notion that the strength of the community is found in its volunteers.

---
Q You obviously think that Annapolis isn't your "typical" American town.

A No it's not typical.

We have all the amenities that have developed over 351 years. The cultural arts are very important here. The number of nationally known performing artists that call this region home, the number of writers who call this place home, the number of corporate officials and military and Navy leaders who — maybe they're retired, maybe they're not — call Annapolis home simply because they enjoy it here is tremendous.

They bring that expectation of achievement and excellence that permeates everything they do.

---
Q What drew you to Annapolis?

A We moved to this town 27 years, 362 days ago.

Editor's note: Counting from the day of our interview, Feb. 25, 2000.

I was raised in the Pacific Northwest, in a town probably about the same size as Annapolis but not surrounded by nearly as much.

I woke up every morning looking across the Palouse Hills, which have no trees or shrubs or anything on them, at the foothill of the Rocky Mountains in Idaho.

For the first 11 years in town, I lived in the town's second oldest house. It was built in 1907. Pullman was a new town. Growing up, I had known some of the people who had been there when the town was created.

In Annapolis, I am still astounded to walk streets that Washington and Jefferson and others walked and see buildings that are 330 years old. When I was growing up, anything more than 50 years old was considered historic.

---
Q You have a broad interest in history …

A Oh yes, and interesting enough both my brothers have degrees in history, and my stepfather was chairman of the Washington State history department, so history has been fairly close to the surface.


---
Q Was your father a professor as well?

A Yes, a professor of veterinary physiology. He loved teaching, and he loved politics. He was the Democratic county chairman for 14 years, and the treasurer of the Democratic party in the state of Washington for two or three years. When he first got out of college in late 1930s and could not find any employment, he wound up as a biology teacher in North Dakota. His roommate was an English teacher who later went back to his home state and became better known than my dad: Eugene McCarthy. We've always been family acquaintances.


---
Q Were you a Clean Gene McCarthy supporter back in 1968?

A No, I was probably for Hubert Humphrey though at that stage, politics were of no great interest to me.


---
Q One of your campaign pledges was to invite more debate. Some have suggested that maybe we have too much debate. Do we stagnate on things like the garage on West Street, the bike path in Homewood, even the naming of Westgate Circle?

A The fact that we have all these debates, that every item is discussed, to me shows a healthy community. People are willing to step forward and enter the fray of the debate and believe that not only should their voice be heard but it needs to be heard.


---
Q Another of your campaign pledges was to look at things from the top down, to take a planning approach …

A Yes, and that has been one of the fun things because it has not been from the top down as a mandate.
What we've tried to do is empower the boards and commissions, which are composed of citizens. We've got 22 of them in the city, which is an extraordinary number for a community of this size. The planning commission now really has a role — not only in the design of West Street and how that works out and the hospital site and how that works out — but something as simple as Edgewood Road.

Editor's note: Edgewood Road branches from Bay Ridge Avenue and runs just over a mile to Back Creek.

They participated with the engineering and construction staff and the planning and zoning department in working out the design of that road.

Hopefully, the battles we've had in the past, we just won't see them because of the citizen organizations that have been empowered to participate.

---
Q What has been your administration's proudest accomplishment?

A In terms of hardware possibly, so far anyway, the regeneration of West Street. For 40 years, that was the abandoned route. The water system was from the 1870s. The sewer system was a Works Progress Administration project in the 1920s and '30s. It was collapsing.

Sixteen years ago, the city said we'd like to have this action plan — that was the word that they used — and nothing ever happened because city government didn't step forward and replace the infrastructure.

Business or developers that might have been interested in locating in the commercial core of the city were discouraged from doing so. They went elsewhere and continued the sprawl that we all decry. Finally, it became evident that we had to start, we had to be part of it, we had to be active so that developers could see the city would work.

To make the regeneration of West Street work, we have rejuvenated other things. For example, the Planning Commission is now much more proactive. Before, when someone had an application, they would apply to the Planning Commission. The commission would hear your offer and then they would rule. It was almost like a court.

Now we have empowered the Planning Commission to work with developers well in advance of the formal proposal — whether the project happens to be on West Street or the hospital site.

The Historic Preservation Commission had done some of that in the past. The Board of Appeals had done none of that in the past. These groups are much more proactively involved in what goes on.

---
Q We have one of the highest per capita police forces in the area. Is that too dominant a police presence?

A The police force in a typical city of 35,000 would probably have 60 to 70 officers. Three items directly impact and push the number higher. First, 120,000 people are wrapped around us, so we have the feel, the rhythm and challenges of a city of 150,000. Second, we are the state capital. We have to be able to respond to those needs. Third, the large public housing presence produces demand for extra police services.

One out of every six residents in Annapolis lives in public-owned or assisted housing. That's the highest rate we know of for any city east of the Mississippi River.

Over the years, we've stepped forward. The present police station was built in 1972 and the city at that point had 72 officers and 33,000 people. We've added only 2,000 people in terms of population, but the employment base in town has doubled.

We're not only a city of 35,000 but an employment site of 55,000 with another 120,000 wrapped around. I would love to have a smaller force, but in many ways we seem to be par for the course for a town of 150,000.

---
Q Finally, addressing the anti-loitering bill. Some have said it is not only unconstitutional but might also hint of racism.

A No. That comment about racism, I will not put up with in any way, shape or form. There is no indication that racism is involved. To say that it is a racist bill is to call the African American police chief a racist.

No one has even mentioned that we already have a loitering law that is much more broad. The neighborhood doesn't have to evoke it.

The last demonstration we had at Planned Parenthood, we controlled that with the loitering law. The demonstrators would not let people through. Asked to move on, some did. At least one didn't, and he was arrested not for loitering but for failure to obey a lawful order, which is the other side of the loitering law. That law has been in effect since the 1960s.

My view of the latest loitering law — and I voted for it after it had been severely changed — is that it puts in place a method so that the neighborhood can say we don't like what's going on here and we want more resources applied. We should, in fact, be almost embarrassed that the neighborhood has to ask for those resources.


---
Q You've come from West to East, from dry to wet, from Democrat to Republican. What values does your party affiliation represent?

A I think I have always been some what of a centrist or a moderate, whether as a Democrat when I was younger or now as a Republican.

For me, the message of personal responsibility seems to have a little bit of higher status in the Republican party. I don't think you can be involved in politics in a democracy like the United States and not have personal responsibility as an important element in your background. I just saw it as a little bit higher in the Republican pantheon of values.
The way I approach things is there are a number of things on my plate as mayor that I think are
problems that have been deferred. They might not be pleasant. They might be political dynamite. But I think we have the responsibility to deal with them.

---
Q Will you run for re-election?

A Yes, most definitely. I love the job.

---
Copyright 2000
Bay Weekly