Searching for My Valentine
I made phone calls, extended invitations, bought new clothes, brushed my hair, cleaned my car, left early (sometimes) and showed up on time (almost always).

by Christopher Heagy

It started so easy.

I had my first date in sixth grade. Kristie George and I went to the movie theater with J.P. Sandora and Nicole Hoover. Two couples — if there are couples in sixth grade — sitting next to each other, holding hands, we watched Troll. We rode home in the back of the Georges' mini-van, sitting Indian style on the floor, eating McDonald's French fries and sipping on milkshakes. It was so simple.

It was still simple in high school. We double dated and ate at Margilena's, soaking the grease off a large pizza and drinking pitchers of soda. After dinner, we went back to Erica Higg's house. We watched Pump up the Volume, and I thought I was as cool as Christian Slater.

Early in my dating life, movies were popular.

Then I went to college. Dating never happened. I just had to play catch up.

"Hey, I'm going to this party with my friends. Why don't you meet me there? Or if I don't see you, I'll call you around 1am."

"Cool. I'm gonna hang out with my girls for awhile, and we'll meet up later."

That was as close to a date as I got during those four years. It just wasn't an issue.
But sometime after graduation, the rules of dating changed and threw me for a loop. Meeting up was no longer good enough. I had to make plans and be on time and pay attention and dress well and be nice. Let's just say it's taken me a few years to catch up.

I haven't dated much.

I told my friend Jessie that I was writing a story for Valentine's Day and as part of my research I had to go on five dates.

"When is the article due?" Jessie asked

"The end of January," I responded.
"No way. Never happen," she said.

"You haven't been on five dates in your life," my friend Stan interjected.

"Well, it could happen," I snapped. "I might be able to do it."

Mocking me, Jessie laughed:

"Well, I guess we'll see."

With that, I headed out into a new world. A place right around the corner but far away from anywhere I had been before. I made phone calls, extended invitations, bought new clothes, brushed my hair, cleaned my car, left early (sometimes) and showed up on time (almost always). So here it is, my search for a Valentine in the year 2000.

---
Date 1: Darcey, the Woman from Work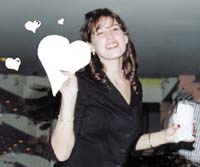 I'm not good at this dating thing. I tried to pick Darcey up by 6pm. We planned to go to the Hanna wine dinner at Middleton Tavern in Annapolis. Dinner would be served at 7pm, but there was an hour of wine, appetizers and mingling beforehand. My plan was to get there early and enjoy all we could.

But I turned the wrong way on Rt. 197. I finally realized my mistake and turned around, but then I blew by the right-hand turn into Darcey's neighborhood.

It was 5:58pm, and I was still searching for her house. Making matters worse, I wasn't even dressed yet.

The clothes I wanted to wear were at the dry cleaners. I couldn't pick them up until after 5pm. I didn't have time to run to the dry cleaners and run back to the house to get dressed. I threw on some jeans, a white T-shirt, dress socks and boots and headed out my door — to the drycleaners and my date. Somehow, I'd have to get ready on the way.

When I found Darcey's house I drove past, hoping she wouldn't notice. I pulled over and took off the jeans, slid on my slacks and buttoned my shirt. I hopped out of my car, and as fast as I could, I pulled up and fastened my pants and tucked in my shirt. I hope her neighbors weren't looking.

I knocked on Darcey's door at 6:15pm.

"Hi, we're running late, let's go," Darcey said as she opened the door.

"I know, I'm sorry," I admitted. "Ahh … Could I use your bathroom?"

Upstairs in the bathroom, I checked myself out. Not bad, considering.

So we headed out the door and to Middleton Tavern.

The easiest thing about this date was that I already knew Darcey. We both work for Bay Weekly. Our paths have crossed at the office, Christmas parties, Monday night volleyball and Birthday Bashes. There was no need to be nervous, and the date was easy to plan. A friend invited me to the wine dinner. I knew Darcey would be game, I called her, and we made it a date.

But as we cruised down Rt. 50, I was still flustered. The conversation in the car was a little forced. We talked about what we were working on at the paper and what we were going to do that night. When I told Darcey where were going, she said:

"A wine dinner? What do I know about wine? The last time I drank wine, it was pink and came out of a box."

Well, this should be fun.

We made it to Middleton Tavern just after 6:30pm. Once we walked in, things kept improving. California rolls, paté and other appetizers were passed and the wine was flowing. Alcohol always helps loosen things up on the first date, and a wine dinner is a great place to drink without looking like a lush.
After some wine and a few appetizers, I was relaxed and ready to enjoy myself.

Still, we were both a little intimidated. I had never seen a table with so many forks. But we made the best of it as four courses of food and countless glasses of wine made the rounds over the next two and a half hours.

The food was definitely exotic. Salmon pastrami, quail, bison, lobster pot pie. I'd never had most of this food before. Darcey hadn't either, but we both dove in.

The best thing about taking Darcey on this date was that she was willing to try everything. She said she didn't like red wine, but she gave it a try before letting me finish her half-empty glass. She wasn't ready for quail, but she tried a couple bites.

I thought we were both having a good time. Our conversation flowed, the wine put me in a great mood and Darcey was laughing at my jokes, so I guessed the wine had the same effect on her. For a few minutes, I thought I might even be charming.

After stuffing in as much of the chocolate mousse tart as we could hold, the evening was winding to a close. The only problem so far was that I kept calling her Darce and she kept correcting me. "Only my family calls me Darce. It's Darcey to everyone else," she told me.

Well, okay Darce, I'll try.

We wanted a night cap at Middleton's Oyster Bar.

This might not have been the best idea. After a couple of drinks, midnight approached, and the morning alarm was getting closer and closer.

Taking Darcey home, I drove up Main Street and down West Street and out past the traffic circle. Just as I turned onto Rt. 50 west, Darcey turned in for the night. When your date falls asleep on the way home, that can't be a good sign.

She awoke when I pulled into her driveway. A quick hug and a kiss on the cheek, and Darcey was out of the car.

I left thinking: Man, she fell asleep on the way home.

---
Date 2: Stephanie, Set up by Sandra

There are two difficult moments any time you are set up with a woman: the first time you call her and the first time you meet her. While I'm thinking about these two difficult moments, I'm staring at Stephanie's phone number.

I'd dial a few numbers, then hang up the phone. I'll call in a couple of minutes, I'd think. Sometimes a couple of minutes can take a few days. I'd dial a few numbers and hang up. Finally, with a small ball in my stomach, I made the call.

"Hi … ah … this is Chris Heagy … ahh … Sandra Martin gave me your phone number," I said sheepishly.

"Oh yeah, hi, how are you? Sandra told me you might be calling," Stephanie said.

"How did she ever talk you in to going out with me?" I joked, at a momentary loss for words.

Everything went well on the phone. We only talked for a few minutes. I threw a couple of ideas out about what we might do.

"Any of those ideas sounds good," Stephanie said. "Why don't we meet at my office — the big ship in the Inner Harbor — at 6:30pm. We'll head out from there."

It looks like this might go better than the last time I was set up. That time, I wanted to make the right impression. I hustled home after work, went to change clothes and found that my shirt was dirty. I ironed another shirt and headed out. We were supposed to meet at a bar, and I was about 25 minutes late. By the time I arrived, my date had left. I still feel bad about that.

This time I would be on time.

But Friday night, I raced to the Inner Harbor, late as usual.

At 6:40pm, I was searching for a parking space with just a general idea of where Stephanie's office at the Constellation is. I parked my car, threw coins in the meter and hopped through the snow toward the water, looking for a big boat. I asked a stranger where the Constellation was and sprinted around the corner.

Then I was staring at that second difficult moment.

I looked through the door and Stephanie was waiting.

Wow, I thought to myself, this could be all right.

Then I paused for half a second. 'I wonder what she's thinking,' I thought to myself.

The two most difficult moments are out of the way. Now it's time to get to know each other.

We headed across the Inner Harbor and grabbed a drink.

There, the questions started. We fired them at each other, asking about each other's past, stabbing, looking for things to talk about.

"Where did you go to school?"

"Where do you live? Do you like the area? How's Baltimore? How's Annapolis?"

"How about your family? What music do you listen to? What movies do you like? What books have you read?"

Questions and answers flew across the bar. Forty-five minutes sprint by.
I grabbed the check, and we headed to a Baltimore BayRunners basketball game at the Baltimore Arena. We settled in about 10 rows deep.

"So how do you know Sandra?" I asked Stephanie.

This is another strange thing about being set up. The person that makes the match has an opinion of both people. They wouldn't set you up with somebody they didn't like. They think this might work, that there is some potential. It just puts a little unspoken pressure on the evening.

"She's been a good friend of me and my family for a long time now," Stephanie told me.
Oh, boy.

When the game ended, Stephanie and I headed to Baltimore's Little Italy. We wandered through snow-lined streets, looking at menus, peeking in windows and searching for a late dinner. The cold got the better of us. At Sabatino's, we ducked in.

After ordering dinner, I realized that Stephanie and I are completely different.

She told me about her job with Living Classrooms and how much she loves working with kids. I thought about my job at the restaurant and how much I hate dealing with kids. Stephanie explained why she decided to become a vegetarian, and I thought about the veal I just ordered. I told her how much I love to eat raw oysters, and she said:

"Forget it. I worked at an oyster farm. I know what oysters do."

We bantered back and forth through dinner and coffee, then returned to the cold January night.
Stephanie lead me through Baltimore and around past her house. I dropped her at the corner. She grabbed her bags and walked up the street toward her door.

I drove home.

---
Date 3: Caroline, the Sort-of Ex-Girlfriend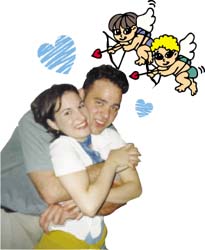 "Hhiiii. Wow, I haven't heard from you in a long time," Caroline said in a friendly voice that mixed surprise, fondness and just a hint of what does this clown want now.

Around Valentine's Day, I always think about the women I have dated before. I figured Caroline was the only one who would still talk to me.

To say we dated might be an overstatement. I went to college with Caroline, but we never really talked. Then one October, the fall after I graduated, I was living in Ocean City. Caroline visited friends for the weekend. We hit it off. As I went on my travels around the countryside, I kept in touch with her.

When I moved to Annapolis, we would see each other every couple of months and always have a good time. But she lived in Northern Virginia and the thought of anything more than hanging out never really came up. I'd like to think distance was the holdup, but there was more to it than that.

But here I was, on the other end of the phone, asking if she might want to get lunch.

"I guess so," she said. "I'm pretty busy. I have to work Saturday morning, but I'll be done early. Why don't we meet in Bethesda, around 1pm, for lunch?"

In college, a professor told me that three things were needed to start dating. Chemistry, contact and timing. I always thought Caroline and I had good chemistry, but contact was sparse and timing was wrong. She probably thought there was no chemistry and hoped there wouldn't be any contact. For her, there would probably never be a right time. But she did agree to meet for lunch.

The first thing we did, since it had been so long since we talked, was catch up.

Caroline told me about her job, the deals she was working on and the deals she had made.

"I still love what I do, but sometimes I feel so old," she explained. "I'm up at 5am each morning, I go to the office on weekends. I feel like I work all the time. But I just got a new car and I'm going to Italy in the spring, so I guess things are pretty good. How about you?"

I always thought that one of her holdups was that while I was meandering my way through life, Caroline was working hard, plotting, planning her life. I was a bartender. She was a financial planner. It was a strange pairing destined to go nowhere.

But now I had plans. I was diving into new things, ready to take a little responsibility. I told her about working for Bay Weekly, the stories I had written, the plans I had for the next year.

"Imagine, Chris Heagy, setting down some roots," Caroline said sarcastically. "What is the world coming to?"

"I guess we all have to do it sometime," I said. "I guess my time is now."

So we spent the next hour talking about mutual friends: who was getting married, who was breaking up, who was doing what. I always have a good time with Caroline. I like to think she brings out the best in me, and I am my most charming around her. But even at my most charming, I don't think she was too impressed.

Lunch ended. Caroline had another appointment, and I had to meander to the restaurant soon. We hugged in the parking lot, and she headed out to the world of big money.

Standing on the corner, I thought about something my father once told me:

"Don't try to date ex-girlfriends again. Why would it work this time? There's a reason things didn't work out before."

---
Date 4: Barbara, The Friendly Crush
My friend Barbara called my house a couple weeks ago.

We talked on the phone for a few minutes, joking back and forth. Then she told me why she called.
"I just got a new job. I'm really excited. I'm moving out of Annapolis."

"Oh, wow … great," I said.

She spent the next few minutes telling me about the job offer and where she would be working and what she would be doing and when she would be starting.

"Things are moving kind of fast now. I'm starting next week."

"Well, let's get together before you start your job," I suggested. "We might not have a chance to do this again."

"Mr. Heagy, you are always dramatic," she laughed.

I guess I've always had a little bit of a thing for Barbara. I met her through friends a couple of years ago. There has never been any romance between us. All we have ever done is hang out. Sure, we've flirted and made puppy dog eyes, but that's it. For whatever reason, things just didn't work out.

During the past few months, I've been thinking maybe this was the time for something to happen.
We decided to meet at Jillian's for a couple beers and a few games of pool. I made a New Year's resolution to become a better pool player, but this was the first time I've shot stick this year.

Balls are pocketed, beers are drunk. Talk is cheap.

"High maintenance," I joked. "Barbara high maintenance. Dating you would be like having a full-time job."

"Chris, when was the last time you had a date?" she asked. "I'm starting to think you're afraid of women."

"Hey, I've been on three dates this month."

"Dates for your story don't count," she countered.

"But … ahh … " I'm stumped. Barbara's gotten the last word.

After a couple hours, we returned the pool balls. Walking out, we passed by a basketball arcade game.
"I'll play you for dinner," I said.

Quarters went in, and the games began. I'm trying to stroke each shot gently through the net. She's banging each shot off the backboard. Somehow, after 30 seconds, she had four more points than me.

"Ah, go again," I suggested.

"No, you're buying me dinner." Once again Barbara got the last word.

We slid into a booth at the Mexican Café, late on a Thursday night. We're picking at tortilla chips, listening to Mexican music piped over the stereo system. We're sipping on the Mexican Café margarita. A mixture of tequila and gasoline, this drink will change any mood quickly.

After we finished dinner, Barbara and I talked about what might have been. Alcohol changes how things are perceived, and I don't remember exactly what was said. I'd like to remember it like the final scene in Hemingway's The Sun Also Rises.

Jake and Brett spend the afternoon together. After a meal, they get in a cab, and as the cab pulls away, the two push close together:

"Oh, Jake," Brett says, "we could have had such a damned good time together."

"Yes," Jake said. "Isn't it pretty to think so?"

I doubt it was that smooth. If Barbara had said that, I would have tried to convince her that it was still possible.

---
Date 5: Saving the Best for Last

Tonight is the night of my fifth and final date. The article is due Monday morning. This is my last night of research. All along, I've imagined the fifth date to be the greatest. I had only one condition. I had to meet and ask the woman out on my own.

I couldn't be set up on the final date. It couldn't be a friend or an ex-girlfriend. I couldn't know her from work. I had to do this on my own.

The date was set. I made reservations for dinner at O'Leary's. I planned to go to the Chart House for coffee and dessert. It would be a quiet, romantic, wonderful evening of conversation, fine food and wine. I would charm her, and hopefully I would meet my match.

I picked out my clothes. My pants were laundered, my shirt pressed. My car was washed and cleaned inside and out. With a fresh haircut, a clean shave, I was ready.

There was just one problem: I never found a date. I never asked anyone out.

My lack of guts is my biggest obstacle to dating. I just shy away. Tonight, with reservations for dinner, I'm sitting at home.

I guess I'll go grab a beer with my roommate.

---
Copyright 2000
Bay Weekly