Ma never thought there could be too much of a good thing
A Christmas Fable by Mark Burns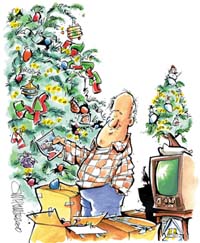 Ma stepped back to draw inspiration from her muse. The Candy Tree needed a little something more, and the acrylic candy garland wasn't quite brilliant enough. She wanted to glue hard peppermint candies on the branches, something to tie in with the candy canes sprouting from the top. But for that she'd have to wait till the morrow, when Pop headed into town.
Until then, she'd have to divert her creativity to the Cookie Cutter Tree. A whisk here, a measuring spoon there, metal cookie cutters everywhere. Slim red ribbon to tie it all to the artificial limbs. Yes, this one was coming together nicely. She called on junior to consider what spot on the tree could best use a fork.
Pop had separated himself from the goings on, planting himself in a Victorian-style La-Z Boy chair in the retro-styled living room. Though frowning at a Redskins game, he secretly smiled. Smiled that his youngest son had returned home to serve as mother's apprentice. Giving Pop a break from all the footwork of retrieving trees and ornaments and random decorative utensils. Giving Pop a window of opportunity to catch Sunday football after a weekend of pre-Christmas labors.
He smiled at this, rising from his chair during a commercial break to hook the head of a broken, glass soldier-mouse at front and center on the Traditional Tree. His tree.
The only tree he still thought sane.

Spirit of Christmas Past
Ma always loved Christmas. As a little girl, she'd skip into the woods around home each year alongside grandfather Pop-Pop or father Daddy to find the perfect pine. A few times their hunts would yield fragrant cedars. Once they returned home with a pine so scrawny and bare it seemed to shiver for its nakedness. To fill out the foliage, Daddy had to slice limbs off a second tree and wire them to the chosen tree's trunk. As Ma grew into a young lady of nine or 10, trips blossomed to include tagging along with Pop-Pop on hunts for mistletoe, when he'd shoot the berries out of trees with an air rifle.
These hunter-gatherer traditions of Christmases past nurtured her holiday spirit well on into adulthood, when Ma had settled down with Pop and a pair of children down Florida way. Though the South was nice, Ma longed for the days went she could again walk the woods with Daddy and Pop-Pop.
But by the time Ma and family returned to Maryland, all the saplings browsed for Christmases past had grown far too tall and thick to harvest. So it was that, with one tradition gone, Ma invented another, hunting and gathering holiday trinkets to help fill her home and heart with joy.
One day some 30 Christmases into her marriage, Ma realized she had too many neat decorations to fit on one tree. When Ma considered her trove of Teddy bear collectibles, inspiration struck her mightily: She could make a theme tree! A Teddy bear theme tree!
Not that very day, but still that very week, Ma struck out to find a small artificial tree to bear the burden. She brought it home and found herself giggling with glee as she stocked its branches with all things Teddy bear she could muster. "Wait," Pop would say, "That's not an ornament. That's some kind of statue thing." But Ma didn't care. It was pretty, and it would go on the tree. Pop conceded and went back to watching the television.
As with so many of life's pleasures, one taste was not enough. Ma's imagination was stoked, and two trees were not enough to bear the weight of her inventions. Visits to holiday greenhouses had tempted and inspired her, and soon she was convincing Pop of the cheering profit the family would reap in buying yet another tree. And it couldn't be artificial, like the Teddy Bear Tree. It need be tall and fresh-cut, like the Traditional.
So arrived the Pearl Tree in their happy home. It was a glowing blue spruce, swaddled in a glowing aura of femininity. Pearl strands. Victorian angels. Lace ribbons. Frilly bows. Color coordination. It was an admittedly pretty tree, just not one that Pop or third child junior would want Santa to put their presents under.

Pearls of Dissension
That's where the troubles began. With her rush of artistic enthusiasm, Ma longed not only to update the Traditional Tree but supplant it with her own budding vision. After all, the two eldest children had flown the nest, and the remaining progeny was a creative sort, generally sympathetic to her cause.
Pop and the youngest, though, would have none of it. "Come on you guys," she would say. "This tree is so much prettier." But for all its garish ornaments, some dating as far back as the early '70s, the Traditional Tree was still the favorite of father and son. So the men stood stoic against the cause of Ma's pervasive artistic expression. They would, at the very least, tolerate the Pearl Tree - even appreciate or admire it - so long as it did not cramp the Traditional Tree.
Such tolerance was nearly snuffed out in the Christmas season of '93.
Ma and Pop were both fixedly middle-aged by that time, and junior had grown into a largely uninterfering teen-ager, as many children do. The raising of two large trees fell to Pop, who had developed something of an allergy to pine over the years.
The Pearl Tree stood tall and proud. All that remained was to put up the Traditional. Unfortunately, the Pearl had already worn away Pop's patient resolve, and the Traditional did little to help matters. This second tree grew from a wretched trunk - bulky, gnarled and crooked through half its height. The tree stand wouldn't have it; it lurched under the weight of the five-and-a-half foot fir. Frustrated, Pop dragged the tree outside twice to trim it with a handsaw, each time to no avail.
This last time Pop flung open the door, poised the tree like a javelin and hurled it to the lawn. He eventually caught up to it, and there he promptly tore off a sizable stump with his saw. After a bout of sneezing, he crammed the trunk into the stand and set the assemblage inside by the door. There, he strung the tree by fishing line to a lamp hook in the ceiling.
For all his effort, it took only 20 minutes to decorate, for now the Traditional stood only four feet tall.
And that is how pine came to be forever banned from Ma and Pop's home.

Ma Finds Her Christmas Groove
Though Pop's smile returned in time for Christmas, his vow of the ban remained fresh as the pine scent that clogged his nose. A purist, Ma waxed skeptical about whether false trees could have the same charm as fragrant pines, those treasured tokens of her youth.
Until, that is, she found post-holiday markdowns at the local megamart.
There she found all the canvases she could ever use. In all shades of green. Knee ticklers to ceiling scrapers. Fat or skinny. Hypo-allergenic. And all at a substantial discount. On this she could mount dolls. On that, cookie ornaments. She'd a plenitude of collections with which to garb these new-found trees. The tradition of fresh-cut pines might die, but by God she would raise in their stead an entire grove of artificials!
Pop furrowed his brow and scratched his head, but he went along with her whims in spite of himself. As he wheeled carts of greenery out to the truck, he could not have imagined what weird forest he'd soon lose himself in.

Renaissance of the Tree
Ever since that day, every new year brought with it a new tree. Ma's grove grew from three to four. Four to six. Six to 10. Trees grew old, trees were retired, new trees sprung up from the seeds of creativity.
Word of Ma's Yuletide passion spread throughout the land, and soon travelers flocked to her door for a glimpse of Ma's menagerie. They oohed and aahed over Teddy bears, rag dolls, snowmen and pearls. Patrons of her art forwarded still more trinkets and trimmings. Soon Ma had angels, Santas, birds and bird houses. Each new collection fertilized yet another tree.
Granddaughters danced at the trunks, themselves skipping through Ma's wooded winterscape - not to harvest trees, but to count them. Children traipsed the house each Christmas, eager to discover what wonderful themes Ma had dreamed up for the year. All comers bathed in ample Christmas cheer as Ma's creations flourished, spreading to fill the house with a tree at every turn. Ma's head buzzed with the possibilities. So many ideas. So many neat trinkets.
Yet so little remaining square footage. She'd already gone the route of supplementary decoration, toying with wreaths and garlands and spirited bathroom linens. Lo, it was not enough. Ma needed trees, but space was tight.
So she shrank certain visions, making do with the Miniatures Tree, Candy Tree and other small forms. Trees stood in windows, on stools and on tabletops. The house had never been so congested with green. Each year brought forth new visions and revisions, but it seemed Ma could reach no farther than a plateau of 10 trees. Pop breathed a deep sigh of relief, and Ma's fandom seemed satisfied.
Then junior got an apartment.

And Then There Were 12
Though generally fond of her youngest offspring, Ma was happy to have his empty room. It was space for more storage for more decorations for more prefabricated arbor. Within months of his departure, junior's quarters were renovated to fit Ma's tastes. Come the holidays, she planted in it her Pearl Tree, thus staking the territory as her own.
But Ma was not one to stop there. Plunging ahead with renewed vigor, she championed the cause of 12 trees, one for each day of Christmas. In a frenzy of creation she unbagged, dusted and refreshed the Teddy Bear Tree, Bird Tree and Raggedy Ann Tree. The Angel Tree, Miniature Tree and Snowman Tree. She created anew with the Santa Tree, Charlie Brown Tree, Candy Tree and Cookie Cutter Tree.
Oh, what joy! What happy creation! No matter that the Bird Tree's pheasant pokes its tail feathers into the dining room doorway. Or that the Candy Tree interjects itself into breakfast table conversation from its position as centerpiece. They are pretty. They are cheerful. And they round out a satisfying dozen.
As Christmas 2000 approaches, Ma continues her merry work on the Cookie Cutter Tree, finding just the right spot to tie a beribboned fork to a branch. That looks nice, she says, and junior agrees. Adjust a whisk to the proper aesthetic angle and this tree is complete. Ma may yet need some of the ornaments for holiday baking, but she'll just pluck them off the tree when the time comes.
All nearly finished, Ma's trees are flushing darkness out of every corner - from the Snowman Tree in the hall to the Cookie Cutter Tree in the breakfast nook to the Santa Tree in the mauve room upstairs. In the still of night, an onlooker might even hear the gentle hum of electricity coursing through the walls. Or the whir of a power meter's needle spinning 'round.
Or Pop, in the living room, watching football. After wiring a clothespin rocking horse to the Traditional Tree, Pop stands back for a glimpse. He looks over what remains of his glass soldier-mouse, at least as old as junior, reduced to head and hat after last year's packing incident. At least this much is intact. He relaxes in the mellower tone of this room. Just a regular old tree, gas logs ablaze and one small Angel Tree set off in the opposite corner.
Ma summons him into the kitchen to admire her latest evergreen opus. Pop slowly obliges. On entering the doorway and stealing a glimpse of gleaming cookie cutters, he smiles and scratches his head. "Neat," he says, tired and smiling. Ma gives him a hug and kiss. What a good sport.
But there's more.
"Can you do me one last favor?" Ma asks sweetly. "Could you poke some of those curly twigs into the Traditional? It needs more poof."
Long live tradition.
---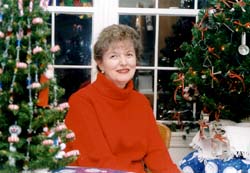 ---
The Twelve Trees of Christmas
A guide to navigating Ma Burns' Christmas grove

Angel Tree: A small, modest tree with ornaments to scale and topped by a little angel holding a light. (1 1/2 feet, white lights, living room)
Bear Tree: Ma's original theme tree. Decorated with Teddy bear ornaments and wooden Teddy bear toys, topped with a soldier bear. Flanked by a foot-tall bear angel amid three fat candles and a basket of Teddy bears to the left; by a foot-tall birdhouse surrounded with a dollhouse's white picket fence aglow in tree lights to the right. (3 feet, white lights, bay window, dining room)
Bird Tree: Gilded with fake birds, bird houses, birds on branches, hand-made bird ornaments and grapevine-like garland. Topped with a faux pheasant. (4 feet, golden lights, dining room)
Candy Tree: Remodeled this year. Topped with candy canes, draped with acrylic hard candy garland and decorated with bags of jelly beans, peppermint candy, holiday character Pez dispensers and M&M characters. Last year's fudge-stripe cookies were too color neutral. (2 feet, spotlighted, breakfast table, kitchen)
Charlie Brown Tree: New this year. Small stick of a tree sits on a white wicker cart. Bent into an arc, topped with a little red ball and flanked by Peanuts characters. (3 feet, unlit, yellow room)
Cookie Cutter Tree: New this year. Decorated with metal cookie cutters and various small utensils tied on with skinny red ribbon. Topped with a gingerbread angel and two metal whisks. (3 feet, white lights, kitchen)
Miniatures Tree: Has all the tiniest ornaments and trinkets. (11/2 feet, unlit, dining room)
Pearl Tree: Chief rival of the Traditional Tree. Ma's decidedly effeminate creation boasts a big angel on top; lots of pearl strings for garland; tall, skinny candle lights; fancy, old-fashioned paper cutout ornaments; white and gold ribbon; fancy ball ornaments. (Floor-to-ceiling, white lights, yellow room)
Raggedy Ann Tree: Sits in a loft overlooking the stairs. Decorated only on the front half with little Raggedy Ann dolls. Has thick yarn and raggedy fabric for garland. Topped with a doll on a swing. (4 feet, white bubbling lights, loft)
Santa Tree: New this year. Stocked with Santa ornaments, figurines and other trinkets. Topped with a wooden cutout of Santa on a swing strung from a crescent moon. Stripped of ornaments, this tree serves as a night light the rest of the year. (4 feet, white lights, mauve room)
Snowman Tree: Venue for Ma's collection of snowman trinkets, figurines and ornaments. A favorite of Ma's, it stays up and gilded all year. (2 feet, white lights, hallway)
Traditional Tree: The only tree over which Ma has only partial control, shared with the family's staunch traditionalists - "We like it this way." Has all the oldest ornaments and kindergarten constructions. Highlight: The head of a former 6-inch tall painted glass soldier mouse hangs prominently. (Floor-to-ceiling, white lights, living room)
---
Copyright 2000
Bay Weekly