Bay Weekly's guide to last-minute gift-giving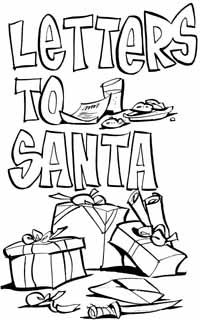 Dear Santa:

If your friends in Chesapeake Country get what we want for Christmas, the garden of Eden will bloom again on Earth.
We want peace and goodwill on a healthy planet for all our brothers and sisters. We want long, healthy lives with the blessings of loving family and friends. We want shelter from the storm, and either cozy central heating or well-stacked wood piles to keep us warm in winter. (In summer, we'd like air conditioning.) We want nourishing meals that don't make us fat. Don't forget work that gives meaning to our lives and feathers our nests. We want one and all to realize ourselves for a world of fully functioning creatures: humans, cats and dogs.
But we've learned from experience that's not what we're going to find under the tree on Christmas morning delivered by you from mother and father, husband and wife, friend and daughter and son.
What we're likely to find is stuff we don't want: more ties, strong perfumes and counter-top cheese sandwich grillers.
As you know, the wrong gift is not only a disappointment. It's a waste of our precious resources, both natural and financial.
So, Santa, we're asking your help to make our dreams of a sustainable Christmas come true.
---
**Children**
Dear Santa:
I have seen some pretty cool stuff that I would like to have for Christmas this year.
Bittersweet Hill Nursery in Davidsonville is one of my favorite places to go. I love the herbs. They have so many different things to choose from. I would really like to have the stained glass fantail fish that comes with its own bowl. I would also like a blue stained-glass sun-catcher: It would look really cool in my window. Please bring me a table-top water garden with its own fountain and some neat water plants. You can get this at Bittersweet, too.
For dinner during the holidays, I would love to have a gift certificate to Fiesta Bar and Grill. I love their tacos!
Merry Christmas!
-Sarah Brewer, Age 12

---
Dear Santa:
Making a Christmas list for my parents and our friends started me thinking about past Christmases. I remembered the collection of encyclopedias, the tacky pair of bright green wool socks and the red sweater with bells hanging off it that jingled when I walked. It was three sizes too large. All of these, ahem, wonderful Christmas presents have been safely and discretely tucked away in the back of my closet. Now these dusty yet perfectly preserved presents of Christmas past are going to under-privileged children who, I hope, will use them more than I never did.
Santa, I'd like your help in making this year different. What I really want is to spend a day out on the town. So I was wondering if the two of us could spend a day in Maryland together? I've already made up a schedule:
My Day with Santa:
9am Breakfast at Café Gurus: Nourishment to go!
10am Annapolis Day Spa and Salon: I figured you would want that beard trimmed.
Noon Sentimental Fools: Christmas shopping!
1pm Happy Harbor: You haven't seen Deale until you've seen the Harbor.
2pm A Christmas Carol: performed by Colonial Players.
4pm Therapeutic Massage: We'll be relaxed for dinner.
6pm Fred's: Dinner of crabcakes.
Well, Santa, that's our big day out! Feel free to invite Mrs. Claus or any of the elves, and I'm sure some of my friends at Bay Weekly will want to come meet you. I am eagerly awaiting your reply.
Your good friend,
-Ariel Brumbaugh, Age 14

---
Dear Santa:
I am pretty lucky. I usually get gifts that I use and like. This year I saw some things that I w
ould really like to have. Bath oil beads that smell so good: I like to put them in my bath, and while I'm relaxing in the tub I can eat a piece of fudge. Then when I get out, I can put on some lavender-scented lotion. All of these things can be found at Sentimental Fools gift shop in Deale.
At Coffee Tea and Whimsey, in North Beach, you can get beautiful candle lamps. I would love to have one to light up my room. Have a hot chocolate and say hi to Sue and Ann when you stop by.
At Calvert Homestead, the air smells like cinnamon, and flowers are everywhere. They also have a life-like kitten with real fur I would love to have and some power rocks for good luck. You can get more great gifts at these three shops if you like!
-Mary Brewer, Age 10
---
**for Grandmother from Granddaughter**
Dear Santa:
My granddaughter Lindsey always chooses the most wonderful gifts for me. I know how difficult it is for an almost 16-year-old to save money for presents, especially with thoughts of a possible Saturn from Saturn of Bowie dancing through her head.
So for this year, I'd like Linds to choose something special but not costly. My advice to her would be to shop at Bayhill Accents in Chesapeake Beach. They have the loveliest picture frames. The one I like costs only $8.98. It has a white finish with rope around the matting and blue and white seagulls. Her picture would complete the gift.
If she has money left, she could wrap a bar of vegetable glycerin soap in bright cheery Christmas paper and tuck it in my stocking. There are all sorts of designs and fragrances available. I love the blue bar with the white snowflakes that smells like mint. It's only $5.95.
Your mince pie and coffee, along with carrots for the guys, will be near the tree, as ever.
Have a safe trip,
-Carol Glover

---
**for Wives from Husbands**
Dear Santa:
All I want for Christmas from my dear husband this year is a $7.99 pot of Camilla Beckman Ivy-Cucumber Glycerin Hand Therapy from Sentimental Fools in Deale. I need it badly; my hands are so chapped from all the dishes I've been washing because of all the cooking I've been doing since the arrival of the new stove I bought from Metropolitan Appliances in North Beach with the advance on my dear husband's upcoming book. The new Tappan is sitting on antique pine kitchen floors newly refinished by Beers Hardwood Floors. In the great room are chairs just upholstered by Karen Kolenberg at Custom House.
Now we're waiting for the check from St. Martin's Press (they said it's in the mail). So, Santa, hand therapy cream will be fine this Christmas.
As Ever,
-Your Editor, Sandra Martin
P.S. Santa, I sure wish you'd use your influence to keep my octogenarian friend Bill Papian out of jail. Bill's so troubled about a utility pole on Dead Man's Curve on Shady Side Road that he's been overheard at a Christmas party begging Sheriff George Johnson to come with him - and then arrest him - when he paints white stripes on the dangerous Pole 61.
The pole's a killer, but the bureaucrats say moving poles is too expensive. Couldn't you please throw your weight around on this one, and help save lives?
---
Dear Santa:
Every year my loving hubby harps for a list. Claims he hasn't a clue what to buy me. Eventually, I make one with lots of small things I don't always want and a few big ones I'd really like to have.
Since the small ones seem to get priority, I'm readjusting my strategy. This year's list is a doozie. I'm going for the mother lode.
I really want that blue living room suite on display at Metropolitan Appliances in North Beach. A one-piece shower stall from Sneade's Ace Hardware for the master bath would put a smile on my face. Enough lumber from Smith Building Supply to add that deck addition would be welcome. A green hot tub from Chesapeake Spas would soothe my bones. And for an ever-popular item on my list, there's that grandfather clock from Maryland Clock Company.
OK, so none of the above will wrap neatly and fit under the Christmas tree. I'll settle for a picture or handwritten description - with a sales receipt, of course. The bird in the hand rule applies here.
And Santa, if you find yourself with an inside track to hubby, please remind him I love him and I've been a good girl this year.
Merry Christmas,
-Connie Darago

---
Dear Santa:
I've been a very good girl this year so I'm looking forward to some special treats for Christmas. First, I'm up for a massage to get rid of the stress of the past year. I'll let you know as soon as I decide which of the therapists on Bay Weekly's Wellness page to choose. Once I am relaxed from my massage, I'd like to follow up with a manicure and pedicure from Annapolis Day Spa.
That's to get me ready for a visit to W.R. Chance Jewelers in Annapolis, where I'm taking my husband so he can buy the earrings I didn't get for my birthday in July. Finally, with my nails done and wearing my new earrings, I'd like to take my husband to dinner at Pirates Cove in Galesville, where we will sit at a table with a view of the marina, reflect on what a good year it has been and plan our goals for the new year.
-Linda R. Lovelace

---
**for Sleepless Wife**
Dear Santa:
All I want for Christmas is a sleigh bed. I've been forced to turn to you, Mr. Claus, because the circles under my eyes are hanging down to my knees from the rolling hills and valleys in my current bed - night after sleepless night. Even my kitties, who previously warmed my feet every night, now prefer sleeping on a bookshelf stuffed with unevenly sized books.
And when I lean back, my head rattles the blinds, which have slipped off two of their metal supports. Soon the whole set will tumble upon my head.
You see, dear old elf, a sleigh bed would protect me from head injuries, sleeplessness and cold.
In the meantime, I will wear last year's plaid sweater vest from my in-laws on my feet to keep my toes toasty. And I will crack open the carved coconut head bank from my brother and wear it as a helmet.
You might find my sleigh bed at Featherstone Square Antique Mall on Route 50 or at any of the antique shops on the corner of Bay and Seventh avenues in North Beach. South River Furniture doesn't have sleigh beds, but they have other nice beds, any of which would do.
XXXOOOO,
-Betsy Kehne
---
**for Frazzled Mommies**
Dear Santa:
As I was making my way through the attic searching for the Christmas lights this year, I came across a silky leopard print pantsuit, some strong flowery perfume and a flashy gold-trimmed sweater, all gifts from Christmas past now relegated to a dusty corner. Enough is enough. This year, Santa, I have some other ideas.
It's time to spoil myself a little. You can start by making an appointment for me at Elaine Brennan's in Annapolis for a deep-cleansing facial, followed by an all-over body massage from Vicki Halper in Arnold. This will give me a fresh energetic start into a brand new year.
Next stop is Sacchetti's Music in Prince Frederick. I would like guitar lessons so I can brush up on my skills and enlarge my repertoire. To finish off my wish list, stop by Amphibious Horizons. A Full Moon Paddle along the Patuxent River will be the perfect dessert.
I may not be able to pull these gifts down off a shelf in years to come, but they will be with me always, and I won't be tripping over them in the attic, either.
Thanks, Santa, and Happy Holidays!
-Sharon Brewer

---
Dear Santa Baby:
I usually don't ask you to drop much in my stocking, but this year's requests will benefit the entire family. If you would be so kind, I would enjoy a day at Alexander's of Annapolis. Having my tensions massaged away, with a pedicure thrown in, would certainly make me jolly and this would in turn make my family very merry.
While I am at the spa, Paul and the kids could head over to Mellomar in Sunderland for a round of golf. Though I am sure this will bring on a request for new clubs from the Mr., I know that the kids would enjoy their day, too.
Since we will all be out of the house, how about a visit from The Maids to just tidy up the boughs of holly and to straighten the stockings a bit?
My list would be complete if we could stop by Lagoons Island Grille for a black-and-blue burger and their delicious fries. Word has it, Santa, that you have been known to stay there a bit longer on Christmas Eve for an extra slice of peanut butter pie.
So you see, dear Mr. Claus, my requests are not many, and they sure would bring holiday happiness to us all - and to all a good time!
Sincerely,
-Lori Sikorski

---
**for Birth Daughter from Birth Mother**
Dear Santa:
I must say the magic and mystery that's attached to the holidays like a bow on a box often rekindles the flame of my origin. Blessed to be an adopted child, I have recently been able to share the holidays with not only my family and friends but also my birth-mother, with whom I was reunited about five years ago.
Well, it seems as though at that point in my life, I was particularly inclined to turtles, for what reason I know not, and must have mentioned it to her. Now, my turtle collection is overflowing the drawers of my old bedroom in New Jersey.
Drawers are brimming with turtle figurines, turtle necklaces and earrings, turtle sweatshirts and T-shirts, but mostly, ceramic turtle collectibles. Door-stops to paper-weights, magnets to charms, the turtles portrayed are all special in their own way. Individually wrapped in the cutest, misleading box, there is with a kiss of raffia affixed to each and every present - of which there are always too many.
So Santa, this year, I am hoping that we could take a day trip kayaking with Amphibious Horizons. This would give us what I want most of all, time together, and, I can only hope, prevent the purchase of anything resembling the silver-plated turtle music box I received a few years ago.
Hoping to paddle soon,
-Jennifer A. Dawicki
P.S Your cookies will be by the space heater in the Bay Weekly office.
---
**For Cousin from Cousin**
Dear Santa:
Every Christmas, it's the same story. What do you want? I never can put together a list before your shopping deadline. But this year, I'm telling it like it is. Especially to my cousin Katie Marie.
I am giving love a monetary value.
In May, I put my life on hold for a month to help plan her w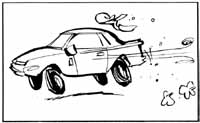 edding. I called churches and halls, planned menus, made lists, addressed invitations and made countless trips to the bridal shop. (Then again, I was the maid of honor.)
In June, what a bachelorette party I threw in downtown Baltimore, fully equipped with limo and entertainment. And the wedding shower, with crab balls and shrimp, was more than she expected and imagined. (Then again, I am her cousin.)
In August, the baby shower with 'Over the Moon' themed invitations, thank yous and decorations to match Alyssa Elayne's room were perfect. And all the guests loved my shower games. (Then again, I love to throw parties and be the center of attention.)
Now, once again, I have rearranged my life, this time to take care of little Alyssa, almost three months old. (Then again, she is a beautiful baby and she loves her Aunt Cap.)
The only thing that can possibly equal all of the things I have done for you is a shiny, blue Mercedes Benz convertible with CD player, from Mercedes Benz of Annapolis. (Then again, how about a gift basket from Coffee, Tea and Whimsey full of candles and teas?)
Thanks, Santa, for delivering my list to my favorite cousin.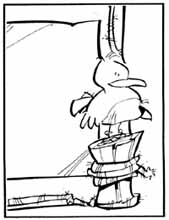 -Mary Catherine Ball
---
**For Brother from Brother**
Dear Santa:
Ever since I stopped writing my annual Christmas list, certain friends and family are always befuddled at what to get me to mark the holiday.
One year, my brother, Nathaniel, made a Christmas-eve dash to China Town in D.C. That year, Santa, as you'll recall, I awoke to a Samurai sword letter opener and a pair of Oriental relaxation balls
Excuse me, Santa, but I had to let the cat in from the back yard where the birds this winter have gotten down-right vicious. You see, in years past my neighbors kept all our feathered friends full. But since they began an addition to their house seven months ago, all their bird feeders hang empty like their own house when the builders aren't there.
But I digress.
This year, you see, there are things I both want and need. I know that Nathaniel will be asking, so maybe you could pass on a few of my suggestions.
For weeks now, I've searched my closet for a sports jacket or blazer that is either brown or that matches brown slacks. A sharp, new jacket is a gift that would get regular use and appreciation.
But wait a minute, Santa! I'd better watch what I ask for, because I just might get it. Like the baggy-pants kids from a Gap commercial, my brother likes his clothes loose and big. Big wouldn't be the word for the jacket my urban-hip brother gets me. It would be more like the giant suit that David Byrne from Talking Heads wore in Stop Making Sense. It might be an eight-button, double-breasted number as you might see Shaquile O'Neal wearing. No, Santa, maybe a jacket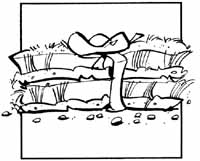 from Nathaniel is not so high on my Christmas list
Excuse me again, Santa, but I have to get a couple logs for the fire. Each time I sprint to the woodpile, I feel like Tippi Hedren. Those birds outside are so hungry they've unleashed a scorched-earth policy and have taken to pecking and scratching at my sorry excuse for a back yard - when the cat or myself aren't available for torment
Come to think of it, Santa, maybe you could send Nathaniel bird feeder hunting at Early Birds in West River so I can reach a truce with these birds. And let him know that while he's there, Central Sod is just down the road, so that maybe come summer I'll finally have a lawn worth mowing.
Your fellow once-red-headed pal,
-Alex Knoll

---
**For Husbands from Wives**
Dear Santa:
As usual, my wife, Karyn, has no idea what to get me for Christmas this year. I admit that in previous years I was rarely able to help with suggestions, but I was looking through a recent issue of Bay Weekly, and it gave me three ideas.
First: This may seem a bit extravagant, but I think it can be considered a gift of the practical variety: A car from Saturn of Bowie. My old car is living on borrowed time.
Second: A dishwasher from Metropolitan Appliances. Ours is on the fritz and, as a North Beach resident, I do like to support the businesses in town. So it could also be considered practical.
Third: A less bulky option. I saw that Fred's Restaurant has the best crab cakes in Annapolis. Karyn would have to drive, since I'm not sure that my old car would make it, but we'd have no dishes to wash.
I'm not hard to please. Either of these - or all three - would be satisfactory.
-Gary Pendleton
---
Dear Santa:
With 237,000 miles on my Ford Explorer, which is starting to chug and smell like oil, I'm thinking seriously about asking for a Cold Weather Special from the Deale Sunoco. If I'm not mistaken, that includes tire rotation, brake inspection and some care for my radiator, which has something inside it that looks like beef barley soup.
Then we could take my truck over to Sisk Auto Body in Owings to tighten up the hardware, as they say. But since Doug has already fixed my broken door handles a time or two and he's busy handling deer wrecks, he might wish that I'd pick another gift. Perhaps an even better

idea would be getting that Gifts for Gearheads catalogue from Earl Buffaloe in Chesapeake Beach at 800/310-5877.
As you can see, I'm having trouble deciding. So for now, here's what I want:
A trip to Bittersweet Hill Nurseries in Davidsonville (and a little walking around money) to get another very cool plant (like black magic) and to say hello to the incomparable Hildreth Morton.
The checkbook to visit Maryland Clock Company in Bowie where they can look at my box of ancient watches to see if they are any good. If they're not, I want a new one.
Tickets to a Navy basketball game.
Dinner at the Old Stein Inn in Mayo, where I can load up on delectable German food like my ancestors did.
Ho, ho, ho, Santa.
-Bill Lambrecht
---
**For the Commuting Calendar Editor**
Dear Santa:
I've been commuting to Bay Weekly's Deale office most weekdays for the past three years now, making round trips of about 100 miles. And that's not including travels in search of stories or the weekly delivery route. Long story short, all those miles have really piled up on the ol' motorized sleigh - as I'm sure you can relate to - and there's no telling how much longer my car can hold out before I end up having to haul its sagging chassis into Deale Quality Auto.
Which brings me to my point. My budget can manage a Hot Wheels from Be-Beep while my dream for Christmas is a glossy black sports coupe - with air conditioning and CD deck - from Saturn of Bowie. My boss, Alex, says keep dreaming, so is there anybody else you can inspire, Santa?
-Thanks, Mark Burns

---
**For the Graduate**
Dear Santa:
I graduated from Towson University in 1998. As it turned out, I owed the administration Grinch a late fee and did not receive my actual degree at the commencement ceremony, but rather a phony, look-alike. Anyway, I was a good boy and eventually paid the debt. I did not, however, receive my degree until this December, almost three years later. All I want for Christmas is a worthy, 11x14-inch frame (you could shop at Medart Galleries or at the studio of Kathleen Addario) to mount my hard-earned degree in.
Thanks for reading my letter, Santa. I promise to leave you extra cookies this year.
Happy Holidays,
-Matt Pugh
---
**Etcetera**
Dear Santa:
Here at the Seedy Sparrow Spa on Mill Creek, we been askin' the owner every winter for a few improvements. We git no satisfaction (if we was bluebirds it would be immediate). All we want for Christmas is one of those heated birdbaths from Early Birds in West River. We're durn tired of breakin' the ice each morning for a drink and a dunk. And we want some of that gourmet seed and a couple of suet cakes, too. We're sick of eating frozen poke berries; the durn things get you drunk before lunch. Fact is, we're just plain sick of this whole crumby place and its chintzy proprietor.
Sincerely, Sam Sparrow, President Mill Creek Sparrows' Association
P.S. (From the proprietor)
---
YO Santa!
I want a gift certificate from Tender Laser Care to get my hair removal treatment so I can look great for the holidays.
-Audrey Scharmen

---
Bah Humbug!
It's not what you spend at Christmas, it's how you spend Christmas.
-Cartoon character Ziggy.

---
In a holiday nutshell, that's what I say concerning editor Martin's plea for a letter to Santa regarding my Christmas list.
Is the spirit gone? Are we in an age, whether it be for wedding, shower, birthday, anniversary, Yuletide or other occasion, there must be a beggar's gift list, department store registry or otherwise not-so-subtle hint (demand) for this or that? And the giver is obligated!
So, this ancient curmudgeon - contrary to the theme of this year's Bay Weekly holiday theme - offers instead a list of what's not wanted for Christmas:
Pipe. No, it's a personal thing, much depends on the comfort and fit within the mouth: my mouth. No one else can make the decision.
Necktie? Perhaps thrice a year, I wear one - and the current inventory is around a hundred.
Fishing rod? No one can buy the appropriate rod for another angler. Only the one who will fish it can evaluate desired balance and feel. To purchase one for another is akin to buying a bra for a blind date.
-Enough said, Bill Burton
---
Copyright 2000
Bay Weekly