It only looks like magic
By Bay Weekly Staff
As surely as the constellations of winter, the pageants of Christmas appear each year to brighten the dark month when we celebrate our most cherished holidays. They are so faithful, so fully realized, so grand that they, too, might have been set into perpetual motion fathomless eons ago by the hand of a master stage-setter.
That is not so. Instead, they are the masterpieces of mortals, our neighbors and friends in Chesapeake Country

Backstage with Friends of Anne Arundel Medical Center
Four Days to Lights On for Lights on the Bay
By Jennifer A. Dawicki

Until late November, a bit of Christmas tradition sleeps snugly in Sandy Point State Park. Awakening from its nap for dress rehearsal on November 13, Lights on the Bay shone for the sixth year.
Dusk crept in while the deer in the park gathered as if to tug Santa's sleigh. They meandered around the light displays as the canvas of night set in.
Four nights from now, the deer will see the holiday spirit, with over a million lights illuminating the winding path of tradition leading to the Christmas holiday.
Tonight elves are busy, scampering in the brisk Bay breeze, taking care to check and re-check the three miles of hibernating electricity nestled in the winding woods. Santa's helpers, Vicki Fretwell and Bob Crain, have been busy all year, first storing away the menagerie of the light sculptures when one year's illumination finishes, next organizing and arranging the lights' return trip from New York, the North Pole of light sculpture, to Chesapeake Country. Tonight, their year of work all comes together.
As Fretwell and Crain took the reins, the bulb count commenced without any strain.
We need two red bulbs in the welcoming wreath, and the soldiers' hat lights must be complete.
With the help of the ladder, I shall fix all these matters.
The sleigh bells jingle as the partners in Christmas come upon Kris Kringle.
The ski on his foot should turn in a bit more.
I agree and shall try; let me step out the door.
Gliding along the Bay, lights reflecting in the water appears a familiar dragon, kept company by a new son or daughter.
Oh, there is Chessie, entangled in the pier.
I thought she would like it, and her new friend brings cheer.
Twisting and turning down candy-cane lane, the sleigh comes to a halt at a seasonal claim.
Merry Christmas, it says in languages seven.
A display new this year. Can you say all seven?
Past the colonial village, complete with bakery, toys and candy, the winding road leads to a tribute that's dandy.
For all in Chesapeake Country, a tribute to sports.
The middies and Johnnies and even snowmen cohort.
Now through the time tunnel that sets night alight and plops you in front of a wonderful sight:
Behold huge Mr. Teddy, red as Rudolph with light.
To Lights on the Bay, this enormous, red, garland teddy bear is as the world-famous Christmas tree is to Rockefeller Center. Donning hundreds of lights and attracting throngs for family photos all season, teddy wraps his arms around Chesapeake Country each year. Only one year, the third of the six-year-old pageant, did Teddy miss.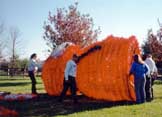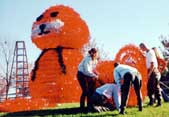 The bear with a belly like a bowl full of jelly makes the trip each year aboard an 18-wheel sleigh, from Brandano Displays in Syracuse, New York. Brandano illuminates neighborhoods all over the nation and designs all of the light fixtures for Lights on the Bay. One third of the 65 displays this year are rented along with Teddy, due to size and storage or artistic alterations that need to be done to each.
Teddy is refurbished with fresh garlands and new bulbs and hoisted piece by round piece by a dozen middies to his standing size, towering over 20 feet. Just one among many light statues that make the trip south for the winter, Teddy shines bright in anticipation of opening night.
From mid-November through January 1, light bulbs strewn along 10,000 to 15,000 feet of cable glow, creating a charming winter wonderland. Some 15,000 to 19,000 cars are expected to idle through the enchanted twinkle forest, bright with the lights of holiday tradition.
At $12 per car, $50 per bus, illuminated visits will keep the spirit of Christmas alive all year long, contributing more than $32,000 for Anne Arundel Medical Center's new hospital.
Light up your holidays. Meander through a menagerie of pious and whimsical light sculptures along three miles of Bay-front by the bridge. This year half the 60 forms are brand new, including the Children's National Holiday and Holiday Snowboys Exhibits for the younger set. To top it off, the Annapolis Chorale serenades you over your car radio with holiday music. Rain or shine. 5-10pm nightly @ Sandy Point State Park: 410/295-3161.
---
Becoming Scrooge
Getting into Character with Colonial Players' David Harper,
Chesapeake Music Hall's Robin Chapin and Twin Beach Players' Gary Pendleton

By Carol Glover
The holiday season is a time of transformations. Everyday vistas become magical places full of twinkling lights, seasonal music and home-for-the holiday smells.
In three of the local theaters - Colonial Players, Twin Beach Players and Chesapeake Music Hall - the holiday transformation requires three actors to squinch themselves into nasty, stingy Scrooges. Then, as Scrooge, the actors change again, now into generous, joyful men.
Each actor - David Harper at Colonial Players, Robin Chapin at Chesapeake Music Hall and Gary Pendleton at Twin Beach Players - makes the transformation in his own way.
David Harper, making his 11th appearance as Dickens' curmudgeonly figure, is the granddaddy of Scrooges. Harper's philosophy is, he says, to be "true to the character and not be intoxicated by the laughs." He works out by running so his stamina stays up for as many as three shows a day.
"An actor becomes a watcher, looking at how hands shake
and mouths turn down," Harper explains. At the beginning of the show he's bent over, for life has dragged Scrooge down. "My weight is low in the belly," Harper explains. "But as Scrooge peels off the layers, he becomes straighter."
Harper defines his Scrooge in many ways. His bright red underwear is an expected touch. An audience that returns year after year, making this Christmas Carol a family tradition, won't let him forget to wear that beloved Union suit. His hissing "Bah Humbug" is unforgettable. It's a sound that reverberates throughout the theater, another expected part of his characterization. Harper also plucks a child from the audience at the end of the show, when Scrooge is transformed into a light, generous being. The young child is twirled around the stage in the arms of a happy, changed Scrooge. All together, this is a Scrooge as familiar and beloved as the favorite traditions of Christmas.
Playing Dec. 7-10, 14-17 at 8pm ThSa, 7pm & 9pm F; 2pm & 4pm SaSu @ Colonial Players, 108 East St., Annapolis. Stand-by tickets only, one hour before curtain. $5: 410/268-7373.
---
Over at Chesapeake Music Hall, this season brings a new rendition of Christmas Carol. Robin Chapin, 1985's Bob Cratchit, plays the role of Scrooge for the second time in his lifelong career as actor.
"I try to make him as real as possible, to mentally get inside his head," says Chapin, who promises to "feel what the character is feeling. There will be teardrops in places."
At over six feet tall and 250 pounds, Chapin is physically not your usual, scrunched-down, feeble Scrooge. He contorts himself to look older and, he says, "puts my back in danger from hunching." For the role, Chapin's facial hair hasn't felt the touch of steel since May, and the mutton chops are real, as is the long hair.
Scrooge is also in Chapin's voice, which is so bitter and rough that the actor keeps hard candy on hand, constantly popping pieces into his mouth.
The Music Hall role calls on Chapin to transform into Scrooge as a young boy, young adult and older curmudgeon. Given his size, this is a challenge. The old man is the most fun for him, but as the young man he gets to use his own voice.
Playing thru Dec. 23 w/doors open 2 hours before showtime; buffet opens 1.5 hours before. 8:30pm F; 8pm Th (except Dec. 21) Sa; 2:30pm Su; 1pm W @ 339 Busch's Frontage Rd., Annapolis. $29.50-$32.50; rsvp early: 800/406-0306.
---
Chesapeake Country's third Scrooge, novice Gary Pendleton, has no acting background. Like his company, Twin Beach Players, Pendleton is a literal amateur, playing for love. To prepare for the role, Pendleton gets in the mood by going over Dickens' words. He changes his posture and exaggerates his facial expressions with scowls to get the right feeling.
"By watching last year's Scrooge," Pendleton says, "I have a good point of departure. I've gotten a sense of how last year's Scrooge did the role, but I'm not directly like him."
Pendleton jumped at the chan
ce to play Scrooge in this year's production. "Scrooge represents a lot of people who need something to shake them out of their routine," says he, noting the truth behind Dickens' unforgettable caricature. "People are complicated, complex and capable of behaving in unpredictable ways."
As the lights and decorations transform our landscape in preparation for the holidays, The wondrous transformation of Scrooge, from skinflint to philanthropist, on local stages, gives us all the hope of a second chance.
Playing Dec. 6-10 w/hayride 7pm; show 7:30pm WTh, 2pm Sa, 5:30pm SaSu w/dinner (or light lunch) at Lagoons Island Grille and theatre @ St. Anthony's Church, North Beach. $25; matinee $10 & $7: 301/494-0879.
---
Round 1 of the Eastport Yacht Club Lights Parade
Crabtowne Ski Club Tries Out in Baltimore
By Mark Burns

"We're just gonna bomb your butt," boasts Jane Campbell-Chambliss, Peppermint Patty in both costume and gusto.
'Patty' speaks to no-one in particular, just the competition in general. She stands on a floating dock among a crew of 12, admiring this year's lighted opus - a glowing Charlie Brown Christmas tribute to the late great Charles Schulz, about 250 man hours in the making. In one hour, the Crabtowne Ski Club will motor said opus through the Inner Harbor for Baltimore's December
2 Parade of Lights in the first run for this new light display before it graces Annapolis' waterfront one week from the day.
Soon, they parade. Now, they gawk.
Some 4,000 lights weave through a 28-foot-high assemblage of chicken wire, half-inch metal conduit, rope and duct tape mounted on the mast of sailboat Dreamchaser. Crabtowne Ski Club's crew is recreating the theme of A Charlie Brown Christmas. Lights swap between alternating displays: First, Snoopy sleeps on his back beside Charlie Brown's woeful stick of a tree, bent into an arc by the weight of an ornament. Next, the tree shines full and tall and Snoopy strikes his happy dance pose with Woodstock alongside. All the while, glowing snowflakes beam an intermittent interpretation of snowfall. Music from the classic Peanuts tv holiday special sings loud over the din of a generator.
The dozen on the dock at once gasp with excitement and sigh with relief. This is the first any of them have seen their display assembled and lit; until now, nobody knew for sure how it would turn out.
"You always hope, 'God, I hope this lights up,'" says Dreamchaser skipper Pete Chambliss, of Crownsville. "That fear never goes away."
Not even after 13 years of parading boat lights.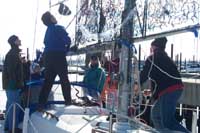 Dreamchaser's lighted run started in 1987 as an idea among "a few people who were probably drinking too much," says Chambliss. The crew of friends, who met through the Crabtowne Ski Club, decked the boat with an artistic angel designed by Lee Summerall. They had no chance to see the figure lit in total darkness until the boat passed by Chart House, where they could see its reflection in the windows. "We were silent, says Chambliss. "We were absolutely amazed at how this thing looked."
They were hooked.
The angel went on to become a heavily awarded local favorite in the parade, substituted only by Chessie the sea monster in 1997 to honor the Chessie sailing team in that year's Whitbread Ocean Race. Last year the Dreamchaser took its angel touring for the first time, casting her light on Kent Island Narrows and Baltimore's Inner Harbor as well as Annapolis' parade. Cheers greeted them at each port.
"The greatest complement we ever got was last year when we were at the Kent Island boat parade," says Bill Taylor (Charlie Brown this night), a retired electrical engineer on the crew for 10 years. "Someone walked by and said, 'now these are professionals.'" Nice to say, but not quite so, says Taylor.
Though flush with practice, says captain Chambliss, lighting the boat is still not as easy as it looks. Take 1988: Shortly before parade time, gas had to be gathered from donor lawnmowers to fuel the generator. Bill Lopez, on the crew since 1987, froze his fingers to the mast, leaving skin behind. In keeping with the day's theme, Dreamchaser ran aground in Annapolis Harbor. Eleven years later, the boat ran aground again at Kent Island. "I think my 34-foot sailboat is 38 feet now," remarks Chambliss on last year's freeing tow.
So far this year, though, the crew seems to be enjoying especially smooth sailing. They skipped Kent Island. The new, modular display went up in four hours, down from the normal eight hours of past years' lights. Lopez hasn't taken his gloves off yet. The generator has plenty of gas. And there's plenty of viditus, a Lithuanian concoction, to keep the crew warm and happy.
"It's all an incredible team effort," says Chambliss. "Everybody comes in with neat little ideas." Last year, for example, resident artistic mind Dori Iwancio dressed as an angel and scattered feathers into the wind. Chambliss is still finding feathers on the boat. Taylor once dressed as a sugarplum fairy, though it's something he'd rather not talk about.
From Iwancio's artistic vision to Taylor's technical realization - he designed and built a box to control all the lights - everyone contributes, both in concept and in real. "One big extension cord. That was my contribution," jokes Dawn Hughes (Lucy). Even as they admire their handiwork, the crew is making notes for tweaks in time for Annapolis. Conceptualization for 2001 is thriving, too.
"I'm trying to convince everybody to just put up a big Christmas tree next year," says Jane Campbell-Chambliss. In her thought bubble dance visions of one big tree, taller than this year's, stretching all the way to the top of the mast. At its base she sees fog from a smoke machine to set off the beams of laser lights. Snoopy might have to go to make room for this setup.
Good grief, sir.
Dreamchaser bombed 'em all by winning Best in Show at Baltimore. See Snoopy for yourself 6-8pm Dec. 9 @ downtown Annapolis. Free parking w/shuttle (3-10pm) at Navy-Marine Corps Memorial Stadium: 410/263-0415 · www.eastportyc.org.
---
Backstage with Pasadena Theatre Company
Three Days to Curtain for It's a Wonderful Life

By Mary Catherine Ball

"People have a love of performing, becoming somebody else on stage, leaving their problems behind, if only for a little while."
Sharon Steele, a founder of Pasadena Theatre Company, speaks for everyman, but her words hit closer to home.
With the company's Christmas show, It's a Wonderful Life, opening this weekend, the troupe hopes to climb onto the stage into a better world: one with second chances.
Clarence, you have another chance to earn your wings. It's an easy job. Help George Bailey see that life is wonderful.
Only two months ago, tragedy struck twice for the Pasadena Theatre Company. First, founding member Terri Askew lost her husband to cancer. Only two days later, actor Gary Yealdhall also passed away, leaving four children without their father.
Everyone in the world would be better off without me. If only I had never been born.
Now, Steele herself faces the third week of life without husband, Jerry lost to complications of lung cancer.
"Jerry was a kind, considerate and loving man and an excellent father," Steele remembers. He was an avid golfer, not really interested in theatre. But he supported me and everything that I did. Now, it's just this deep, terrible ache, just a feeling of emptiness."
Okay, George Bailey, you don't exist. This is life without you.
"This show is all about what it is to be alive, and I know that now more than ever. To appreciate each other. Take time out for ourselves. Life is worth living. Watching my husband lying there, what a fine line there is between life and death. And his final message; he asked for a piece of paper and wrote 'stop smoking.' How much more meaningful can you get?"
No, I want to live. I want to live.
"This company is more like a family to each other. They all signed a card and sent it to me in the mail. I read it and started crying all over again. When something like this happens, you really know who your friends are."
"The show must go on," says Steele. "It is going to be hard, but we have to keep going."
George, I've been trying to tell you. I'm your guardian angel.
The show goes on for the fourth year as Pasadena Theatre Company's 24 actors forget their own troubles to bring back the familiar and beloved story of George Bailey, who finds hope in despair, reminding the audience that it truly is a wonderful life.
Playing Dec. 8-10 at 8pm FSa; 3pm Su @ Humanities Recital Hall, Anne Arundel Community College, Arnold. $12 w/discounts: 410/969-1801.
---
Backstage with The Ballet Theatre of Maryland
14 Days before Curtain to The Nutcracker

By Shirley Brewer

Your holiday assignment, if you choose to accept it, is to coordinate a large ensemble including more than 100 children (many roles are double cast) and create an enchanting ballet that complements the splendid music of Peter Tchaikovsky.
Masterminding this annual spectacular would seem to require the skills of a military genius. One pictures a George C. Scott-type clutching a megaphone, barking orders at the Sug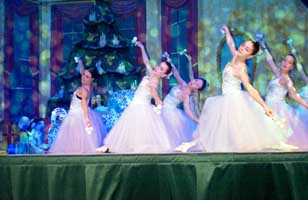 arplum Fairy and curling the toes of mice and soldiers.
The guiding light in Room 308 at Maryland Hall for the Creative Arts is not a George but the gentle Edward Stewart, artistic director and choreographer of the Ballet Theatre of Maryland. (Formerly known as The Ballet Theatre of Annapolis, the only professional ballet company in Maryland company changed its name this year in its planned expansion of venue.)
Stewart exudes a natural elegance. Unlike the stiff nutcracker, he moves with the fluid style of the dancer he is. Two weeks before the curtain rises Eddie Stewart is dressed not in the black and purple cape he will wear as Herr Drosselmeyer, godfather of Clara and Fritz, but in jeans and a sweater. Sitting now on the floor in a yoga position, he is working with Sarah Ruppel, a lovely 14-year-old who, as Clara, will journey in a glittery sleigh into the Sugarplum Kingdom. Sarah is already an accomplished dancer. Stewart guides her positions on the dance floor, the angle of her shoulder; he demonstrates facial expressions.
In this easy-going atmosphere, angels, cherubs and gingerbreads seem relaxed. The snowflakes, who will dazzle the end of Act One, twirl past him, and Stewart's eyes follow their motion, his fingers snapping softly to pace the rhythm. Sometimes he leaps to his feet to model a gesture. The dancers seem eager to please him. Arabians Ninel Cherevko and Jeffrey Watson make subtle changes in their movements, even as they listen to and watch Stewart. Rehearsal atmosphere resonates with a hectic joy. No megaphone needed.
Soloist Watson, who joined the troupe in 1994 and plays three major roles in this production, clarifies Stewart's style and impact: "He allows you, as a dancer, to interpret your feelings. He's not afraid to show his good heart. This man creates energy and magic."
Joan Striegel, volunteer student coordinator for The Nutcracker for the past 14 years, describes Stewart as "charismatic." Because of him, "this is an unusual ballet company," she says. "There's a true sense of family. Eddie Stewart makes you want to do things."
This list of things to do is endless, like a child's Christmas wish list. Many in the audience return year after year, so Stewart gives himself the challenge of freshening the choreography to include a few surprises. This season Act II features the Sugarplum Fairy, in the grandest dance of all, partnered royally by suitors from Spain, Arabia, China and Russia. Watching these four muscled male dancers is worth the price of admission.
Throughout the pandemonium of the final rehearsal, before the Nov. 25 performance of the ballet at the new Chesapeake Center for the Creative Arts in Brooklyn Park, Eddie Stewart did not once lose his smile, which remained as comforting as a pair of leg warmers. Even though the stage was still being constructed - a director's nightmare - Stewart's soft vocal patter cushioned the afternoon: and up and two and three and four
The satisfying result: a timeless dream lives again, exquisitely performed, with the unique but always varied signature of Edward Stewart.
Playing Dec. 9, 10, 16 & 17 at 2pm Sa, 3pm Su; 7pm Dec. 16 @ Maryland Hall, 801 Chase St., Annapolis. $20 w/discounts; rsvp: 410/263-2909.
---
Costume Check with The Talent Machine
19 Days to Curtain for Holiday Magic 2000

By Mary Catherine Ball

Recycling posters decorate the floor-to-ceiling columns of Central Middle School Cafeteria. A 'pizza mania' sign hangs on its side above the entrance door. Long, cold tables offer hard, orange chairs. And still the talking gets louder, the laughing is harder, the noise increases until
"Quiet, please! I'm making life or death decisions here."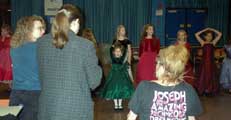 Silence. Heads turn, gazes drop and all attention focuses on Bobbi Smith. Who continues.
Smith's head turns from left to right, up then down, eyes scanning the scene in front of her. "He needs a turtleneck. Not enough color. Maybe a corsage right here. Isn't that cute? Oh, I love it. And everyone in the opening scene may sit down. I need girls in their party dresses."
The life or death decision: costumes for the Talent Machine's Holiday Magic 2000. Not really a big deal. Or is it?
It is, Donna Arbogast, publicist and costume committee member, explains. "This is a very costume-heavy show. I know, the costumes have been in my living room for a month now. The company provides most of the costumes, but the kids buy their own opening outfits: hats, scarves, sweaters and party dresses. Everything is then okayed by Bobbi."
That explains the Lord & Taylor, Hecht Co. and K-Mart tags dangling from the sleeves of the dresses. And the mothers running excitedly to their daughters, worrying, "did you get the thumbs up?" Thumbs down, the dress is returned, and the search must go on.
This is serious.
"We're looking for a cohesive look even though they are all different," Smith says. "When the costumes are right, with the lighting and the colors, it gives you the warm fuzzies. I can't explain, but that's what I'm looking for."
And the life-or-death parallel?
"These girls have gone out shopping for weeks and found a dress they love. And here I come, I'm gonna say 'wrong color, that doesn't flatter you? I don't want to hurt anyone's feelings," Smith says.
For Bobbi, it's all about the kids having fun and the audience liking what they see.
"Everything is a picture, and when it gels you don't notice it. But when something stands out, it stands out," Smith explains.
After 10 years, hundreds of talented kids and thousands of costumes, something must be right.
Smith asserts, "These kids may not get anything else from me, but they'll get the love of performing."
In Holiday Magic 2000, Talent Machine's young adults and children come together in an end-of-the-year finale to sing, dance and tap in a series of holiday vignettes. Appearances by Santa, Rudolph and Frosty plus Christmas tunes get everyone in a festive mood.
In Holiday Magic 2000, Rudolph, Santa and other holiday favorites sing and dance their way into your heart.
Playing Dec. 15-23 2pm SaSu; 7:30pm SaMThF; 6:30pm Su @ Key Auditorium, St. Johns College, Annapolis. $10 w/discounts: 410/956-0512.
---
Copyright 2000
Bay Weekly