To Catch This Boat Show,
You've Got To be Quick
By Christy Grimes

What happened?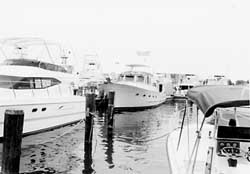 It takes three crews working three double shifts to erect the floating nomad city that is the U.S. Sailboat Show. It takes a whole lot less time to break it all down. From over the fence, it looks like magic: In the blink of an eye, banners adorning the show's chainlink perimeter have gone from promoting sail to powerboat products. The forest of sailboat masts shooting skyward from Ego Alley has been leveled and replaced by wall-to-wall power yachts. So what happened?
What happened is the stuff of local legend. Thirty years ago with only 50 sailboats, the changeover was no big deal. Then 50 boats snowballed to 450. Most are wrapped up tight in the maze of floating docks and pilings of the water-borne marina that sprawls out of City Dock into Spa Creek. In less than an hour, the water crew must take it apart and move the pieces aside to free the boats. "And they must do this in the dark," says exhibitor Patrick Wintershalter of Brittania Boats. It gets dark quickly this time of year: between 6 and 7pm.

The Stage
Meanwhile, a squad of powerboats idles in Spa Creek, waiting to chug into place. That's the short form of the Breakdown Spectacular, which begins at the stroke of closing. Beyond this, accounts vary. To some, it's pure scramble.
"You've got powerboats out there circling like sharks," says an anonymous boat show exhibitor of 43-foot yachts. "They've come a long way, some of them. Bets are on all these jury-rigged sailboats that haven't been sea trialed, are missing major parts and can't get their engines started. It's goofy."
To others it's an exquisitely timed do-si-do, where boat show crew and exhibitors alike display finesse honed over 30 years by managing in about 45 minutes to pack up and file out into the sunset as the power boats waiting in the wings sweep grandly in. "Oh, it's gorgeous," says Frieda Wildey of Ocean Options. "Boats just blaze out of here. It's exciting."
On one of those boats, a 33-foot Cornish Crabber, Wintershalter sits back and props his topsiders on the railing. In this pose, he looks nothing like what he is: a man facing an ordeal. It's after 5pm on the last day of the sailboat show. At 6pm, Brittania Boats has less than an hour to fold up their display, start their boats and roll out in sequence - all as a feisty mob watches and comments on their every move. "I think perhaps some people have had too many painkillers," says Wintershalter. "People are up on Pusser's roof drinking, yelling and cheering as we leave. I'm trying to convince my boss this is a fun thing to do."
For sure, as the move-out has evolved into a complex precision drill, it's become a spectator sport with a fan base. As the water crew and exhibitors prepare for the breakdown shuffle, a devoted group of aficionados report to headquarters: the upper balcony of Pusser's Landing, on the Ego Alley side of Annapolis Waterfront Marriott, the best public vantage point for the move-out.
A year ago this Monday, John 'J.B.' Blount, Pusser's manager, rested from his lunch rush and geared up for dinner, happy hour - and the Breakdown. "They all pile in here to watch," he said. "It's a big spectacle." The restaurant is in a tough spot with this event.
"If Pusser's was smart, they'd put up bleachers for this," says Bill of Hinckley Boats, a veteran move-out maven moving too fast to give his last name. Pusser's disagrees. The restaurant didn't exactly plan to host a roiling mob on their upper deck. At the same time, they don't want to be spoilsports. So Pusser's nobly suffers the event and politely distances itself from it. "We'll just have business as usual," J.B. asserts.

Act One: The Thaw
What follows is an eyewitness account of the Breakdown Spectacular - or, as the water crew calls it, the Move-out.
At 5:45pm, it's clear many boat show people aren't waiting for 6pm. They've already lowered their sails and picked up. Ever notice all the potted plants at the boat show? People everywhere are lugging huge plants around, loading them onto the decks and saloons of the big cruisers. The bright yellow Corsair Trimarans blimp that presided over the Sailboat Show is tied down onto one of the trimarans it advertises.

The Audience
Toward 6pm, Pusser's upper deck, lower deck and the stairs between are filling up with fans. Bodies have begun to jam the balcony. At six sharp two gunshots are fired to end the boat show. You'd think the remaining visitors would scurry like mice for the exits, but it's as if they didn't hear the shots. They keep browsing even as workers break up docks around them. The Pusser's crowd lends a hand by hounding the stragglers with whistles and screams. They are only working up.
By 6:15, the huge catamarans on the show's outer edge are peeling off. They are beyond the catcalls of the roistering crowd. About this crowd: it's a blend of sailors, sailboat owners and boat show exhibitors plus a light mix of clued-in locals. Many are veterans, and they are primed for a spectacle. Most look downright genteel, but in this moment they become, as most of them would agree, bleacher bums. They tank up and ogle or heckle departing show boaters according to sometimes obscure criteria. Since many sail themselves, their calls are educated.

Act II: Breaking Up
The boat show breaks apart like spring pack ice. The outer boats, also the biggest, melt away as workers hustle to clear lanes among the floating docks. The fat cats sweep gracefully into the sunset, picking their way smoothly around private boats at anchor out in the creek. The cats are the only boats in the show to get away in tranquillity.
Down toward the dock, things get tricky as space gets tight - and as the action gets closer to Pusser's lounge. A deckhand on a huge catamaran tied up next to Pusser's lower deck shinnies up the mast to unhook a cable. The crowd chants, "Rug burn! Rug burn!" as he scoots to the top, high above them. Once he manages his task, they cheer and he pumps his fist at them in a victory salute.
Far below, water crews buzz the dock in skiffs, nudging around boats and platform sections - or whatever happens to be loose. Sometimes their derring-do earns cheers as well, but this crew never plays to the crowd. They tune out this rowdy bunch altogether, possibly the show's tallest achievement.
"It's exhilarating when they root for us," says boat show general manager Jim Barthold of his crew's reception. "But you can't get carried away and start hotrodding around. Gotta keep the people moving out."
At 6:30, a few show visitors still wander the docks. The crowd needles them more aggressively. Fans now press against Pusser's balcony five deep. They've borrowed most chairs from the tables to stand on for a better look. It's hard to read this audience. Occasionally a wave of group spirit engulfs them and they sway in unison to whatever music is playing. Currently it's a song whose refrain is "Why Don't We Get Drunk and Screw?" Just as quickly, the spirit clears. A silver-haired gentleman does the twist atop a chair, bending his knees into the move. Cigar smoke and the aroma of beer hang in the air.
Who said this was fast? The pace is glacial. The boats drift by like parade floats. Sometimes a member of the boat crew gives a stately wave like a homecoming queen. But people don't usually boo parade floats. They boo boats that leave too slow.
"Taking a boat out of here is like being a lounge act in a really bad club," says Elvia Thompson, a self-described "Eastportorican." Things pick up as the breakdown reaches farther into the narrow reaches of Ego Alley.
Take a picture of this: you proudly exhibit your 44-foot sailing yacht at the boat show. You've come to celebrate the sailing lifestyle, maybe sell something while you're about it. Instead you've spent five days gripping your lurching boat deck as you glad-hand an endless stream of visitors. Now it's all over and you can blast off into the sunset. It's Miller Time, right?
Wrong. You're about to enter the worst part of the show, a potentially humiliating gauntlet of hooligans who will jeer your every attempt to ease your big boat through an obstacle course of floating dock sections, pilings and other boats. You decide you'll take the easy way out by just backing your boat through it all. Then you hear, "Hey! Pointy part first!" You look up to see a fat guy in a muscle shirt, his face red with effort, leaning over Pusser's balcony to give you even more advice on how to best man your craft. "Remember, the dock gets the right of way!" he finishes.
Solo: Moored Tight
This is the treatment given poor Moorings 4500, the most abused act of the night. The other cruising catamarans occupied an outer wing in Spa Creek. But Moorings sells charters on their boats rather than the boats themselves. For maximum exposure, they had parked their huge craft close to City Dock. After five days dressed in navy blazers for hard selling, this crew now has to work their boat through a space so tight the crowd falls silent for a few seconds.
Workers had opened some space for boats to escape Ego Alley, but they left little turning clearance. Complicating this tight spot is an electrical hookup on a wooden post driven smack in the middle of the basin's opening, right where Pusser's sits. The Moorings people have to decide on which side of this post to steer their mile-wide whale, while the crowd makes free with comments and suggestions. "Here comes the Queen Mary!" announces Stewart Ewell, Elvia's friend and fellow Eastportorican. "Okay, they got the Bay Bridge out of the way!" he calls out to the Moorings crew. As if they can hear him - or want to. Clearance is so small on the side that Moorings finally chooses a crew member to run around and take up the fenders, as the crowd chants "No guts! No guts!" Hinckley Boats' Bill declares, "Houston, we have a problem."

Act III: Melted Away
"I'm as happy as a redneck at a stock car race," proclaims Ewell the Eastportorican, as he watches workers collapse display booths, set the canopies atop the platforms and float them away, just as they arrived last week from the staging area in Back Creek. Some booths, like Multihull Magazine, scoot away whole. "This is the best damn part of the whole b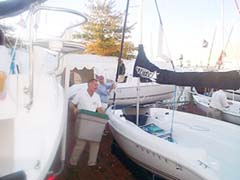 oat show," crows 'Bob of Baltimore,' a beefy middle-ager wearing a T-shirt bearing the legend, "chief melon inspector" across the front.
Sometimes, even bad moves earn a cheer - if done with proper attitude. The Orangutan from J-World plays to the fans by swerving extravagantly as it exits the yacht basin, just missing the dock, a floating platform and a nearby boat. The stern swing is so violent it flings a J-World crew member across the cabin roof, legs sprawled. As the boat straightens, he does as well, then spreads his arms and legs and does a fast shimmy dance for the crowd. They scream in unison. The platform the Orangutan has just missed pitches and heaves in its wake. To the crowd's delight, the Lightfoot nearly hits another of the J-World boats on its way out.
By 7pm the pace dwindles. The big boats are out, and so is the chance to witness another mishap or some fancy footwork. Stewart Ewell is ready to move on. "What, you don't want to stick around and boo the power boats too?" cracks Elvia. The mob is tapped out. Gaps appear ringside and the Pusser's staff patiently stacks chairs and gathers the hundreds of plastic beer cups thrown around.

Coda
Speaking of power boats, they never came roaring in like the conquering Mongols they were made out to be. They coasted in quietly, filling the basin through the night.
---
Copyright 2000
Bay Weekly