The Millennial Season at Chesapeake Country's Playhouses
By Carol Glover

Prologue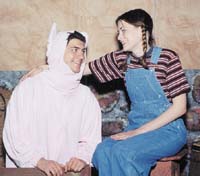 September steals the light from the skies. Annapolis Summer Garden Theatre stacks its chairs and closes its doors until spring.
Meanwhile, Colonial Players' rehearsal hall resounds with John Steinbeck's dialogue. Bowie Playhouse's new curtains welcome Bowie Community Theatre and 2nd Star Productions. Chesapeake Music Hall stores its Rydell High School props and brushes off its top hats and tails. Patuxent Playhouse sends its young summer thespians back to school.
Alumni Players begins another season of community fund-raising. Pasadena Theatre Company plays its last show at Humanities Hall. Talent Machine keeps its young stars finely tuned and ready to perform. Moonlight Troupers welcome Anne Arundel Community College's new theater students. Second Stage regroups and searches out a home.
All Chesapeake Country's theater families put away, take out and dust off as they prepare to entertain us through the fall and winter seasons.
Anne Arundel Community College's Moonlight Troupers gain academic as well as theatrical experience.
Act I: Behind the Scenes
The stage is set long before the audience arrives, for the work of a play happens backstage.
Colonial Players have performed in Annapolis for 52 seasons. Considered by many knowledgeable theater-goers the premiere community theater in Bay Country, Colonial Players is 80 percent booked through subscription sales. Because of solid income, it is one of the few area theaters that can afford to take risks. It can risk producing plays whose titles and authors are unfamiliar - at least one each season. This year, that's Daniel Sullivan's comedy Inspecting Carol, about a company that, like Colonial Players, produces A Christmas Carol each year.
Colonial's most important component is at work backstage. That's volunteers - from director to box office staff - according to Joan Hamilton, chair of the Play Selection Committee for Colonial Players.
Volunteers come to the Players to learn as well as work. "Everyone is given a chance to try different aspects of the theater from lighting to directing," says Hamilton. Mentoring from experienced people and classes in theater skills mark the theater as a place to learn while making a difference.
Bowie Community Theatre, which performs at the Bowie Playhouse, ties with Pasadena Theatre Company as the region's second oldest community theater. As Bowie Community Theatre's 23rd season opens, President Craig Mummey echoes Hamilton in proclaiming, "Our volunteers are our greatest resource."
Pasadena Theatre Company, too, would not have survived without dedicated people, as Sharon Steele, company president, explains. "We've hung in there through 23 years of trials and tribulations. A small group of people have kept things going," she says. "Right now our costumes are stored in one place, we're rehearsing at Woods Memorial Church, our first show is in Humanities Hall at the Community College and we're moving to the brand new Chesapeake Center for the Performing Arts in Anne Arundel's Brooklyn Park section."
The Moonlight Troupers, Anne Arundel Community College's theater group, is a little different, according to Bob Kaufmann, chairman of the Performing Arts Department, who says: "We take our role as a training ground very seriously. Students look at theater as academics as well as performance. We want our students to participate and move on, so we put ourselves on the line trying to provide them with necessary theater experiences." The student body and its association support this theatre.
Two of Calvert County's community theater companies, Patuxent Playhouse and Alumni Players, produce shows both for their own enjoyment - their actors love what they do - and for raising money for community organizations. "Our greatest asset is a supportive community," says Patuxent's co-founder Geri Ford. "Calvert County residents support us with their time and donations." Patuxent's actors raise funds for schools and firehouses by splitting the profits from their shows. Wandering troubadours, they perform wherever they can find a venue in the county.
Alumni Players, however, have a home: Our Lady Star of the Sea in Solomons, where the church community has been welcoming and supportive. The Alumni Players have a "core gr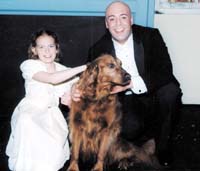 oup of workers who'll do whatever it takes to make things happen," according to Annie Osborne, one of the founders. Osborne, who was a costume stitcher for the movie The Patriot, is like many other volunteers: working around her "real life" to pursue her passion for theater.
In the company of non-profit community companies, Chesapeake Music Hall, a dinner theater, straddles the line. A for-profit venture owned by Sherry Kay, its actors can be found waiting tables at the music hall as well as appearing onstage for other community theater groups.
Here, too, power comes from the people. Sherry Kay has years of experience in all aspects of theater: acting, directing, choreography and costume design. Joining her is Anita O'Connor, the talented singer and music director. The music hall's stalwart David Reynolds, shown here, who directs as well as acts, has made the big time: that place most actors only dream of. He's playing Daddy Warbucks in the national tour of Annie. He'll be missed for the versatility that took him from roles as different as My Fair Lady's Henry Higgins to Chorus Line's Zack the director.
Volunteers, audience support and strong performers share the spotlight with artistry at 2nd Star, which - like Bowie Community Theatre - performs at the Bowie Playhouse. Jane Wingard, a founder and director of 2nd Star, speaks to quality of production. "Our strongest resource is our artistic staff: onstage, behind stage and in the orchestra pit. They know what goes into a quality show," she says. Their musical director, Donald K. Smith, spent years at Burn Brae Dinner Theater. Jane Wingard, Lynne Wilson and John Guyton, 2nd Star staff, design sets for Toby's Dinner Theatre, the Annapolis Opera and the Ballet Theatre of Maryland.
Wingard is a resource unto herself, and her connections and networking bring such fine performers as opera and musical show star Braxton Peters, as Don Quixote, to 2nd Star's stage. "Our biggest accomplishment this past season was our opening nights," says Wingard. "They were as strong as our ending performances. Things may change throughout the run, but the strength of our productions was consistent from opening night to closing performance."
Behind the curtain, communit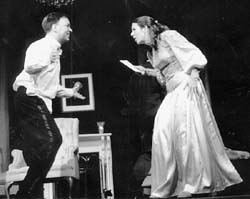 y theater is not as effortless as - at its best - it seems. Balancing the checkbook, coaxing volunteers to work behind the lights and finding a place to rehearse and perform: All are forgotten when the lights go down. Unaware of behind-the-curtains teamwork and struggles, the audience comes to be entertained and entranced. Here in Chesapeake Country, we usually are.

With comedies, dramas, musicals and more, Bowie Community Theatre feeds the hearts and minds of its audience.
Act II: On Stage
The curtain rises on the fall season. The companies have painted sets, searched for props and rehearsed. The productions for the coming year offer enough variety to please most everyone's tastes.
Each theater group tries to vary its shows, and most of them succeed. Dramas, comedies and musicals rotate to keep audiences interested and coming. Because of the talent available or the training of their behind-the-scenes staffs, some theaters will explore new works. Other theaters can't afford to take risks, so they reprise the same old chestnuts, some with new touches.
Audiences vary just as theater companies do. Colonial Players' audiences are adventuresome. Chesapeake Music Hall's want to see the familiar. Most of us enjoy comedies, and the community theaters oblige. Bowie Community Theatre will bring back a romantic comedy of the '60s, 40 Carats. Craig Mummey, president of the company, calls the show, "a May-to-September romantic comedy. It's the story of a young man and an older woman."
Laughs roll up Route 50 when the nuns retake Chesapeake Music Hall. Carole Cohen and Mary Armour Kaiser reprise their last-season roles as mother superior and the street-wise Sister Mary Robert Anne in Nunsense.
The master of one liners, Neil Simon, opens the season at 2nd Star. His comedy Rumors transports the audience to the home of the New York City deputy mayor, who's shot himself in the ear. Various couples try to help cover up his misadventure.
Dearly Departed, at Colonial Players, will also tickle the funny bone. A Southern patriarch wills that his tombstone read "mean and surly." This play full of Southern stereotypes is a challenge for the directors as well as great fun for audiences. If you aren't a subscriber, you can purchase stand-by tickets one hour before the performance.
Comedy of the gentler sort is The Boys Next Door, a humoarous look at a serious topic. The boys are a group of mentally challenged men, living together and struggling to lead full lives. It will close Bowie Community Theatre's season in the spring.
The other side of the mask from comedy, tragedy stalks theater in the round at Colonial Players. The new play The Clearing, on Broadway just last season, focuses on the 17th century English/Irish troubles. A drama of ethnic cleansing and life's difficult choices, The Clearing is another of the risks the Players routinely take.
In rotation with comedy and drama and one of the best attended forms of theater is the musical. In Chesapeake Country, three theater groups perform with live music: 2nd Star Productions, Colonial Players and Pasadena Theater Company.
Coming to 2nd Star is Brigadoon, which founder-director Winga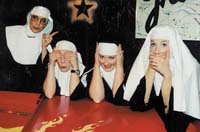 rd describes as a play with "beautiful music and the opportunity for beautiful dance. It contains all the magical qualities to kick off the holiday season: fantasy and love that conquers all." The setting is a village in the mist in Scotland.
The rock opera Blood Brothers will keep the bodies in motion at Colonial Players. "The play and director came as a package. Mickey Hardweger chose the play and wanted to direct it," says the play-choice committee chair Hamilton.
The blockbuster Gypsy will be Moonlight Troupers' musical. Directed by Tom Quimby, who's usually found on the other side of the footlights as Chesapeake Music Hall's Scrooge, the show tells the story of the famous stripper Gypsy Rose Lee. Bob Kauffman picked it because, he says, "Gypsy has a large cast of well-drawn characters. Everyone has a speaking part. It's the perfect vehicle for students learning about theater." He expects actresses to "come out in droves for the plum part of Gypsy's Mama Rose."
Guys and Dolls, a Helen Hayes award winner for Arena Theater last season, takes its floating crap game to Chesapeake Music Hall's stage. This story of the gambler Sky Masterson and his girl from the Mission is great fun.
Ending 2nd Star's season is a show that combines music, history and politics. 1776 tells the story of the writing of the Declaration of Independence. With its larger-than-life historical characters - Benjamin Franklin, Thomas Jefferson, John Adams and more - it makes the American Revolution come alive.

Act III: Waiting in the Wings
Between the time the curtains close on one season and open on another, the theater company volunteers brainstorm new ideas, look at new plays, recruit more volunteers and reach out to the community to embrace new friends to applaud from the other side of the curtain.
Second Star Productions shown here, is reaching out by incorporating as a non-profit and hold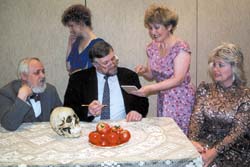 ing a membership drive. According to Jane Wingard,"We've been self-sustaining, with true artistic freedom. We're giving up some of that freedom to pay the bills." The end of the season will bring a "Romp in the Sandbox," a one-day barbecue picnic with theater workshops.
Bowie Community Theatre will end its season of feeding the hearts and minds by feeding the stomachs of its volunteers at an end-of-season picnic. This season, the company has children's workshops and visits assisted living homes in the Bowie area to perform light comedy. To help fill its seats, ticket reservations can now be made by phone.
Sherry Kay, whose livelihood depends on profit, calls theater "a risky business with no guarantees." She is hoping that Chesapeake Music Hall's seats stay full for every performance. She'd like to take chances doing plays that are a "little off the wall and more artistic. I'd like to do Barnum, which has wonderful music," she says. Of course, in this "risky business" there's the physical realm as well as the fantastic to consider. "We're also constantly trying to improve our theater," says Kay. "This year we have a new curtain system."
When the season ends 10 months hence, the cycle will start anew. At Colonial Players, once again, the board of directors will hold a retreat to review its vision as a community theater.
And next summer, when the stage belongs to Annapolis Summer Garden Theatre and The Talent Machine, companies will be nourishing new play lovers. Joining Talent Machine, Colonial Players and Bowie Community Theatre on the camp circuit, Alumni Players will open a summer theater camp for star-struck youngsters.
Epilogue
With playbills full of choices, there's likely something to please you in this season's offerings. Ticket prices for live theater compete with neighborhood movie theaters, and you can travel from comedy to drama and from the playhouse in the woods in Bowie to theater in the round on Annapolis' crowded streets.
Nobody can predict which plays will be winners, but here are some tips:
If you're interested in the Irish/English troubles and a drama full of hate, love and terrible choices, try Colonial Players' The Clearing.
If a warm-hearted look at life's challenges is your cup of tea, buy a ticket to Bowie Community Theatre's The Boys Next Door.
If you're into strong female roles and want a peek at stage moms, Moonlight Troupers' Gypsy is the play to see.
If you're ready for a new Christmas show, Chesapeake Music Hall's Rogers and Hammerstein Christmas Carol will be worth a try.
If supporting Calvert's community organizations is a value, follow Bay Weekly's Good Bay Times calendar to see what Alumni Players and Patuxent Playhouse are up to.
If you want a peek at American history and its larger-than-life characters Thomas Jefferson and Benjamin Franklin, walk through the woods to 2nd Star's 1776 at Bowie Playhouse.
If you'd like to see true community spirit, search out the Twin Beach Players in Bay Weekly.
If you're nostalgic for John Barrymore, his ghost turns up in Pasadena Theatre Company's I Hate Hamlet. An added bonus will be direction by John Strawbridge, Pat Moran's casting associate for the films Liberty Heights, Cecil B. Demented and TV's Homicide.
If your youngsters want to breakfast with Santa, The Talent Machine will accommodate them with Santa's Frosty Follies.
If you'd like to watch theater using Annapolis' sky as a backdrop, that's what you'll get next summer from Annapolis Summer Garden Theatre.
---
Theater Calendar

Alumni Players
TBA, a light comedy in February

Bowie Community Theatre
40 Carats Oct. 13
Bus Stop: Feb. 2
The Boys Next Door: April 27

Chesapeake Music Hall
Grease: July 7 thru Sept. 10
Chorus Line: Sept. 22 thru Nov. 18
A Christmas Carol: Nov. 25 thru Dec. 23
Nunsense II: Jan. 19 thru March 11, 2001
Gypsy: March 23 thru May 16, 2001
Guys and Dolls: May 25 thru July 15, 2001
The Wizard of Oz: July 27 thru Sept. 16, 2001

Colonial Players
Of Mice and Men: Sept. 1 thru 30
Inspecting Carol: Oct. 20 thru Nov. 18
Christmas Carol: Tickets sell out shortly after they go on sale at 9am Nov. 18
The Clearing: Jan. 19 thru Feb. 17, 2001
Blood Brothers: March 16 thru April 14, 2001
Dearly Departed: May 4 thru June 2, 2001

Moonlight Troupers
Gypsy: Nov. 10, 11, 12, 17, 18, 19
Spring Show: Easter weekend

Pasadena Theatre Company
I Hate Hamlet: Oct. 6 thru 22
It's a Wonderful Life: Dec. 1 thru 10

Patuxent Playhouse
Send Me No Flowers: end of Oct. to mid-Nov.
2nd Star Rumors: Sept. 1 thru 23
Brigadoon: Nov. 10 thru Dec. 9
Lend Me a Tenor: March 16 thru April 7, 2001
1776: June 1 thru 30, 2001

Talent Machine
Holiday Spectacular: December 15 thru 23
Breakfast with Santa: December 2, 9 & 16

Twin Beach Players
TBA.
---
Copyright 2000
Bay Weekly