The Silver Screen in Bay Country
By Mark Burns

As Shakespeare knew, a summer's day can't be counted on. Especially this summer, some rough wind may blow up a big cloud to rain on your outdoors pleasures. But at the movies, it's always temperate — which is the least you'd expect for the better part of a 10-spot. Since the opening last month of Crown Theatres' 11-screen multiplex at Annapolis Mall — to keep company with the 14-screen behemoth that opened at Bowie Crossing in 1998 — reporter Mark Burns as been spending all his nights — and salary — at the movies. Here's his review — no, not of the movies — of Chesapeake Country movie theaters.
---
Have you seen the movie where clay-animated chickens escape from a British farm in a flying machine to a fishing boat out of Gloucester, Massachusetts, but get swept overboard during the storm of the century and wash up at Charleston, South Carolina, where they promptly join the Revolutionary War and steal Gen. Cornwallis' dogs on their way to Westchester, New York, where they join the X-Men to fight rogue mutants bent on wiping out humanity?

Or something like that.

Taking in nine feature films over the space of a week tends to blur images together, due in part to severely dilated pupils. But it was worth it to compile Bay Weekly's review of area theaters, highlighting the best and worst places to fulfill your escapist urges.

Our movie trail starts from Prince Frederick and meanders to Crofton, with side trips to noteworthy stops in Baltimore and DC. Only two aspects were universal at each stop — reels never started rolling more than five minutes late and it's cheaper to feed a 14-year old lunch for a week than buy concession stand snacks for a family of four. Otherwise, each cinema is unique unto itself.

Enough with the previews. Here now, the list:

---
Calvert Village, Apex 6
Calvert Village Shopping Center
West Dares Beach Rd. & Route 2/4,
Prince Frederick • 410/535-0776
$6.75; $4.75 matinee/kids/seniors; $3.75 first matinee

It's still a bland concrete block box hiding behind a shopping center, but it's a pretty nice bland concrete block box. When last year's Star Wars - Episode 1: The Phantom Menace was released, George Lucas wouldn't let anyone without a THX-certified theater run the film. In complying with the strict new sound system standard, Calvert's cineplex also splurged on new, more comfortable seats (with cupholders) and freshened up the interior.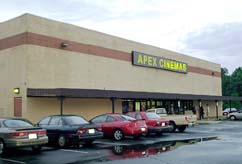 Despite these improvements over the old, the back rows are still hidden under the projection booth and don't get very good sound. The cineplex is too small a venue for stadium seating, but a well-sloped floor limits the danger of getting someone's head in your face to moderate, low if you're tall. Movie selection is usually good, with a mix of films for all ages when available. You're likely to find a ticket for a new movie's opening night, while at more popular theaters to the north you'll wait in line and may not get in. Parking gets a little cramped on the small lot during busy evening and weekend shows, but you likely won't have to look for space on the other side of the strip mall. It's an easy theater to get in and out of.

It should be noted here that their no-outside-candy rule is inconsistently enforced. This reporter has been caught with contraband Whoppers and forced to surrender them, while at least one Bay Weekly writer was able to smuggle in home-made pasta salad and sandwiches in her large handbag.

---
Eastport Cinemas, Crown 2
Eastport Shopping Center, Chesapeake Ave.
$7.75; $5 matinee/kids/seniors; $3.50 last matinee

Easily the most overpriced theater in Chesapeake Co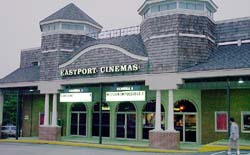 untry, Eastport's 2-screen cineplex is one of the few area theaters in want of renovation.

The aesthetics of its tidy strip mall marquee are good and fine, though inside is a different matter. Theatrical wall fabric and flooring are not ratty, but past prime nonetheless. Its air conditioning system is very noisy and the air is ever-so-slightly musty. Old metal-backed seats (no cupholders here) have narrow armrests and sag low and at such an angle as to give a mighty good wedgie if you're too reckless in plopping down. Sit gingerly. Should you enjoy sitting at center screen, you'll be disappointed by two side rows straddling a center aisle. Sloped floor seating makes for moderate danger of heads in the face. The dawn of THX has yet to brighten Eastport, though with only two theaters and space between them there's no real danger of noise bleeding through the walls.

Still, Eastportonians, there are good points. The screens are in good shape. Wheelchair-accessible seating occupies unusually prime viewing space at the middle rows. Bad-apple movie-goers will be thwarted by a lobby layout that makes movie-hopping impossible, since one must pass directly in front of the concession stand to migrate betwixt theaters. Traffic and parking aren't really an issue. But the strongest point is Eastport Cinemas' fondness for the slightly off-beat films, making this spot the closest thing around to art house cinema. Typically, a mainstream film in one theater is offset by lesser-known fare in the other.

---
Annapolis Harbour Center, Crown 9
Annapolis Harbour Center,
Routes 2 & 665, Annapolis • 410/224-1145
$7.75; $5 kids/seniors; $3.50 last matinee

Once the premier cinematic stomping ground of Annapolis, this cineplex falls to second place with the opening of Annapolis Mall's new megaplex. It still ranks as one of the nicer theaters, sporting a bright white lobby motif dotted with free-standing columns sprouting flourishes. Not exactly Hollywood chic, but nice.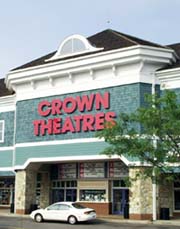 Theaters here benefited from the THX update, a definite improvement over the days when Jurassic Park's tyrannosaur stomped all over quiet dramatic moments next door. A show of The Patriot looked and sounded quite good. All theaters offer normal fold-down seats with cupholders on a well-sloped floor, making for low to moderate danger of head blockage.

This shopping center is a popular place, so be ready to park afar and walk on weekend evenings. The cinema and busy Amish Market compete for parking space during daylight hours, especially Saturday. Traffic flow can get a bit hairy at peak times due to cars offloading at the curb, heavy pedestrian traffic and an awkward mall traffic pattern circulating about the cineplex. Inside, an escalator takes you up and stairs lead you out; an elevator lifts wheelchairs. The congestion outside is repeated in the lobby as movie-goers crowd around the concession stand.

Not to be completely overshadowed by its big brother at Annapolis Mall, Annapolis Harbour's cinema will set about improving itself late this year or early next.

---
Annapolis Cinema Grill
Forest Plaza, Forest Drive, Parole
$3.50 plus cost of dinner or beverages

A new addition to the Annapolis scene last year, Annapolis Cinema Grill is a haven for both dates on a tight schedule and movie-goers with slow reflexes. This way station for films en route from reels to rentals offers up a full-course meal at either bar seating on the tiers or café tables on the flat. Wait staff first breeze by during the previews to take your order and check back regularly as in a normal restaurant, dropping off your bill as the end credits roll. Nice service, though people stubbornly opposed to any type of non-cinematic dial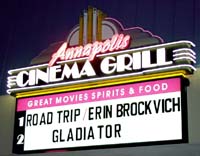 ogue during a movie might do best to stay home.

Food tastes good here but costs a bit more here than at full-service chain joints like Fridays or Ruby Tuesdays, and the latter have better grub. One soda, a Philly cheese steak with fries, a slice of Snicker's pie and price of admission totaled $18 and change. (Visit the archives, 1999, No. 32 for Gabby Crabcakes' food review.)

The theaters/dining rooms are small but nice, the walls draped in black and studded with stylish theater lights. Seats are cozy restaurant chairs with wrap-around backs. On an early weekday show, the joint was empty save one, but it seems as though the danger of heads getting in the way would be low. The small lobby offers a small bar at which to pass time before the show.

Cinema Grill's sound system is good and sticky floors are not to be found, as all the floor is carpeted. The film itself was a little worse for wear, painting a recurring green streak on the screen.

---
Annapolis Mall, Crown 11
Annapolis Mall, Jennifer Road
410/224-1145
$7.75; $5 kids/seniors; $3.50 last matinee; free kids' movie 9am & 11am Wed. & Thurs.

The newest cineplex on the list, this 11-screen megaplex is part of a 52,000 square-foot mall expansion. It's a strange trip getting in — you buy tickets from a kiosk on the fringes of the food court, then flash your ticket to an attendant who scr
eens riders getting on the new escalator touching down at the food court's center.

Aesthetically, this is by far the nicest of the local theaters. On the escalator, you ride into a glass ceiling and steel girders, stepping off outside an attractive high-ceilinged, elliptical, glass-walled atrium. Past this are the concession stand and hallway of theater entrances. The new façade, facing Jennifer Road, is wrought in a postmodern composition of stone, stucco, glass, steel and siding.

Annapolis' first and only theaters with stadium seating also boast THX-certified sound systems and top-of-the-line projection with bowed screens. Groovy. The only gripe is that the theater reviewed had a couple bubbles in the screen and a small brownish blur on the image, either from a dirty projector lens or a scuff on the screen. Seats are high-backed, but not quite high enough to catch a tall person's head. There's not much room to sprawl out; seats are narrow and don't lean back. You do get cupholders on the armrests. Service is swift and friendly. The chance of getting a head in the face is nil.

Exiting is a simpler enterprise than entering, with options to ride the escalator down to the food court or exit directly to the second level of the adjacent parking garage. The theaters will be wheelchair-accessible soon, once work is finished on the elevator. As in most stadium seating theaters, wheelchair seating is front and center near the base of the screen.

Ticket prices are reasonable by 21st century standards; comparable theaters often cost $1 to $1.50 more. Kids are still treated to free morning matinees on Wednesdays and Thursdays. Not quite the Valhalla for technophiles, but close.

---
Bowie Crossing, Hoyt's 14
Bowie Crossing, Route 197 north, between US 50 and US 301 • 301/262-7433
$8.50; $6 matinee; $5.50 kids/seniors

The most expensive theater on the list, Bowie Crossing is also the biggest. Aesthetically it's a free-standing big box, touched up with an angular and colorful façade. Its marquee is big and bright and indoor ticket stations number four, enough to keep the wait relatively short on busy nights.

Bowie Crossing boasts more trappings of con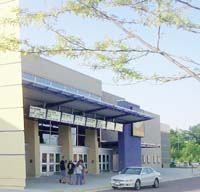 venience than any other theater around, with telephone ticket sales, bowed screens, THX and all that jazz. Reclining high-back seats reach far enough to catch a tall person's head and wide enough to let you spread out a bit. The chance of cranial infringement is none. Very occasionally, the movie is delayed in order for the manager to take a collection for the Jimmy Fund for pediatric cancer research, good or bad depending on how benevolent you feel at the moment.

Its one failing is service, from a slow concession stand to a projectionist who set Chicken Run askew and slightly off the screen. Dork. Previous visits yielded no such troubles; blame it on the good economy. It's an easy place to get in and out of, convenient to Route 197, US 50 and US 301. The parking lot is plenty huge normally, but it sometimes overflows into nearby restaurant parking.

One neighboring eatery, Don Pablo's, is a hidden danger. Try to catch a movie before or during the dinner rush, as movie-goers migrating over after an authentic Mexican meal tend to foul the air.

---
Crofton Cinemas, Loews 4
Crofton Centre, Route 3 north
410/721-3455
$6; $4 matinee/kids/seniors

Hidden behind Coconuts, Crofton's cineplex wins unfortunate distinction as the lemon of local cinema.

The floor departs from a stereotype of stickiness being instead slippery with what is probably popcorn butter. There are no wall drapes in these theaters; instead walls are gird
ed with unsightly corrugated plastic sheets punctuated with ventilation holes. The theater in question has rickety air ducts — though not as loud as Eastport's — and a distinctly musty smell, somewhat fitting for the day's show of The Perfect Storm. No habla THX.

There are good points. Service here is friendly, as if to say "thanks for not ditching us for Bowie." A surplus of parking is available. And, in spite of said shortcomings, the cinema seems to have its place in the community, as it did for a few talkative senior couples during a weekday matinee.

Man: What'd he say?

Wife: I think it was "man overboard."

Man: Oh. That makes sense.


---
The Senator Theatre
5904 York Rd., Baltimore
410/435-8338 • www.senator.com
$7 no matter who you are or when you go

Welcome to Bawlmer, hon.

The Senator Theatre, a classic art deco movie house, sits near the affluent neighborhoods of north Baltimore. Kept up but not fully restored, it lives on with a single big screen and a THX-certified sound system. It's the chosen site where famed Baltimore filmmaker John Waters premiers all his films. A walk of fame has been started just outside its box office; on this day one young volunteer sits within a border of bright orange traffic cones to paint the imprinted concrete artwork. The theater awakes in full glory only at night, when its marquee and neon lights glow vividly.

Just beyond the glass doors is a rotunda with windowed wall insets on either side highlighting coming attractions. Old photos along the perimeter honor fallen comrades, classic theaters lost in decades of redevelopment. Above the entrance is an original stylized mural of a swank couple.

The wooden doors swing open, revealing a concession stand and entrances to the theater. There's a patina on all the brass fixtures. Inside, overstuffed and streamlined art deco seats sit on a painted floor before a curtained stage. Old flapper music plays over the speakers. A modern "exit" sign is mounted with a slight tilt over the side exit. It smells of antiquity.

After a recorded lecture on how to turn off cell phones, silence pagers, handle restless kids and such, the curtains part to unveil a huge screen. There are no real estate agents in a slide show, no cinematic ads, no previews, no poppycock. Just the movie. The Senator's top-of-the-line projector and sound system make for a superb show, save one drawback: The floor's slope is so slight it even seems to go backwards, and the risk of staring into someone's head is very high.

The box office accepts cash only and charges $7 no matter what. Two skyboxes, on either side of the projection booth, can be reserved for parties of 15 to 40. Free parking is just across and down the street, at a gravel parking lot beside Staples.

Certainly worth the trip, if only for the ambiance.


---
Union Station, AMC 9
Union Station, Direct Metro Rail connection • 703/998-4262
$8; $5.50 matinee/students/seniors; $4.50 4-6pm

Past the opulent main hall, just off the lower level food court, lies Union Station's theater, a small but stylish cinema recessed in the catacombs of the House that Barry Rebuilt.

Past a glowing marquee of bulbs and brass, the inside features stuccoed basement walls painted in bold, bright colors. Theaters are named rather than numbered, each moniker announced on a uniquely themed marquee — such as the Capitol, Orpheum, Palace and Penn. Within, the theater is clad in deep blue curtains. Seats and slope are comparable to Calvert Village's setup, yielding low to moderate danger of heads in the way. Theaters are THX-certified and made for a very good screening of X-Men.

A little awkward to find for the non-initiate, it's more disorienting on the way out, as the exit dumps you somewhere in the food court. Also be ready for crowds, Union Station is a popular spot for locals as well as a busy depot. Making it worth the trip is the ease of getting there — just ride Metro to the Union Station stop — and Union Station's complement of shops and eateries. It's also convenient to downtown when entertaining out-of-towners or your own inner tourist's yearnings.


---
Home
$4,490 and up

Of course, you can also build your own theater any way you like it. Just save up those tax refunds.

The cutting-edge flat plasma screen TV of so many Phillips commercials has gotten cheaper, but prices still start at $9,000 — if you're lucky. So you might opt for a nice 32-inch flat screen high-definition television, HDTV, at around $1,700. You can buy whole system packages with speakers and all, but with a little effort you can piece together your own system powerful enough to shake foundations a block away.

To get surround sound, you'll need two stereo speakers for the front corners ($800 per pair), one center channel speaker for up front (where most of the dialogue goes through, $200), two surround speakers for the back corners ($400 per pair), a subwoofer for the heavy bass (this can go anywhere in the room, $400) and a receiver ($600) to control it all. Speaker cables will connect everything ($100). To get Dolby Digital surround sound, you'll need to make sure that at least one component, DVD player or receiver, has digital sound decoding as a feature and buy one fiber optic digital audio cable ($30). For optimum sound, you can fly the speakers like the pros do, by either mounting them on wall brackets or suspending them by wire.

Digital video disc — DVD — players offer drastically better sound and video than an antiquated VCR and start around $200. Many new DVD players have professional video jacks in the back, which send red, green and blue color through an optional component video cable ($60) to your HDTV for a better picture. Digital video discs are securely mainstream now, costing anywhere from $15 to $35. You should be able to find most at about $20 on sale.

When setting up your system, give yourself plenty of room between your HDTV and couch. If you sit too close, the image will appear broken up by the horizontal lines. Also, make sure your speakers are set out from the television; magnets can distort the image and damage your set if the speakers are too close. A home entertainment center helps break up that interference.

If you're web savvy, you can save hundreds of dollars by logging on to auction sites offering new and used equipment. Once you have all the components — and after a few hours of deciphering manuals, setting the remotes and cursing electronics manufacturers — you're ready to go. Settle into your favorite seat and get used to controlling volume by decibel ratings instead of the television bar scale. One day you might be ready to upgrade. Concert audio companies sometimes sell used show-quality speakers at $500 to $1,000 individually. Until then, your current system should be enough to rattle neighbors' nerves.

Just remember, the average human threshold lies in the range of 160 to 180 decibels. After that, ears bleed.

Enjoy.

---
So You Want to Be a Movie Geek …
… a few choice technical terms to help guide you in your escapism:

bowed screen: New movie theater big screens are curved to keep the film in better focus.

HDTV: High-definition television, what will soon obsolete the old family set. Needed to view high-tech broadcasts, already cascading from Washington stations, which can carry far more information. Will eventually make TV more interactive and give more viewing options, thus making it opportune for the viewer to waste even more time in front of the tube. Images appear in tightly packed horizontal lines, creating a sharper picture.

receiver: For home theaters, the box where video and sound meet. You need this to make the speakers work.

THX: A sound system certification invented by George Lucas. To pass muster, theaters have to insulate against noise bleeding through from neighboring theaters, have an updated speaker system and run ultra-quiet ventilation.
---
Copyright 2000
Bay Weekly