A First-Person Adventure on Chesapeake Bay
By Bob Bockting


The engine quit. It didn't die. That would imply deceased and that wasn't it, I hoped. I felt confident that once in calmer water, my sailboat's outboard auxiliary could be revived. That would permit it to push us up Rockhold Creek and into our slip - once we made it into the harbor. If we made it. For now, to get anywhere, we'd have to sail.

The problem with that was the same that caused us to be motoring in the first place. The wind blew at a lovely, lively 15 knots, but from the wrong direction.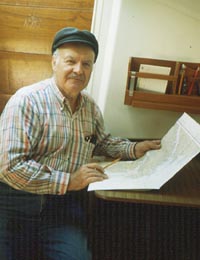 Not far wrong. Just wrong enough to keep us from sailing directly across Chesapeake Bay, from Knapp's Narrows to Herring Bay. To avoid a long tack to the northeast, we decided, or rather - being the skipper, - I decided not to sail but to motor the 10 miles straight across. As happens frequently, I decided wrong.
Bad idea, considering the seas that got rougher as we neared the center of the Bay. The boat pitched enough to lift the propeller out of the water at intervals, allowing the engine to overspeed. This happened more than once as the waves got steeper, and that's what seemed to have caused the engine to quit.
I asked my sailing partner and high school and college classmate, John Kennedy, to steer while I went forward to raise the mainsail. In truth, until I could get the sail up and the boat under way, there wasn't much for a steersman to do but hold the tiller to keep it from banging around as the boat wallowed in the seas.
Clinging to the swaying mast with one hand, I was less than delighted to find the main halyard fouled on the mast light and spreaders. It came clear easily from the spreaders but hung stubbornly on the light. I couldn't quite reach it with the boat hook.
John and I changed roles. A little taller than I, he went forward with a slightly longer boat hook. Our situation was not yet serious. Seas weren't quite big enough to break aboard, and the few freighters in the channel were a good way off. Wind and waves weren't, for the moment, getting any worse, but I casually mentioned our predicament to Saint Elmo, as a precaution. With a little luck, we'd soon have the boat back under control.

Reminiscing at Baby Owl Cove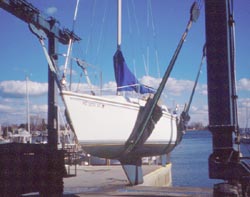 My friend and I were returning from a three-day, two night cruise on the Chesapeake's Eastern Shore. As tentatively planned, our trip would have taken us up the Bay, past Annapolis and Baltimore and onto the Sassafras River - unless the wind, on our day of departure, chanced to be coming right out of the North. It was, so we decided instead to go east and explore some creeks off the Choptank River.
That first day, we'd made a fast start and quick crossing, having saved time and the trip from home by spending the previous night on the boat at the dock, dining and breakfasting at the restaurant across the creek. Happy Harbor Cafe cooks better than I do and does the dishes.
The fresh breeze pushed us right along. Aquarius, a Catalina 25, hit six knots several times, and that's as fast as my little ship is supposed to go. My new toy (a roller furling head sail) did its thing, turning out to be easier to get used to than I'd expected.
In Knapp's Narrows, John honked the horn and the drawbridge rose, letting us through. We dropped anchor in the Choptank River and lunched on the contents of our doggie bags from last night's dinner. Our next heading led us southeast for a mile and a half to clear Nelson's Point shoal and round marker Number One at the entrance to Broad Creek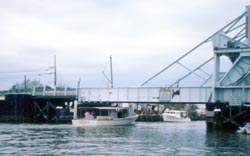 .
This was the first time for either of us to visit that aptly named waterway. We poked along enjoying the scenery, then motored west into Leadenham Creek and a little farther on, swung to starboard into Baby Owl Cove. This mushroom-shaped little cove may be one of the prettiest anchorages in the Bay. We planned to spend the night.
Evenings during these outings are fun because my companion and I have a lot to reminisce about. We graduated from Saint John's High School in D.C. in good time to participate in World War II. Subsequently, thanks to the G.I. Bill, we both finished Georgetown University. He graduated earlier. I had remained in the Army Reserve. Hence, when the Korean War broke out, I was invited to attend. We lost track of one another for the next 30 years.
Now retired, we take turns crewing on each other's sailboats. Our wives, too, have something in common. Neither is enchanted with the notion of cruising on anything smaller than the QE-II.
Our anchorage seemed ideal and well protected - unless, of course, one believed the weather forecast. Would the wind actually swing around from north to south during the night? That would require the passage of a front, right? My crystal ball, or whatever I was using for brains that evening, said that no front was likely to pass until tomorrow.
John and I spent the evening observing the herons as they fished in the shallows, and admiring, through our binoculars, the homes set back among the trees along the shore. My friend is a skilled bird watcher, and I'm catching on.
We set the anchor with plenty of scope, just in case the wind rose or shifted during the night. Actually, it did both, per the forecast, and kicked up a choppy little sea.
I can't recall all the things I didn't tie down, things that can bang and rattle and go bump in the night. Amid the boat's rapid swings and abrupt motions, I left my snug sleeping bag for several jolly little trips out on deck and cockpit to tie down and tighten things that should have been secured in daylight. None of these excursions was completely successful. At last, dawn arrived clear and bright but still breezy. Families in runabouts motored up and down crab lines. After breakfast, we weighed anchor to explore other creeks and inlets and seek a more protected anchorage for the coming evening.
One Creek More
We weren't disturbing that osprey, or we didn't mean to. She, or he, sat up there on that empty platform, atop that pole and screeched at us as we quietly slipped into our new anchorage. No nest was involved, no baby birds, just that platform. The raptor screeched anyway, though I stood on deck and explained that we meant no intrusion. I even took her picture. Finally, the bird got bored and flew off.
Our boat now sat moored near the upper tip of Grace Creek, just out of the channel used by a whole lot of commercial fishing boats. We anchored well clear of that channel, realizing that they'd be heading out in the dark of early morning. We didn't mind that they'd rock us and wake us. We were just a bit apprehensive that one of them might swing wide and run us down. Of course, we hoped they'd see our anchor light.
Again, John and I spent the afternoon reading and scanning the lovely waterfront homes, with their cool, pleasant-looking screened porches, well-kept lawns, doc
ks and boats. We hoped their owners enjoyed living in them as much as we enjoyed admiring them in their idyllic settings.
If you haven't already noticed, the salient feature of this cruise was hindsight. Each course of action I elected to follow showed clearly what I should have done - sometimes after the fact - sometimes during the course of the fact. But, as always, we delighted in just being out on the water, and perhaps I learned a little - I think.
With plenty of canned food aboard and plenty of fresh water, there was no excuse for my next poor decision. We should have stayed another day and visited Irish Creek. Why Irish Creek? It lay close to our way back and had been a destination for some other cruising folks who wrote that they'd missed its entry marker. We didn't. With visibility unlimited, we spotted the marker clearly. But, having decided to go home, we went. Bull-headedness doesn't run in my family. I've worked hard to acquire it.
That Wayward Wind
A northwest wind was promised. If it chanced to be northerly enough, we'd be able to sail directly across the Bay. If it were too westerly, we'd have to tack and incur an hour or so delay. As it turned out, that's what happened, but it took us a while to get it to happen.
A brisk westerly breeze funneled through the Narrows, slowing our passage. Clear of the outer marker on the Bay side, I took a direct heading and continued to motor. Bad move. We got to the middle of the Bay. That's when the engine quit. To misquote Bobbie Burns: The best laid plans of mice and men depend a lot on luck and wind direction.
While I sat grumbling (swearing actually) John went forward with the boat hook and, after a few pokes, freed the halyard. We raised the sails and were off in style. The freighters had gotten closer - but not near enough to be a problem.
We executed one long tack and made a splendid run into Herring Bay. In the approach channel, I punched the starter button. The engine caught at once and purred happily, all the way into our dock.
Bob Bockting, 77, retired from the Army Corps of Engineers to write from Bethesda and sail aboard Anchorages, above, from Deale. You'll have read other of his sailing stories in Chesapeake Bay Magazine.
---
Editor's note: Did you enjoy Bob Bockting's adventure? So did we. We'd like to make First Person Adventures an occasional feature. But we need your help. Send us your boating adventures by wind, engine or paddle on Chesapeake Bay, neatly written to 1,500 words or fewer, plus pictures. Address [email protected] or Editor, P.O.Box 358, Deale, MD 20751 • 410/867-0304.
---
Copyright 2000
Bay Weekly