Rediscovering the Best Roo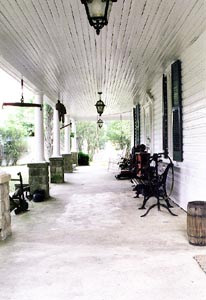 m in the House
By Darcey Dodd

For telling tales, sipping lemonade, smoking cigars, chasing butterflies, singing lullabies and courting, there's no place better than a porch.


Late at night, while most are brushing their teeth or reading children bedtime stories, Miriam Collins is drifting off to sleep on her screened-in porch on Parkers Creek in Deale.


She sleeps there every night, unless a storm drives her in.


"The wind comes off of the Bay, right up the creek," she says. "It's so nice."


Collins, mother of two and grandmother of four, began this tradition as a little girl. "It's sort of like camping out," she explains. "You can't be too particular and truly enjoy your porch."


Years ago, porches were where everybody lucky enough to have one slept on summer nights.


"The porch became common in the early 19th century in the South because it was so hot down there," says University of Utah consumer policy professor John Burton, who happens to be Bill Burton's younger brother as well as the lead researcher in a study of the uses of porches in modern times. "It didn't come to the Northeast and Midwest until the Victorian era. That was its heyday."


Before television became the family pastime, porches were the best places for telling tales, sipping lemonade, smoking cigars, chasing butterflies, singing lullabies and courting. The porch was a place for families and neighbors to enjoy the sweet summer breeze and each other. It was a way of life.


"The front porch was quite functional in the sense of community," says Burton, whose life-long interest was born back when he was a kid hearing old stories on his neighbor's front porch.


Porches went out of style after World War II when automobiles, television and air conditioning took over the American family.


House after house went up with no sign of the treasured attachments. After dinner, people retreated to the their couches in front of the talking box where cool-contr
olled air now flowed. "It became less attractive to sit on the porch," says Burton.

Until the late '80s, when porches reappeared. "New Urbanists thought it would bring back a sense of community by putting porches on homes. People had more money to build elaborate ones, too," Burton says.

Porches are popping up all over America today.

"It's sort of a retro nostalgic thing," Burton explains.

Those who've always adored their porches still do. At the same time, many who've grown up with the Brady Bunch are now enjoying the peaceful open-air alternative.

Porch Perennial

The porch has been around about as long as we have. It's made its way through history appearing, vanishing and reappearing again in various cultures.

"It dates back to the dawn of history," says 15-year Annapolis landscape architect David Barnes. "It was probably linked to the relationship of a barn or shed, where the original idea was to have animals in the same building as you, so you hooked a structure to your main dwelling."

The word porch stems from the Latin word porticus or the Greek word portico, both meaning the columned entry to a classical temple.

During the Middle Ages, it was a shaded, outdoor place attached to a building where people would come together to socialize before and after religious services.

As it popped up in Europe and Africa, it changed meaning and structure to satisfy each culture.

Not until the early 1800s did the porch emigrate to the United States.

Warm weather made porches first popular in the South, where people used the front porch to entertain. It was cooler out there, and their lucky owners might sip tea and watch a game of croquet on the front lawn.

In those days, the middle and upper classes were the only ones able to afford a porch, so it was a double value, affording status as well as comfort. "The poor really never had the discretionary income to have had the luxury of a porch," says Burton.

America saw the porch in a more generous domestic light in 1896, when presidential hopeful William McKinley, wanting to stay by his sick wife, ran his campaign from his Ohio porch. He won.

Porches flourished in the Victorian era. "The Victorians were very overstated. They were elaborate, decorative. On gingerbread types of houses, they had turned wood," explains Burton.

After our boys came home from World War II, the porch faded.

Why?

The noisy, fuming automobile chased people indoors. "People would be away from home more," says Burton. The auto gave America a way to move away and settle on cheaper properties creating the pathway for today's suburbia. Technology's post-war boom made out-of-sight communication ordinary. Telephones and television replaced friendly face-to-face chatting.

Together with air conditioning and new home planning — including garages and fenced-in yards — these technologies separated communities.

"Homes were like a cocoon where people could now go inside to cool down and watch television," explains Burton.

During the building booms of the 1960s and '70s, porchless houses spread across America.

Back to the Porch

Apparently porches were missed.

Since the late '80s, says Burton, "people have been trying to go back in time to the idyllic family or small town." For many, a porch has been part of the package.

In 1986, Burton decided to find out just who was — and wasn't — sitting out on the porch. His University of Utah study concluded that 17 of 113 older people — only 15 percent — and 78 of 159 younger people —about half— did not use a porch. The most common reason for not using a porch was not having one.

That's unfamiliar territory for Charlie Knight of Fort Meade. "I'd rather be sitting out here than in the house," he says of his huge wrap-around porch as he reaches to flick his cigar.

Knight, father of four and grandfather of four, grew up in Tennessee before settling in Maryland in 1953. Twenty-three years later, he moved into his then-porchless country house, now over 100 years old, hidden off a highway in Fort Meade. He promptly remodeled and built a porch
where neighborhood kids, including his own, would play hide and seek for many years to come.

"It's nice just to enjoy the kids and the fresh air with a cup of coffee," says Knight, swaying in an old swing hanging at the far corner of his porch.

The house sits at the top of a long drive, lined with spruce, pine and oak trees, old farm plows, a horse-drawn road grader and a dinner bell. Walk up the cement steps past big, white, plain columns raised on stone pedestals onto the stage-like porch and you'll find a corn sheller, wooden farm plow, sheep shears, some milk cans, old antique scales and a blacksmith's forge. Knight's style is American traditional.

You'll see hundreds of similar wrap-arounds if you drive through Chesapeake Country where both Victorian-style homes and such porches are, says Barnes, "very popular."

A porch is architecturally united to its building. Unlike the main part of the house, it's built on a foundation with no surrounding walls.

"It's built on piers for air or water flow and it's always off the ground," says Barnes.

"They're usually level with the first floor of the home and the height of the rooms within the home," adds Burton. That's about six to 10 feet in depth and typically across the front of the house.

Burton's Utah bungalow, a modest boxy type of house that was very popular in the 1920s and '30s, has big, square, brick columns. His neighbors across the way have large, plain, cylindrical ones.
"The style of porch goes with the style of home," says Burton.

Columns rise from the floor to support the roof overhead. Classical Greek columns are always round, like the ones supporting the verandah — a much larger porch that's almost always attached to a public building — on the State House in Annapolis. Like the Greek columns from which they're derived, some are fluted and some are simple. Capitals — the top hats on columns — range from simple to ornate.

Squared posts are squared at the bottom, round all the way up, then squared again at the top. Some have fancy scroll work.

John Burton is not the only family member with an interest in porches.

His brother, columnist and outdoors writer Bill Burton, is most at home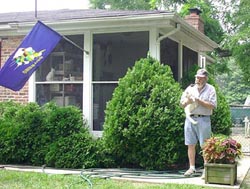 in his 10- by 12-foot, screened-in, wooden porch overlooking a lawn with birdhouses, feeders and visiting wildlife.

"I sit there from the time it's comfortable enough to be out there until the time it's not," says Bill Burton of the spot he uses to write and store gardening tools, stacks of newspapers and large cans of cat, bird and squirrel food.

Many Marylanders are forced from their porches when the ever-bothersome acks of mosquitoes flock to them. "When I was a little girl, my mother and I sat on the porch swing every night," says Joyce Kirchner of Chalk Point. "We would swing until the mosquitoes got us."

That's why many, like Burton and Miriam Collins, have screened-in porches. "I've heard down South they don't need screens because there are no mosquitoes," says Collins.

Bugs haven't diminished the popularity of porches. "They're definitely coming back," confirms Collins. "You see them more than you used to."

She's right.

"In the Mid-Atlantic, we have six months of good weather," says Barnes. "The porch extends the size of the living space. They're exceptionally important."

Are porches reuniting communities as well as satisfying their lucky owners?

"Today many are more or less for decoration than functional," says John Burton. "Many people are building porches but not really using them."

A lot of the new porches are less than six feet deep and smaller so furniture won't fit on them. Plus, some people tend to flock to their decks rather than the porch.

The difference, says Burton, is that "a deck doesn't have a roof and a porch typically does." And decks are more private since they're usually out back.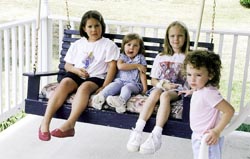 One thing's for sure: Young or old, you only have to use a porch to appreciate its value. "I love to swing," whispers three-year-old Taryn Jackson as she rocks back and forth, kicking her feet on her cozy porch in Jessup with little brother Stevie and big sister Tia.

"We're out there four or five times a week," says mom Tracy Jackson, 29. "Even when the weather is bad, we blow bubbles and swing. It's covered, so there's shelter from the weather, but we're still outside."

---
Copyright 2000
Bay Weekly