Bay Weekly Interviews:
with Darcey Dodd

A 'very grooveful sensation feeling' will flow 'round Sandy Point State Park at the Chesapeake Bay Blues Fest May 20 and 21
The sun glides across the tide. The scent of spicy pit beef floats through the air. Thousands of sandy-toed people pile into a park, making their way to cozy spots where they toss down blankets and cop a squat.
Soon, a hush comes over the crowd.
Up ahead, the stage lights up and out walks a guitarist dressed in cool slacks, a wide-collar shirt and a slick hat.
He begins to play, swaying his hips.
The guitar stings, but his lyrics are soul soothing.
The crowd takes it in. It's the blues.
"It's just a groove feeling, you know," says blues great Bobby Parker. "A very grooveful sensation feeling."
That sensation will flow 'round the grounds of Sandy Point State Park May 20 and 21 when 13 artists bring their music to the Third Annual Chesapeake Bay Blues Festival.
These accomplished bluesmen and blueswomen, ranging in age from 19 to the mid 60s, cover a half century of blues.
Bobby Parker, Little Milton, Otis Rush, Bobby Rush, Duke Robillard, Roomful of Blues, John Hammond, Taj Mahal and Godfather of Soul James Brown have been making music and dazzling audiences for more than 30 years.
Others - Debbie Davies, Bernard Allison, Robert Cray and 19-year-old Shemekia Copeland - perform with their childhood idols.
An all-star line-up like that means big bucks.
Last year the festival, sponsored by Chesapeake Bay Events, brought in $200,000 for Special Olympics of Maryland, Make-A-Wish Foundation of the Mid-Atlantic, Johns Hopkins Cleft & Craniofacial Center and We Care and Friends charities.
"When we say every dime goes to charity, we mean every dime net," says Chesapeake Bay Events director Aniela Ciuffetelli. Local vendors donate 25 percent of their take. Musicians salaries come from ticket sales, but Chesapeake Bay Events staff salaries are paid by Annapolitan Don Hooker, the man behind the Chesapeake Bay Blues Festival.
"The first year he took money out of his own pocket," says Ciuffetelli of the computer company owner and blues lover.
That festival proved Marylanders feel the blues.
"We had two days of rain and high winds, and more than 13,000 showed up," says Ciuffetelli. "In this area there are blues purists and they will do anything and go anywhere."
The festival draws blues lovers from far and wide.
"We'll have festival-goers from the West Coast and some from Europe that planned their vacation to come here for the festival," says Ciuffetelli.
The blues groove is alive and kicking.
"I think it's come out on the cutting edge," says Ciuffetelli. "Artists are getting the attention they haven't gotten. The blues festival is giving them recognition, and we are making money for charity."
This year's artists have felt the blues their whole lives. We've heard their soulful sound live, on records, in movies and on television commercials.
Here, five greats tell you in their words what the blues is all about.
---
---
Bobby Parker
A little blues, a little gospel and a little jazz
Louisiana-born Bobby Parker has been fascinated by the guitar since he was a kid. The fascination stuck with him.
He joined his first band, The Charms, right out of high school in the early 1950s.
Discovered young, Parker went on to play with artists like Bo Diddley, Fats Domino, Chuck Berry, Buddy Holly, Little Richard, Jackie Wilson and Sam Cook.
He's earned his national fame for writing and singing hits like "Watch Your Step," which blew up British and American R&B charts in the early '60s.
Today, he lives in Suitland, Maryland, and continues to lift fans with his amazing guitar by pressing CDs and performing along the Eastern Seaboard.
Q Have you played the Chesapeake Bay Blues Festival before?
A This will be my first time.
---
Q What should festival-goers listen for in your music?
A My parents played a little music. My mother, gospel. My father liked to play the piano. So you can hear a little blues, a little gospel and a little jazz in my music.
It's a happy music, you know. A lot of people think that blues music is to bring you down, but that's not true. The word blues is just chord changes: 12 bars of chord changes. It's not anything to make you depressed.

---
Q Is the blues vibrant as ever?
A I think it had a resurgence in the past 10 or 12 years. For the white crowd, Stevie Ray Vaughan brought it back. On the black side, it was Z.Z. Hill. People got tired of what they were listening to, and all of a sudden it was back again. It goes around, and then it's back. I think it will go down a little bit, but it'll always be around.

---
Q Who listens to the blues today?
A I think to a certain extent young people listening to music are going all kinds of ways. But blues is kind of for an older audience. It's a mature music.
---
---
Little Milton
A soul-felt project
Little Milton, 65, got to know the blues as a teenager in his hometown in the Mississippi Delta. There, the young Milton Campbell discovered his love for music by first listening to the Grand Ole Opry.
He learned to play the guitar and took his act to local clubs.
Blues great Eddie Cusic heard his strong voice at a small-town nightclub, and Little Milton was discovered.
The blues master's hits include "We're Gonna Make It," which went Number 1 on Billboard Magazine's R&B singles chart in 1965.
In 1997, he won the Rhythm & Blues Foundation's Pioneer Award.
Little Milton still takes his smooth blues sound across the country and abroad, touring nine months of the year.
---
Q Have you played the Annapolis area before?
A I played the festival before, a couple years ago. It's a great festival. It's a great audience.
---
Q How does this compare toother gigs?
A Most festivals, especially in your area, are very rewarding to me. The people come to get together and have fun. To me, that's rewarding. Different areas, different locations: when people come together and enjoy your music and have fun together, basically that's what it's all about. I'm there to do a job.
---
Q What's distinctive in your music?
A My music, my recordings, that's the inner soul of me. I don't perform any songs I don't like. I don't record any songs I don't like. It's a soul-felt project. It's me. I try to project that to the audience like I feel it. My main objective is to make sure they can feel it.
This is their show. Not mine. I try to make sure they enjoy what I'm doing. I'm doing it for them, but I'm getting enjoyment out of it, too. I enjoy my music.
---
Q The blues is an old art. Will it survive?
A It's a very old art form. It's a very important part of our American heritage. It's the foundation of American music. Will it survive? Of course. It has survived. It's stronger now than it ever has been.
The blues is accepted today. People are no longer frowning on it or sneaking to hear the music like they once did. Once you get people interested in it, most certainly it will survive. It used to be a more or less older audience, but now that's not the case.
A lot of people are dedicated to the so-called blues. I say "so-called" because there's not one definition. It's the best that anyone that loves music can enjoy. The lyrics are for real. The melody accompanies the lyrics and makes the whole thing one hundred percent.

---
---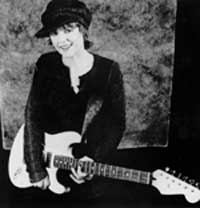 Debbie Davies
Writing from my heart
Southern California native Debbie Davies developed her powerful electric blues guitar while playing in rock & roll and blues bands in college.
In 1986, Davies joined Maggie Mayall's all-female R&B band that toured with Maggie's husband John Mayall.
She credits her first break to Albert Collins, who felt her enormously energetic picking skills and asked her to work with him. She played with Albert Collins' Icebreakers for three years.
Davies' writing, playing and soulful singing have made her popular with American and international fans. In 1997 she won the W.C. Handy Award for Female Contemporary Blues Artist.
The 47-year-old guitarist worked with the late Stevie Ray Vaughan's rhythm back-ups Chris Layton and Tommy Shannon on her latest release, Tales from the Austin Motel.
Q Where are you in your art today?
A I'm a guitar player first and foremost. I spent years working on being a lead guitarist during a time when it wasn't real common for women to be lead singers. I'm a singer, songwriter and guitarist.
I've been working a lot on song writing. I try to write from my heart and life experiences and stuff you want to share with other people: things you've learned or things that are real heart-felt. Sometimes, I'll write something just for fun. We try to keep the energy going and keep it fun.

---
Q Do you think the blues will endure?
A I think the blues will endure. I really do. It's a special music. It's a great music.
I don't think it's at one of its peak places right now, only because when I started the older, traditional artists I admired have passed away. But there are plenty now that are passing it on and many are traditional, which is really cool.

---
Q Is the blues attracting young people?
A I think it will always attract people. A lot of young artists are completely drawn in. They are picking it up and adding a youthful sort of rock edge. Most are in other areas, but there are still enough that keep coming into blues.
---
---
Otis Rush
It's about fixing what you're feeling
Otis Rush, 65, was born on a farm in Mississippi, where he taught himself to play guitar. In his teens, Rush moved to Chicago and took lessons from Reggie Boyd.
In 1956, Willie Dixon liked what he heard and took Rush under his wing. That's when Rush started playing what is known today as his signature 'crying guitar.'
His heart-wrenching vocals and left-handed, upside-down playing have been praised time and time again.
In 1998, he won the Best Traditional Blues Album Grammy Award for Any Place I'm Going. He has been nominated this year for the Instrumental Guitar and Contemporary Blues Album of the Year W.C. Handy Blues Awards.
He still lives in Chicago, sending out his blues spell to audiences around the country.
---
Q How does the Bay Blues Fest audience compare to other places you've played?
A It seemed to be about the same. It's the feeling. That's my way out. That's the way to go. I love it and I can't make it without my fans.

---
Q How is your playing different than in your early days?
A I play a little different. I hope I play better than I used to play. I practiced. I'm still practicing and I guess I always will. I want the audience to get the feeling.

---
Q What is that feeling?
A What I'm singing about. It's the blues. The blues is a feeling. I write my feelings and somebody else, I'm sure, will feel the same thing I do. I hope to reach them.

---
Q Who does the blues attract?
A I think it will attract everybody if they listen. It's about fixing what you're feeling. You might be able to fix it, and that's what it's for.

---
---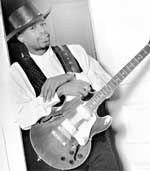 Bernard Allison
We're about communicating with the people
For Chicago-born Bernard Allison, 34 and the youngest of nine children, blues came naturally. He inherited his love and talent from his father, the late blues great Luther Allison.
The younger Allison's official career began at 13, when he was part of a live LP his father recorded.
Three days out of high school, a call from Koko Taylor led him on a three-year apprenticeship.
Allison also picked up tips from such greats as Johnny Winter and Stevie Ray Vaughan for a mix of traditional and modern blues stylings.
He's played in Willie Dixon's Blues All-Stars and with his father at the 1993 Chicago Blues Festival.
He chose a different route to fame than most, moving to Paris in 1989 to play with his father and eventually making a name for himself throughout Europe.
His fifth critically acclaimed album, Keepin' the Blues Alive, was his first American made and released.
Now in his second stateside tour, Allison is keeping the blues alive with his fresh style.

---
Q Where have you played lately?
A We have like 59 to 60 shows on this tour. We just came from Australia. That was really good. We were received really well. We're trying to cover new territory now.
---
Q Do you find differences in national and international audiences?
A A lot of these places are new for us. This is my second year of touring throughout the U.S. Stateside, the crowds are the same, but we're a little more established in Europe.

---
Q What should we listen for in your music?
A I'm using a lot of feeling. We don't treat it like a normal blues show. It's a show. People pay the fee for music and we might as well keep it flowing from start to finish. We call it high-energy blues. We don't even call ourselves a blues band. We play all styles of music. We play all of my influences, from rock to gospel to jazz to blues. I try to show that.
---
Q Is blues alive today?
A Yes, definitely. It's on the up.

---
Q Is it attracting a younger crowd?
A The new generation of blues is a little bit more of a crossover. I think that's what it takes. We've got to attract all types of ages. In our type of show, we include something for everybody. If they like funk, we have a little bit of that. If they like rock, we do a little of that.

---
Q What feeling are you giving your audience?
A It's a high-energy feeling. We're about communicating with the people and making them feel like they're part of the band. I make a point to go out in the crowd and play my guitar and talk to the people. It makes them feel a little more relaxed.
---
Copyright 2000
Bay Weekly