What's a Mother to Do When Her Fledglings Have Flown?
by Connie Darago


Mother's Day was far down the list of holidays at our home. I guess that was my fault. I left home at 17, and though I moved only 300 miles away, I became busy with my life.


But life's journey is full of long roads with tunnels and curves. Things change.


When my mother became ill, I traveled the 300-mile trek often. Music was a comfort on the long journey. Trip after trip, I listened to disc jockeys from D.C. to Richmond, Charlottesville to Roanoke. They seemed to be playing one song again and again. I soon memorized it in those difficult days.

Can I sail through the changin' ocean tides?
Can I hack all the seasons of my life?
Well I've been afraid of changin' cause I built my life around you
But time makes you bolder, even children get older, and I'm getting' older too …


—Fleetwood Mac: "Landslide"

Mother's Day 1998 found me at a bedside vigil. I carried a small basket of dew-kissed red silk roses, a white porcelain angel and puzzle books to the hospital for the occasion. The puzzles would remain blank and the angel accompany me home to join my collection on the antique oak dresser Mom had given me years before.


I left the ranks of daughter that year to travel a new path. I've realized just how short life is. I've realized it's as important to pursue those dreams put on hold years ago as it is to tell your mother — and your children — what's in your heart.
---
From Mother To Daughter

I've been the mother for 34 years.

In this millennial spring, with my beautiful 22-year-old daughter
returned home after three and a half years in North Dakota, I feel an unexplainable urgency to pass on at least some of the knowledge I've gained. There are things she needs to know as she faces life as a woman.

I want to tell her how proud I am she's survived her stay in no-man's land. Proud she carried through with her commitment even though she may have second-guessed her decision to follow her fiancé to his military assignment. I want to tell her that all the dreams and aspirations I've had for her are coming true. Best of all, she's a confident, strong, responsible young woman who has proved at a young age that she has what it takes to face what life throws her way.

I want to tell her that being a mother is the hardest job she will ever have — yet the joy children will bring to her life will outweigh the heartbreak. I want to tell her that sacrifices made in the name of motherhood are worth the effort.

And I want to tell her a fact of life I'm just learning: Dreams are still there to pursue after the young have left the nest.

The Nest Is Empty

It seems like only yesterday that I was a young mom, struggling to make enough time in the day for three children, a husband and a part-time job.

From the first moment I held each of the children — precious, tiny and helpless — my life was changed forever. How proud I was as they pedaled away on their first bikes with no training wheels. I glowed from within as they earned their first Scouting badges, performed in band recitals or school plays. I cried bittersweet tears as they donned their tuxedos and prom dresses, caps and gowns, walked down the aisle to be married and moved away from home.

We gave them their bedroom furniture because I couldn't bear to remember the image of a sleeping little boy, felled by exhaustion fully clothed. I stripped wallpaper of ships and little flower borders, putting trinkets they had left behind into the attic where I couldn't see them.

Each time they visited, they marveled at how much the house had changed. "It's like we never lived here," one said. Little did he know that was part of Mom's SPLCP — Surviving the Pain of Loosing Children Plan.

After my daughter — my youngest — left, the house was too clean for human habitation. The rooms had all been redecorated, and I often found myself sitting in the great room staring at the family photo wall. Tears flowed.

Less than a year after my mother died, I turned 50. Until that birthday came, I had not adjusted to my empty nest.

Now I began to see my life like the acts of a play. Being daughter and being mother — both were hard acts to follow. For the first time in many years, the next act in my life had not been written.

Starting Over

I wasn't sure what the next step was. But I knew I needed to make a bold move. So what if I failed? I had nothing to lose.

But what should I do?

A television expert on self-esteem surprised me with my answer: "If you're looking to fill a void in your life, you should pursue something you enjoy doing; something you're good at," he said.

Was he talking to me?

I had always loved to write. In high school, I had made straight As on every story I had written. I had never attended college, but I wrote poems and stories for my children and husband, skits for Scout camp and a newsletter for my volunteer group, The Friends of Calvert Cliffs State Park. Whatever I wrote earned praise. But I hadn't taken it very seriously at the time.

Now, short on money and confidence for classes on how to become a writer, I stepped out on the thin ice of all the words I'd ever written. I ran copies of my newsletter, added a small cover letter and submitted them to three local papers. I asked for a chance. Never in my wildest dreams could I have imagined I'd be writing stories for a paper.

The next step was hard. I had no idea of the work and effort that realizing my choice would take. But almost overnight, glimmers of self-esteem returned. My husband reported to the children how happy I seemed.

Now I looked to other women, mothers who like me had entered the work force after raising children. They were enjoying successful new careers. Could I join their ranks?

For this story, I chose three almost at random. Many others — in my circle or yours — would have worked as well.

School the Second Time Around
Ann O'Neill

Long-time Huntingtown neighbor Ann O'Neill had surely proved success could come the second time around.

O'Neill had become Calvert County's director of communi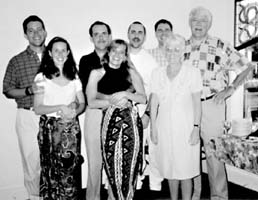 ty resources, moving from motherhood to a part-time job at her church to this full-time position with local county government.

Her path had been a little different from mine. Letting go was less traumatic for O'Neill.

"I was one of those mothers who clapped her hands and jumped for joy when my last child left for college," O'Neill admitted. "I felt the children were ready to move on."

So was she. She'd had her hands full being mother to her four children, born in five years. But even with a full-time plus job as a mother, she wanted more.

"My mother-in-law was appalled when I announced I wanted to work part-time when my youngest was three," O'Neill recalled. "Fortunately, my brother-in-law helped smooth the waters by convincing her that a child has had its family and religious values instilled by the age of three if parents have done their job properly."

So, with family approval, she began reaching out.

O'Neill re-joined the work force slowly.

"I started with a part time job at our church," she said. "It helped build my confidence. Then, I moved to a local landscaping business for a year."

Her dream of working full-time came true when her youngest turned eight.

"I think going back to work when I did was good for the entire family," O'Neill said. "The transition wasn't as traumatic as it would have been if I waited for them to be older. We sort of moved on together. We all had something to bring home to share and talk about."

O'Neill's next job was staff assistant for Citizens Affairs of Calvert County. That new position had been created to bridge the gap between long-time county residents and thousands of new residents. She was the first to actually intervene to help resolve conflicts between old-timers and new comers.

With O'Neill's new career, an old desire returned: advancing her education. She'd earned her B.A. before her Mrs. Now she went for her Master's Degree. In 1991, when her youngest was 20, O'Neill started night classes at University of Maryland.

Following that dream meant countless trips from her Huntingtown home to the University of Maryland, College Park.

"It wasn't easy," said O'Neill. "It took me three years of late nights and many weekends — and a very understanding husband."

Her kids understood perfectly. She was attending the University of Maryland at the same time all four of her children were there.

That's where the similarity ended.

"We older students seemed more driven, motivated. Older students have a specific purpose and are more serious about class work. They don't have the same socializing issues younger students have. But we formed a camaraderie," O'Neill said.

She has considered going back to school for her Ph.D., but even her hands are full with a husband, four children, five grandchildren plus one on the way and a full-time job.

"I wouldn't have it any other way," O'Neill concluded. "I love my children, and I love learning. I'm one of the fortunate."

But she is not alone. More than ever before, older women are returning to school.

Getting Help

The retooled College of Southern Maryland is eager to help women return to school.

The college's Returning Women's Program helps women 25 and older come back to the classroom, while Project Transition reaches out to displaced homemakers. Both help women by listening and counseling. Project Transition also assists with tuition, a range of support services and work readiness classes.

Such programs make a difference, according to Benita Sneade, who works in The College of Southern Maryland's support services office and knows first-hand of what she speaks.

"I'm one of so many women young and old who are going back to school, so I see from the inside. It's difficult for many of them to start again, and it's harder to retain [information] after you get older. It's not easy, but it's worth it. And the women I see give me such inspiration that I know I can do it," Sneade explained.

Like O'Neill, Sneade is getting ready before her nest empties.

"My children are older, and I thought it was time I tried school again," she said.

Anne Arundel Community College gives plenty of help, too. Their Women's Institute offers programs throughout the county. Women seeking a first or second-time-around career can get help from Continuing Education and Workforce Development. Professional women upgrading their skills can look to the Occupational Skills or Continuing Professional Education for licensures, certifications or business development.

More help comes from The YWCA of Annapolis and Anne Arundel County. Their gamut of programs includes a Guide to Career Planning to help women develop career plans realistic to their current knowledge and skills. With classes in resumé writing and job hunting strategies, the Y's Job Development Series teaches women how to get a job later in life. And classes in their Personal Growth Program help women build self-esteem, reduce stress and increase their sense of well-being.


Work the Second Time Around
Penny Rodeffer

When Penny Rodeffer was pregnant with her first child, the long-time friend and Calvert County School Board secretary chose to leave her federal secretarial job at Andrews Air Force Base to be a full-time mom.

"I felt it was important to be there for my children," said Rodeffer. "I had no experi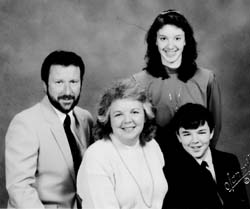 ence, but felt I was the best person for the job, so my husband and I decided I'd stay at home as long as financially possible.

"I enjoyed being mom," Rodeffer said. "I felt I was giving my children a better start in life by being there for them."

She still believes the choice was right for her, but, she added, "You have to pay a price if you choose full-time motherhood. You learn to make sacrifices."

When she "felt the need to return to work" more than a decade later, she felt left behind by the work world as she'd known it.

"When I left my job with the government, a computer was the size of a room," Rodeffer said. "Now if you don't have computer skills even in the simplest of jobs, you can't survive."

Readjustment at home was just as hard.

"It wasn't easy," she remembered. "The family was accustomed to having me home. Going back part-time gave us time to adapt as a family."

When Rodeffer's nest emptied, it was her turn to adapt.

"It was an adjustment when my daughter went away to college, but more difficult when my son, the youngest, went into the Navy," she says. "You have extra unsettling fears to deal with. Every time another dispute breaks out somewhere in the world, you pray your child won't have to go. It was hard letting go. No matter how old they are, you're still mom."

On a brighter note, she said she's glad for "less laundry, smaller grocery bills. The house stays much neater, and it's a blessing not to be head chauffeur."

Reentering the work force, Rodeffer found she needed new skills to meet the high standards she had always set for herself, so she took several adult education classes at the high school and some at the community college. Learning the latest computer technology was her biggest challenge.

When she went to work full-time in 1996, Rodeffer said "I felt I had done the best job I could do with the children, and I needed to move on in my own right."

Full Circle
Paulette White

Friend and accountant Paulette White chose to stay at home with her three children, a decision she and husband George made when they married.

"We wanted to be there for them, educate them, guide and comfort, laugh and cry and g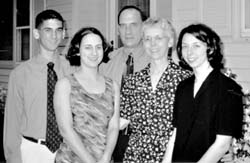 row with them, instill values and faith, be their role models, share in their activities and their lives, " said White.
"You make sacrifices and learn to do without some of the luxuries others have to stay at home, but somehow you don't think of them as sacrifices."

White should know sacrifices. She grew up as one of 12 children.

As a mother, she became "very involved" in the lives of her children. "Girl Scouts, Boy Scouts, church and school took a lot of time," White said.

So the empty nest syndrome was a constant problem for her.

"From the time the children entered school I went through a type of withdrawal," she said. "I dreaded September when they would go back to school. I missed them."

That was mild compared to the day she sent her girls off to college.

"I walked away from the campus leaving a piece of my heart behind. I didn't want to do anything, I became depressed," White explained. "I didn't touch a thing the girls had left behind. I closed their doors, hoping they would return. The empty nest combined with the fact I lost my dad a few months later left me struggling. The fact I still had a son at home to nurture kept me going."

As time moved on, Paulette realized she needed to do the same. Her middle-school-aged son needed less mothering, and she needed work.

"I had been a mathematical statistician at the National Institute of Health, but knew I couldn't commute that far. I hadn't sacrificed the last 20 years to go back uptown, so I began searching," White said. "I knew I had to find a job nearby with flexible hours. I was still a mom and needed to be there for my son."

She began by choosing a job she was familiar with, one she'd done working her way through college years before.

"I started by doing some accounting for our church. At the end of the year, the priest asked if I felt comfortable closing out the books. I declined but offered to help the accountant they chose," says White.

She connected with that accountant, gradually taking on more work. But at home, each stage of the transition was hard, demanding adjustment on everyone's part.

A full-time employee now, "I'm still a mom first," White said. "I work five minutes from my home and have flexible hours. There was never any doubt when I took my job of my priorities."

She has no doubt that the choice to be a stay-at-home mom was right for her.

"If I hadn't been at home with my children," she concluded, "I might have missed hearing my four-year-old daughter make a now-legendary statement.

"I allowed the girls to use my dining room as a play kitchen. One day I asked them to clean up their kitchen things. My bright-eyed, serious daughter looked up at me and said, 'Mom, if you choose to have children, you choose to clean up after them.'

"I thought for a moment, then decided she was probably right. But I made her pick up the toys, nonetheless."

Life Is Full

The paths we take in life, the choices we make, those we meet, those we connect with — all combine to make us what we are. I found comfort in hearing the stories of other women, friends and neighbors. I found my feelings were not so unusual, my story not by any means unique.

Their stories gave me inspiration.

I hope my daughter decides to be a mom someday, and that my sons have children, too. I want them all to know the joys of being a parent, just as I want them to know that life continues after the young have left the nest.

My dreams of being a published writer went on the back burner for a while. Deep in my heart, I know my writing would have had less meaning had I not chosen motherhood. I made the right choice. Here I am at 50, children gone, beginning anew.
---
Copyright 2000
Bay Weekly