Bay Weekly Interview: Mark Frazer
North Beach's Mayor Talks About the Old Resort's Bright Future
with Sandra Martin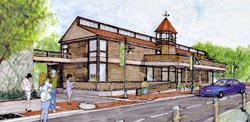 At 100 years old, North Beach is becoming Chesapeake Country's first 21st century small town
It's not the same old North Beach.

Been down so long there's no where else but up, people used to say about the beloved old beach resort. But up was a long time coming.

You had to outwait the '70s. Back then, said Dale Thomas, proprietor of Nice & Fleazy Antiques since early in that decade, "North Beach was the last ghost town on the Eastern Seaboard. Everybody who came here was lost."

You had to outwait the '80s, when even the bars folded.

You had to outwait the '90s, when millions of dollars invested in infrastructure disappeared underground.

Those were the derelict years when streets crumbled, cottages tumbled and commerce defected.

Still, North Beach had things going for it. To the east, the Chesapeake Bay gleamed like a million dollars. And through thick and thin, North Beach kept its rare public beach open, accessible and free.

Nor did it ever lose its small town feel. With no more than 700 homes and businesses sardined on small lots, North Beach has always been the kind of town where neighbors were likely to know neighbors. You could walk around — and walk in relative safety for every intersection is posted with four way-stop signs. There were always places to go: the post office, a grocery store, at least one restaurant and always a bit of shopping — though you could buy only so many collectibles or motorcycles.
---
Of course, good news would pop up like grass through asphalt. In the '90s, new sewers and a water purification plant shared with Chesapeake Beach laid a solid foundation the envy of places many times grander. At the same time, the town made itself a plan covering every aspect of life in the ideal town North Beach would someday become. Maybe most important of all, citizens kept investing their faith and good works.

High-end new condos appeared, and with them bright-idea businesses. The old chain-link gate finally came down, opening to walkers, gawkers and anglers a restored pier jutting like a finger 550 feet out into Chesapeake Bay.

But like the waves that shaped the sandy beach, ebb always just about matched flow.

Nowadays, the transformation everybody's been waiting for has sneaked up on North Beach. Rub all those years of waiting out of your eyes, and it's plain to see.

Which is why North Beach isn't waiting till its charter date, 2010, to celebrate 100 years. Why wait when in the year 2000, 100 years after it was platted, North Beach has, in the proud words of Mayor Mark Frazer, been reborn.

"What's happening now is more than a revitalization. It's a rebirth," says Frazer, who was elected in 1998.

Frazer gives nine good reasons why century-old North Beach just might be the 21st century's small town ideal.


---
Housing for All

At a mile by a mile and a half, North Beach is a small town. From First Street in the south, it runs to 11th Street in the north. From its natural eastern boundary, Chesapeake Bay, the town stretches only six blocks north. Avenues follow the alphabet, from Atlantic to Greenwood.

On the original 1900 plat, most streets (running north to south) and avenues (east to west) were given place names. A few roads, like Dayton, have kept city names.

Those 33 blocks were entrepreneurially platted into hundreds of tiny lots only 25 feet wide so lots of summer visitors could enjoy the natural pleasures of Chesapeake Bay and the man-made pleasures of Chesapeake Beach.


---
Q Mayor, tell us about your town. Who lives here?

A My sense is that we have a healthy mix of retired, long-term residents, young families who live here because of affordable prices of homes, and two-income families moving into town as they discover North Beach.

If you look at the demographics of the entire town, I think you'll see that with the influx of new residents, the mean income is on the way up, which is a healthy sign.

---
Q Where do people live?

A The town is built out. Homes are being remodeled, additions put on and occasionally a place will come down and a new one go up.

There are a few lots for in-fill development. Most lots are 25 feet, though you now need a 50-foot lot to build. Just to show you how anxious we are for in-fill development, our town council has given holders of 25-foot lots opportunity to develop without having to come to the town planning commission or board of appeals.

Since the '90s, we've had two condominiums on Bay Avenue: Mead House, with about 12 units, and Baywalk, with 28.

Burnt Oaks, at Frederick Ave. and Eighth St., is a fairly new, dense area of town homes and apartment.

We have only one area for new home construction. That's at the western end of Second Street where in 1996 the town annexed some property from Calvert County. Nothing's imminent, but we're anticipating a large community of 115 townhomes.

---
Q What's the price range for living in North Beach?

A Rentals range from less than $400 to $1,200 or $1,300 down by the waterfront.

To buy, Bay or Atlantic Avenue would be most expensive. For single-family homes there, you'd pay in the upper $200,000s or lower $300,000s.

---
Q Landscaping has become one of North Beach's charms. There's even a North Beach Tree Committee that cares for trees in public places as well as advising on Bay-friendly gardening and native plants. Who's behind the landscaping?

A We have a very close partnership with the Garden Club. The town provides the muscle, they the expertise. There's also a tree committee.


---
A Common Vision

The new North Beach is rising on the foundation laid over many years. Like so many Bay communities, North Beach came together every which way. But in the '90s, citizens sat down with professionals to set standards for every aspect of town life from infrastructure to picket fences.

They had a vision: "To promote controlled and attractive change to improve the waterfront and commercial areas of North Beach so that it serves the needs of the Town as well as the broader community by generating revenue while remaining sensitive to the unique character of the Town."

---
Q What's your vision for North Beach?

A I do not want to change the character of the town. I think we can make it better without making it different. It's important to preserve the feeling of essentially a large neighborhood.

This is a tight community, but it can be tighter. There is a division between those on the water and those back in the older part of the town. So I'm doing what I can to address the needs of both areas of the town.

Improving streets and sidewalks and making aesthetic improvements to the town: that's where we are now. The hard work by previous administrations is very much a part of this rebirth. I have excellent timing: I'm able to take advantage of that.

Because we are so small, we have to do everything right. We have to plan very carefully. We have to see that every square foot of town is put to the best possible use in a sustainable way. We've got to preserve the established character of the town and improve its appearance to make it more attractive to the small business.

We're limited in what we can support, but I think we have a very doable plan.


---
Children and the Elderly

Q North Beach is a potential paradise for kids and senior citizens both because it doesn't take a car to get around and because there are places to get to. But the community center (at Dayton and Fourth, where the old library and fire department used to be), is overwhelmed by the demand from both young people and seniors, and for many years the playground was a closed-off street with sewer culverts and basketball hoops.

Does North Beach's rebirth make more room for the two populations that spend most of their time in town?

A We'll be getting a Calvert County Senior Center. We'll have planning money in fiscal year 2001 for construction in 2002. Unlike Prince Frederick and Lusby, ours won't have housing, but we're getting that privately.

Across the street from Town Hall, Ron Russo has started construction on a new 49-unit, three-floor senior citizen apartment complex. At Burnt Oaks, developer Ken Mueller is also constructing 28 more apartments in a four-story senior apartment. So we'll have 77 units devoted to seniors.


---
Q That's impressive for seniors. What are you doing for kids?

A We're negotiating with the Girls and Boys Clubs of Calvert County. They have plans — and $100,000 from the General Assembly — to build a facility down in Lusby on five acres donated by the Calvert County Board of Education.

They also are anxious for a northern facility. North Beach has been lucky enough to attract them. We hope to see their northern club in the Fourth Street Park.


---
Q What do you envision for the Fourth Street Park: a full-scale park, on, say, the model that's been built by volunteers at Calvert Cliffs State Park?

A Everything here's on a much smaller scale, so, yes, to the extent that we're able to do that.


---
Q When will the Fourth Street Park come to town?

A We will be making improvements to the park this year, but the arrangement with the Girls and Boys club will take a couple of years.


---
Balanced Growth

Q Our Chesapeake Country communities and increasingly our countryside have plenty of wonderful homes. But what makes a town special is places to go and things to do. What's upcoming on North Beach's commercial front?

A For businesses to prosper in town, we need to draw visitors. Town population is not sufficient for businesses to do well year 'round.

We want businesses to do more than make it. We want them to prosper. We've received a $31,000 grant to conduct a planning and marketing study to find out just what would work in North Beach.
A new business, Discount Realty, has just moved in on Bay Avenue. That tells me a lot about the town because Kitty Lusby and Sandy Monger are smart business people who've been in the county for years.

---

Q A lot of the old buildings in bad repair have come down. Others have been remade. What's going into some of these spots?

A The major construction in town is between Town Hall on Chesapeake Ave. and the waterfront, and the large part of that is commercial or institutional.

Between Third and Fifth streets, Bay Ave., the most valuable property in the town, sits undeveloped. Along that waterfront, there's a section of almost two and a half blocks where the IGA supermarket is the only commercial activity. We've planned to maximize its intelligent use.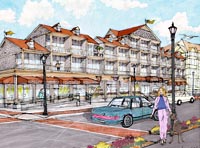 I think you'll see some specialty shops along Bay Avenue. And we need a market, because the IGA's days are numbered. Two development firms are interested and have the resources to develop an entire area.


---
Q Supermarkets like Food Lion and Safeway?

A No, we want the mom-and-pop type of store, like Roland's in Chesapeake Beach.


---
Q Anything besides shopping?

AWe would like to marry commercial and cultural opportunities, which are obviously good for the economy, with an inn and conference center in the same complex.

Imagine an inn of 30 or 40 rooms with the best view you could want. I believe there's enormous possibility to attract people and groups — be they private or public — that now go to Solomons or Ocean City for their conferences.

Imagine a theater. There is no performing arts theater in Calvert County, aside from the Mary Harrison Cultural Center, a high school auditorium, and the small Calvert Marine Museum Auditorium in Solomons.

Right here on the waterfront, I see a performing arts theater, with facilities for dinner theater, where the numerous thespian groups in this greater North Beach-South County area can perform in a small, warm intimate center for 200, 300 people.

Let me show you what I think the future of that area is going to look like. If you were standing at the Visitor's Center, this is what you'd see …

---
Q That's Baltimore-like with openness and recesses moderating the scale of tall buildings. So North Beach could become sophisticated, urbane at its Bay front, with a small town surrounding.

---
Infrastructure

Infrastructure is the part of life you don't think about — until your toilet or septic or storm sewer backs up. In the '80s into the '90s, most renewal energy went into rebuilding North Beach's infrastructure.

Every home and business was linked to the new Chesapeake Beach Wastewater Plant. Flooding — which used to be common along Chesapeake and Bay — was controlled with storm sewers leading to flap-gates at the Bay.

For usable water, two massive wells were dug, and a 350,000 gallon water storage tank rose above the city as a blue landmark visible from all directions.


---
Q Is the town's infrastructure now complete, modern and sufficient?

A The provision of water and sewer to the residents of the town is now complete.

A year ago, the system was extended under the streets of North Beach to link the Anne Arundel County communities of Rosehaven and Holland Point to the treatment plant in Chesapeake Beach.


---
Q How about parking? You're a small little town with a huge resource everybody wants. Where are you going to put all the cars of people coming to your beach, cultural center, inn?

A We've introduced a municipal parking plan. We have some town lots now, and the old Tan's Motorcycles will be a municipal lot.


---
Growing Smart

Maryland has become one of the nation's leaders in Smart Growth. Under Gov. Parris Glendening, plans for development and public money have directed growth away from our remaining open spaces into areas where infrastructure is already in place.

In 1997, at the beginning of his Smart Growth campaign, Glendening visited North Beach with a pocketful of money for loans to businesses, among them Tan's cycles and Richard's Bayside Florist.


---
Q Altogether, North Beach looks like a pretty smart place.

A I'm very much a supporter of the governor's Smart Growth concept, and I think there's no place it works better than right here in North Beach where we have the infrastructure, the water and the sewers.


---
Q One of the smart things about North Beach is that it's a walking town. People promenade along the boardwalk at all hours. What about walking in the rest of the town?

A I want to preserve the ability of the residents to walk around town — and to walk safely. To feel that they can go out at night, and walk from, say, Dayton Avenue down to the Tastee Freeze [one of the town's newest and most popular businesses]. Or walk from the new senior apartment building over to what will be the new Calvert County Senior Center.

In the older part of town, roads have been neglected for decades while town attention focused on the waterfront. That will change this year.

We went to the bond market last month and borrowed a million dollars. We've applied to the state Community Development Block program for an additional $25 million. We can rebuild sidewalks, add sidewalks and make the necessary base repairs and overlay all of the badly deteriorating road surfaces in town.

Our first priority is replacing old sidewalks that are crumbling and unsafe to walk on. We've identified a couple areas where we anticipate increased pedestrian traffic, and in those areas there will be sidewalk construction. We want to connect the town with the waterfront.

Another sidewalk will go up Bay Avenue from the waterfront to the old public works plant, where we plan to construct the Greater North Beach Area Historical Museum and Nature Center.


---
The Public Realm

Successful communities plan for civic needs. North Beach shines with beach and Bay fishing, but it lost its library to sister Chesapeake Beach and its community center is pretty small.

Q You've told us about some dreams. What's coming up in the near future in the public realm?

A We're starting with the beach, because sand washes away. This summer we'll be expanding it back to something of its original size with additional sand brought in.

But there's no point in replenishing the beach unless it's protected. So we're proposing stone breakwaters, similar to the ones at the bridge at Cambridge, to protect the beach. We will be doing the engineering in the next two months.

Just last month, we dedicated our welcome center, with new modern restrooms instead of our old jiffy-johns. There, too, is a substation for Calvert County deputies and our beach patrol, who create a feeling of security down here. One area will be a visitor information center, and I've approached Calvert County about staffing it as a county information center.


---
Q Is your plan all by land, or have you made room for boaters?

A We plan to put in a limited number of transient slips at our fishing pier. It will not be a marina, but we would like boaters in boats anywhere from 18 to 26, 28 feet to be able to dock and come in and enjoy the beach or come up here and buy something — spend something.

---
Q North Beach will be a better place to play. But what about the basic services?

A For the first time, we'll have quality health care — not only to the town but the surrounding region. Right next door to City Hall, on Chesapeake Avenue, Calvert Memorial Medical Center will be establishing a community health center. It will offer wellness, referrals, testing, counseling. The town will build and own the building and lease it to the hospital.


---
Respect for the Environment

Q North Beach is not only a beautiful area, it's a critical area. What are you doing to protect your environment from being loved to death?

A The greater North Beach area from Herrington Harbour down through Chesapeake Beach is a very rich area in terms of its environmental resources. My special project is the North Beach Nature Center and Historic Museum at the northwest end of town in the old public works plant. I envision it as a study center for this region, giving tributary teams and watershed task forces a place where they can headquarter. Where children and adults can come and learn as they walk along this trail.

It's on this beautiful point of land that to the east has a view of the Bay and of what should be a thriving and healthy wetlands — but is not.

That wetlands is dying. We've got 440 acres being fed by that one clogged artery under the bridge you cross entering North Beach Park [on Rt. 261]. We're working with the Department of Transportation to replace the culverts under the bridge and perhaps to bore under in different locations to create more feeders and greater exchange so you get some tidal and brackish environment.

If our center is to have credibility and be an attractive destination, we need to show what is happening to the environment around and what we're doing to restore it.


---
Q What will it look like?

A Its location is what is so special.

To the north would be the nature and bicycle trail, which I'm working on another tack, to link the two communities of Rosehaven and North Beach. I have been to U.S. Fish and Wildlife Services, to the Army Corps of Engineers, to Maryland Department of Natural Resources to develop the trail. Permits will be required because the mile trail will be crossing a little bit of wetlands as it goes through the woods above Rt. 261, which is not a safe route to walk or bicycle. The trail will be asphalt paved and run almost a mile.

A sidewalk will connect this center with our other visitor's center on the beach.


---
Q And what will you have there? Will it be like Battle Creek or Jug Bay?

A No, we're going to do something different. We don't need another typical nature center or museum. Educator Joanne Roberts and Wayne Clark, head of Museum Services for the state, are working with me to develop a mission that makes this unique. We want to marry the history of this town, which is tied to its location on the Bay, and the environment. We want to interpret that marriage and show how for the next 100 years we can continue to thrive and grow in this community in a way that sustains the environment.

Planning and building techniques, for instance. One thought is a Green Building and next to it a model home showing all the technology and material available to build in the most environmentally sustainable and friendly way. So people could come and see how to do it.

We'll have a trail connecting this to areas in town, and maybe there people walking through would see how a particular concept or material has been used in this small town where we are building in a way friendly to the environment. That's one of the ways of thinking.


---
A Special Place

Q What is North Beach celebrating on its centennial?

A Our town's past. It's been a very popular resort area that has suffered through some downturns in its economic well-being. The colorful and eclectic nature of this town is part of what makes it what it is, and we're proud of that past.

While we celebrate that, I think most people are celebrating this rebirth that we all feel and that makes the residents very proud of their town. It's desirable and attractive, not a place to leave and run away from.


---
Q Do you need a slogan? At 100 years old, is North Beach becoming Chesapeake Country's first 21st century small town.

A It's being born at this very moment.


---
See Good Bay Times for May events celebrating North Beach at 100.
---
Meet the Mayor


When we spoke with Mayor Mark Frazer in his Town Hall offices, he'd looked properly mayoral in gray hair and beard, a pressed blue work shirt and his Mayor's cap, purchased in a tourist shop in New Orleans.

Frazer's first words addressed the notion that he moved to North Beach to become mayor. Not so, he said. Living a bit away from the water in Chesapeake Beach had made him hungry for waterfront. His Atlantic Avenue home was, he said, his first chance to get on the water. He and Mary Mattingly have lived there since April, 1997.

"You fall in love with something like that right away. Small houses on small lots: People living close together: This is how I grew up in Washington, D.C. I'm very comfortable in a densely populated neighborhood.

"It was almost kismet, but it could as easily have been Chesapeake Beach."

Frazer beat former mayor Dan Hartley in a hot race, after serving two terms as a Calvert County commissioner and four years on Calvert County's Republican Central Committee "building the party in the county."

Frazer had lived in Calvert since 1969, arriving as a young dentist to share a practice with the only other dentist in the county of 8,000 people. During his time as a commissioner, the county took the first steps to managing sudden rapid development. It levyed impact fees on new construction and imposed adequate public facilities fees, which tied recording of new subdivisions to available classroom space and adequate roads.

Since becoming mayor of North Beach, Frazer has returned to the Democratic party of his youth. He still works as a dentist, moonlighting as mayor of a small town because of the appeal of public service and, says he, "being able to implement a vision."

"It just so happens that both Calvert County and North Beach were in need of individuals who could lead during a period of growth and at the same time bring the people along. I'm challenged by that."
---
Copyright 2000
Bay Weekly