Maryland's Minister of History
Greg Stiverson Wants You to Know All About Maryland — And Love It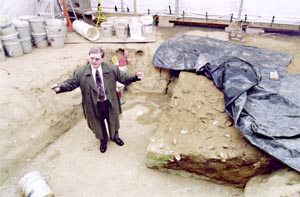 by Mary Catherine Ball
photo by Scott Dine
Working in the past, London Town Foundation director Greg Stiverson amid an excavation site at Historic London Town.
Driving along the Beltway, with car after car between me and the University of Maryland, I cursed traffic and the three-hour boring Maryland history class looming ahead.

But when Greg Stiverson strolled through the door in his designer suit with suspenders and loafers, he did not look like any professor I'd ever seen. Then he spoke.

Story after story rolled off his tongue as he strolled across the room, both hands taking off from his sides. A chuckle might escape when he paused for a breath.

By the second evening, I arrived early. During break, I didn't move from my seat. I was afraid I'd miss a word.

The rest is history.
---
Past

History is nothing new to Greg Stiverson. Each morning, Stiverson drives from Annapolis into the 18th century at Historic London Town and Gardens. As director of the London Town Foundation, Stiverson works in the past, lives in the present and plans for the future.

The 18th century London Town he sees is a little different from the one I first visited as an 11-year-old Girl Scout. Ever since, I've thought of London Town as the William Brown House. Don't you?

photo by Mary Catherine Ball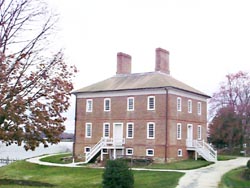 The William Brown House, sole survivor from 18th-century London Town.
We're underestimating the place, says Stiverson.

The sole surviving building of the hard-scrabble village of London Town is its grand exception. During the 18th century, most of the white inhabitants arriving in the port of London stepped on American soil as bonded servants.

"A lot came over in bondage as convicts," says Stiverson of the people who settled the village that, two and one-half centuries later, has come under his care. "You think of England sending its convicts to Australia, but the only reason they sent them there was that we won the Revolutionary War. Prior to that they sent them all over here.

"These early Marylanders lived in cramped quarters, in post-in-the-hole buildings that swayed and shook during the harsh winter nights."

The Brown House was London Town's first great American success story. A carpenter, cabinetmaker, ferryman and innkeeper, Brown settled in what was one of Anne Arundel County's few towns during the 1700s. In a tobacco port bustling with sailors and merchants, local planters, slaves, small farmers and a variety of artisans, Brown built himself a stately brick mansion. But the ambitious contractor spent beyond his means and fell on hard times.

Brown's personal hard times were shared by London Town. Removed from the list of tobacco trade powerhouses after the Revolutionary War, the town died.

Over the years, Brown's brick mansion survived. Not without its own hard times. In our century, it served as the Anne Arundel County almshouse until 1965.

Then, a group of local volunteers pushed for the house to become an historic spot. Their success made first the London Town Publik House, as it was called, and then the garden the only London Town most 20th century Marylanders knew.

Only a few years ago was the county-owned lost town 'discovered.' In 1993, the county established the London Town Foundation to oversee the 23-acre grounds and gardens. In 1995, county archaeologist Al Luckenbach created The Lost Towns Project to explore London and other of Anne Arundel County's ancient town sites. In four years, Luckenbach's team of archaeologists, historians and volunteers have unearthed remains of buildings and thousands of artifacts at London. Some of the objects and one of the buildings, Rumney's Tavern, date to the late 1600s, a time when Annapolis was a hamlet and London the county seat.

"Most of what we know about the people and places comes from archaeology," explains Lost Towns archaeologist Jim Gibbs. "No maps of Anne Arundel's early towns survive, and the written record provides few details." Yet today, we know quite a bit about life in London Town.

The hole that was Rumney's Tavern sits under a tarp, protected from wind and rain. Each time Stiverson enters the dig, he marvels over a new discovery: perhaps a "smokable pipe" embedded in the earth, or gigantic oyster shells or the jaws of critters. It's so full of history because of all the trash abandoned there. In each new layer that is uncovered, a little more history comes to life.

With a new life, a new name and Stiverson as director, Historic London Town and Gardens has big plans for the 21st century.


Present

Greg Stiverson is a man of our times. He's made a business of history for three decades, including 20 years at Maryland State Archives after a stint at Colonial Williamsburg Foundation. He's served on the boards of most of Chesapeake Country's historic homes and celebrations and many of its arts organizations. He's spoken as the voice of the unsurpassed master of personal politics, Mr. Maryland, comptroller Louis Goldstein.

But Stiverson just can't stay put in his century. The past and its people keep calling him back.

"I always used my time with Louis Goldstein to learn from him," Stiverson says, recalling Goldstein's love and knowledge of Maryland.

Goldstein was not Stiverson's only bridge to the past. Back in 1776, Maryland was the only state that did not kick out its last proprietary governor. Two hundred years later, Robert Eden's descendant Lord Avon — Anthony Eden, former prime minister of Britain and son-in-law of Winston Churchill — sent thanks to the state that had befriended his ancestor. Stiverson spent four months in daily talks with Lord Avon, who was taping a message for Maryland.

Stiverson, a Washington state native, has even found Maryland roots of his own. His uncle Paul Englar has lived 105 years of Maryland history. Through this living legend, Stiverson spent an afternoon with former mayor and governor Theodore McKeldin, "a leader during a time of racial change."

Stiverson's passion is to discover the human hand in history. He looks past facts into facts of life. Consider with him George Washington, whom he calls "a person with no personality."

"I don't think he laughed after 40, carrying the burden of the world on his shoulders.

"The man was a misfit," Stiverson says. "He had these teeny, weeny little feet on this 6-foot 10-inch frame and these huge hands, bigger hands than anyone had ever seen. Yet he was always thinking how he could make a contribution — not just as president, not just as general of the army. He wanted to increase the fleece weight on sheep so we could have a wool industry. This is the father of our country in a whole different way."

History for Stiverson — as lucky students learn one semester each year at University of Maryland University College — is stories.

"I think too many professional historians have forgotten what history always was, and that is stories," says Stiverson. "Look past the veneer of history: the dates, the times, the places. Pull things out that people can relate to. Otherwise you're awash in facts and figures. There is no way history can be interesting if it doesn't ring true to your life."

Now Historic London Town and Gardens is Stiverson's story. It's one so fascinating that he throbs with its dramatic power.

"Here," he says, seizing me by the eyes, "we can tell a much bigger story with connections to every man. That is a story that isn't told very often."


Future

Stiverson plans to tell that story to anyone who comes in range. He'll make sure you listen.

"One of my sources of endless frustrations about Maryland history is what a lousy job we do of teaching ourselves — let alone our visitors. I can bring a level of expertise and knowledge to this site that can help it develop in ways that may not have been explored," Stiverson says.

In other words, he has a plan. In fact, a masterplan.

"Now, if you come into Annapolis, you will not find anything out about the history of the region, the tobacco trade and the port towns that are eight miles away. If you come to London Town you're not going to find out anything about Annapolis or the provincial capitol. We really need to, as a group of historic sites, broaden the interpretive picture that we present to people," Stiverson says.

"I hope that Historic London Town and Gardens will become a major anchor in the new Annapolis-London Town-South County heritage."

In itself as in its region, London Town is about to thrive again.

You'll walk into the town, passing by post-in-the-hole buildings standing post for post in the old footprints. That's after you've helped erect London's new old houses. If you help, you'll be invited to stay over.

"When you sleep in the buildings at night, with the wind howling through, you'll have a new appreciation for the people of the 18th century," Stiverson says.

Activity will flow into the William Brown House, which Stiverson wants to be part of everyday history not set aside "as a sacred artifact."

And what will that bring to your life?

"You could in 15 minutes tell people about a century's worth of development just by having those reconstructed buildings and remains," Stiverson says.

London Town lived and died by the water, but today the South River seems just another pretty vista. In the masterplan, the boardwalk will be rebuilt to link land to water.

But before you see any of that, you'll get to know what you're looking at. At London Town, Anne Arundel County will — in the next couple of years — finally have a historical museum. In its interactive exhibits, artifacts and three-dimensional archaeology simulations, you'll get your hands on history.

"I dread going to museums where I can only look," says Stiverson. "I want to pick things up, to touch history."

You'll have to look hard to find it. The museum will be hidden in a disused three-story deep wastewater treatment plant, with nothing showing above ground. Good thing it's there, Stiverson explains, for to break ground somewhere on the site would be destroying history.

History is dead near the wastewater treatment plant. "Artifacts have been hauled out of there by the dumptruck load," Stiverson laughs, ruefully.

A new entrance is also proposed. If it's built, a new access road would bring cars in from the back of the existing lot, so the vista would be a surprise.

A few — but just a few — parking spaces will be added to keep the number of visitors manageable. There'll only be three bus spaces, one more than at present. Schoolchildren make up the majority of visitors in fall and spring, though tourists arrive in the summer.

London Town is, after all, the end of the road for the congested community of Londontowne.

"You could get 200,000 people down here, but you still just have 23 acres. You could clear timber out there and park more people, but what are you going to do with them? I would much rather have a few more visitors and give them a better educational experience," Stiverson says.

Not all who've held his position before him have agreed. A few years ago, London Town was envisioned as the Willliamsburg of Anne Arundel County, planned to draw hundreds of thousands of visitors.

Londontowne property owners were horrified. Even when plans were scaled down to the community's size, many opposed the changes, believing they'd get the short end of the stick. Stiverson has worked hard to change their minds.

"The problem was a lack of communication between us and them," Stiverson says. "There is absolutely nothing for this place to gain by not being good neighbors. If we work together, the community sees us as an asset and we can look to the neighborhood as people who consider us an asset."

At the new Historic London Town and Garden, Stiverson hopes to infect many more people with his love for history.

"In class, I can teach maybe 25 of you a year, but down here I can catch 24,000 a year," he says.

Nobody who comes near London Town will be able to escape history if Stiverson gets his way. "We have 8,000 or 9,000 people here each year for weddings. They are a captive audience, and we don't do anything to teach these people about this area. At least we can reach the bride and groom. We get them nine months ahead of time and they want to know about this special place they've chosen for their wedding."

Of course, not all of those bright plans are paid for, yet. The county refused to provide the last piece of funding needed to begin construction. With $1.5 million on reserve, the foundation can pay for its plans but not its bricks and mortar. To "plop the museum in the hole," they'll have to come up with $3.4 million.

But Stiverson is not letting it get him down.

"If I was not enthused about the potential of what I can do to make this place better, then I wouldn't be here. One always wants to hope that their life has not been wasted. With a history degree, you're not going to be curing any diseases, you're not going to be building anything to live in, you're not going to be doing anything useful. You want to make a contribution.

"I hope I can in my own small world make a difference to people who visit here, not only teaching them about the past but passing on my enthusiasm for history."

That's an enthusiasm it was easy for this student to catch in Greg Stiverson's University of Maryland classroom.

---
The Historic Gardens of London Town
In early Maryland, you hung onto your garden for dear life
by Christy Grimes

photo by Christy Grimes
Mollie Ridout hopes to find the cures to what ails you, but with a colonial-herbal twist, at London Town's Richard Hill Garden of Me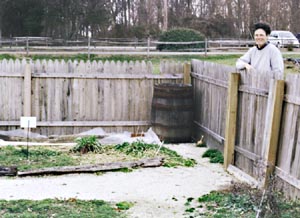 dicinal Plants.

Next time your migraines kick in, try packing yarrow leaves up your nose. That's how colonial settlers at London Town handled the problem. And when you cut yourself shaving, slap on a little yarrow to stanch the bleeding. You can also use it to dye your socks yellow or even gray-green.

Yarrow is one of over two dozen medicinal plants the London Town staff has collected for their Richard Hill Garden of Medicinal Plants.

The medicinal garden is a semicircle of small plots on a hillside next to the stately William Brown House. There, London Town horticulturist Mollie Ridout and her staff of volunteers grow herbs purported to cure everything from acne to clinical depression. Some are traditional plants — horehound, fennel, tansy and mints — that emigrated with European settlers. Others are local woodland plants settlers discovered themselves or learned about from Indians. Among such natives are turtlehead, said to cure a spectrum of ills including jaundice and hemorrhoids, and big blue lobelia.
"The scientific name for that one is Lobelius syphilitica" notes Ridout, "So you can guess what that one's for."

One plot is devoted to plants Hill himself wrote about. "We have some of his letters," says Ridout. "He was corresponding with people in Europe connected with Linneus, who is basically the father of modern botany." European interest in North American plants was "huge" in the 18th century.

Hill — a London Town resident, shipowner and merchant in the early 1700s — also practiced medicine on the side. Medical practice in those days meant checking into the curative properties of plants. Mentioned in Hill's letters are quinsy, a sea holly now known as rattlesnake master, which Hill found "very serviceable in Inflammations of the Throat and in some Hard Tumors."

The Richard Hill Garden is one of several cultivated at London Town. Director Greg Stiverson offers the larger picture: "As we reconstruct the buildings out here, we'll want to have kitchen and herb gardens, gardens that typically would be found by residences here in London Town."

Satisfying Colonial Tastes

The Anne Lambeth Kitchen Colonial Kitchen and Herb Garden is laid out in the same four-square pattern traditional for 18th century gardens.

Oyster shells, which would have been readily available as kitchen refuse, line the garden paths. A paling fence encloses the garden to keep out animals.

"I'd like to get an authentic paling fence built," says Ridout. "Our fence comes from Hechingers."

In a 1749 edition of the Maryland Gazette, Ridout found an ad posted by St. Anne's Church seeking to have a paling fence built around their kitchen garden. "This ad was quite specific about how the fence needed to be built," said Ridout, who hopes to apply the same specs to London Town'
s own paling fences.

Looking through back issues of the Maryland Gazette is part of Ridout's historical research, conducted in the quiet months, gardenwise, of January and February. "Right now I'm trying to track down what people were likely to have grown themselves and what they bought," she says. "I was hoping to find ads for seeds for sale."

Ridout and her volunteers grow native vegetables such as beans and squash in the Lambeth garden, along with some unusual salad greens. "A colonial salad would consist of about 20 different greens," Ridout says.

What's a body to do with all this fresh produce? Have lunch, says director Stiverson, waving a volume of colonial recipes. "The challenge of growing this stuff and making it work in a recipe is one sure way to keep the volunteers interested."

Archaeologists uncovering the lost city dug up further clues to typical London Town cuisine: "One of the archaeologists just came in here with the jaw bone from a drum fish," Stiverson reports. "Weirdest looking thing I've ever seen. They've also found calf heads and boar heads cut in half." Stiverson found recipes with instructions on halving cow heads and stuffing them for table presentation: "So that's exactly what they were doing."

Stiverson doesn't plan to serve bovine heads — but will include the archaeologists' finds in an exhibit showing what London Towners ate.

They ate a lot of apples, so along with the museum, Stiverson and Ridout have started a colonial orchard. "Mollie is growing eight or nine historically documentable 17th and 18th century apple varieties," Stiverson says.

These include Pippins, a brownish apple popular in colonial days for applesauce, compote and snacking. "They don't sell well in supermarkets where people like apples that are shiny and red, but they are really delicious," Ridout says. Other apples include Pitmastin Pineapple, reputed to actually taste like a pineapple; the yellow Calville de Blanc, an ancient French variety; and the deep red Gilly Flower, distinguished by its narrow shape.

Ridout got her antique apples from backyard fruit growers who seek out old apple types or from families who have been preserving old apple trees for generations.

To these fine varieties, Ridout has added three from the most-celebrated tree planter of all time, John Chapman, better known as Johnny Appleseed. Chapman did his planting in the early 19th century, so his Rambo apples are not colonial varieties. Still, "It's something kids can get interested in," says Ridout. "It makes a good story."

Adds Stiverson: "The colonial breeds might not ring any bells with the kids, but they all know Johnny Appleseed."

More than a lunchtime snack, for the colonist apples were key to self-reliance. "The first thing people did when they settled land — even before building a house — was plant orchards," says Ridout. "Johnny Appleseed was on the front edge of that movement." A movement with a colonial precedent, as Ridout discovered. "Reading the Maryland Gazette, I noticed almost every piece of property for sale is advertised as having an apple orchard."

On your next visit to London Town you may marvel at this work in progress or even volunteer in the historical or woodland gardens. But what about your own homestead?

Take home your own piece of London Town in the form of a potted plant. April 29 from 9:30am to1pm London Town holds their annual plant sale, with a wide variety of native, exotic and wooding plants. "We offer plants people can't readily get," says Stiverson. Helpful volunteers will be on hand to explain all plants and their care and to offer free London Town garden tours.
---
Copyright 2000
Bay Weekly