By Christopher Heagy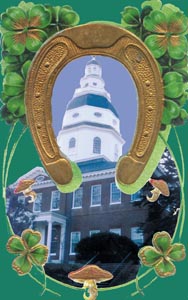 In 15 recent months, three Irish pubs have opened within easy walking distance of one another in the heart of Annapolis. Is Irish the latest craze of a nation wild about theme parks? Or are Irish eyes smiling on Annapolis?

It was my last night in Dublin. I had a 7am flight back to the states and only one more evening of carousing to get through. We picked up a few 16-ounce cans of Budweiser, yes Budweiser, and went to an apartment at Trinity College. Just after 11pm, we left and headed to a party at the boat house of the Trinity College rowing team.


The night flew by. Before I looked at the clock, it was 2:30am and only Hugh, my Irish friend, was left at the party. We decided to call it a night, but there was just one problem. We lost our ride home.


Hugh convinced me that we could cut through Phoenix Park and be at his house in 30 minutes. I was drunk enough to believe him, so we headed out into the Dublin night.


By 4:30am, we'd been stumbling around the park for two hours, slogging through calf-high wet grass on a warm morning in late October. We told stories, sang songs and sipped on a few left-over 16-ounce cans of Budweiser, yes, Budweiser. But we were no closer to Hugh's house.


I'd had enough.


"Hugh," I said. "Why don't we walk toward those bright lights? It's probably by a road. We'll catch a cab and be home in a few minutes."


Hugh agreed and we started toward the bright lights, lights that seemed so far away, with a new sense of purpose. When we got closer, Hugh recognized where we were. The bright lights surrounded the U.S. Embassy in Dublin.


I don't know if it was patriotism or foolishness or drunkenness or stupidity, but I chanted U-S-A and started running toward the embassy.


And now my Irish adventure took a turn for the worse.


The embassy was surrounded by a stone wall. Just before the wall was a sharp decline. So here I was, chanting U-S-A, running toward the embassy, on wet grass, when I slipped down the hill and bounced head first off the stone wall.


Hugh picked me up and got me to my feet. Later he said I was dazed but laughing about the whole thing. We followed the stone wall around the corner to the street, where we were surrounded by four Irish police cars.


Hillary Clinton was staying at the Irish embassy. The police saw two guys with a backpack running toward the embassy wall and thought the worst.


We spent the next 20 minutes in the back of a police car. The police realized that one of the drunken idiots was bleeding from his head: drunk, dazed, groggy and bleeding, I was taken to a Dublin hospital. I woke up 18 hours later with five stitches, a stiff neck and a ticket for a plane that had taken off two days prior. My bags were searched and I was interrogated in the hospital before the truth came to light: We were stumbling thorough Phoenix Park looking for the way home.


The night in Phoenix Park was the story of my trip to Ireland, the one tale you take back and tell your friends to prove you did something.


But while in Ireland I spent some time in the pubs. Most were small dark rooms with cold walls and dark wood tables. The liquor bottles hung upside down behind the bar, the magic lever pushed, the glass filled with booze, coke and maybe two or three ice cubes.


I remember short half-stools and bending my knees under small tables in the back corners. I remember cheese sandwiches, chips, thinking that the Guinness was just a little bit colder than I had imagined and the brown stains that spills left on your clothes.


Finally, I remember spending an afternoon at a pub in Cork. At about 12:30pm, after three or four pints, Hugh jumped onto a stool and started singing Oasis at the top of his lungs — "Maybe I don't really want to know, how your garden grows..." — and the barman had a look like this was the most natural thing in the world.



Land of the Theme Park


America is the land of the theme park. We don't much care about reality, but we love our fact-based fantasy. We go to Las Vegas to gamble at New York, New York. We drive to Virginia to arrive at Bush Gardens in time for our German Oktoberfest. We might make a turn back to colonial times at Williamsburg. At Magic Kingdom in Florida, you can be around the world and back within a few minutes at Epcot Center.


But the catch is, we don't want to see dirt. We want our fun to be clean. We want to gamble, but we don't want to see the addictions, the alcohol, the loan sharks and the broken dreams that go with it. We want to go back in a past with running water and public restrooms. Our Europe, Asia, Africa, can't have crumbling buildings, sagging architecture or trash. We want our Magic Kingdom swept clean each night, with trash cans every 27 feet so we don't have to carry things too far.

Irish in Annapolis


When I started this article I thought Irish bars were just another borrowed theme. Annapolis had no authentic Irish bars when I moved here in 1998. Yet in the last two years, three have opened. Why would a town of 35,000 people need three Irish bars?


Easy, I thought. We wanted the mythical charms of Ireland without the smoke, or the alcohol or the history. I guess I was in a bad mood. I was ready to rip into the shallowness of the whole thing.


Then something funny happened. I talked with the owners of Castlebay, Galway Bay and Sean Donlon and I realized how wrong I was. These bars aren't miniature theme parks. Three unconnected Irishmen were drawn here for strikingly similar reasons. They each wanted to open a pub because that is what they knew — and what they missed from home. They chose Annapolis because this is where they wanted to be. Their timing? Coincidental — unless you believe that once an idea's in the air, it's catching.


Why, I asked Michael Galway, owner of Galway Bay, are there three Irish bars in our city? In a dark bar on a warm March day, he winked at me and said in a soft voice, with a slight accent:


"So, you want to know how Annapolis got so lucky?"

Castlebay


Let's start this story on the busiest street in Annapol
is, Main Street, with Castlebay, opened in October of 1998: The first of the "blessed trinity," as owner Vincent Quinlan calls the three Irish pubs of Annapolis. Open the door and walk into a single, dimly lit room with dark mahogany tables and a deep red oak floor. Stroll back to the bar and join a man sipping on a small glass of ale as his story unfolds.

The story of Castlebay doesn't start in Annapolis; it starts in New York. There Quinlan spent his days working for a real estate investment company and his nights as a musician — but not the kind you might think.

"I started out as a blues and jazz musician," Quinlan says. "I didn't know any Irish songs. People heard my accent and wouldn't believe I was Irish. Over the years I learned all the Irish songs and really enjoy them."

A few years ago, Quinlan realized that New York was no place for a dog and was a tough place to raise a family. Family commitments had moved up the ladder of priorities.

Quinlan and his family moved to Virginia. He found Annapolis the same way so many other people do: He had a friend with a boat.

"I had a friend who docked his boat on Kent Island," Quinlan recalls. "We'd come into Annapolis and walk around the city. Annapolis is a quiet city. It reminds me of parts of Galway. The English-influenced architecture reminds me of home."

Quinlan decided the time was right to bring Annapolis a taste of Ireland.

"I told my friend I was going to open an Irish bar in Annapolis in seven months, and I did," Quinlan says without boast. "He laughed at me, but I started construction on the property in May of 1998. We opened in October."

Galway Bay

While working on his Main Street pub, Quinlan found out he wouldn't be lonely.

"The summer before I opened, all of a sudden I'm walking dow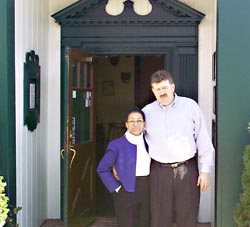 n Main Street and I run into Michael Galway, a friend from Virginia," Quinlan recalls. "I asked him. 'What are you doing here?' He says, 'Opening an Irish restaurant.'"

Our story continues on one of the oldest streets in Annapolis. Just off State Circle, a few paces down a bumpy cobblestone road with narrow sidewalks and low buildings, sits Galway Bay.

Walk to the end of the bar and pull up a stool next to a big man with a neat mustache. He's picking at a fruit salad as his story unfolds.

Galway grew up in Kilkenny in southeast Ireland, "where it rains most of the year and everybody tends to drink." But this story quickly jumps to the United States.

Michael Galway's journey to Annapolis begins in 1986, in the kitchen of the Power Court, an Irish fine-dining restaurant on Capital Hill. Galway worked his way through the Power Court. From dishwasher, to busser, to waiter to bartender, he did it all.

Galway then spent five years as a manager of Ireland's Four Provinces, a restaurant in Alexandria. In 1997, a second Four Provinces opened in Falls Church with Galway as part owner. But then it was time to move on.

"Annapolis is a nice town," says Galway. "It reminds me of Ireland, with the old buildings and the narrow streets. It's a very friendly town. In Alexandria no one would say hello. I just felt the quality of life was better here. It's cleaner and safer, a better place for a family."

And so in July of 1998, Galway took over the Maryland Avenue building that housed the legendary Little Campus Inn. On December 10, 1998 a second Irish restaurant joined the "O'nnapolis" scene.

Sean Donlon

Castlebay and Galway Bay opened within two mon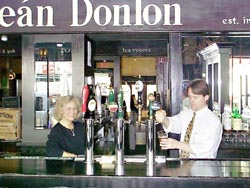 ths of each other. We would have to wait a year for the blessed trinity to be complete.

Walk around Church Circle and down West Street, maybe a half a block. Duck under the black awning welcoming you to Sean Donlon. Make a quick right and slide onto a chair tucked away in the corner of a private nook. Ted Joyce, the man with black hair peppered with gray, puts one leg on a bench and tells his story.

Joyce talks about a nine-year courtship with Annapolis, about family in Baltimore that introduced him and his wife, Ona, to Annapolis. He talks about what they like about the city.

"Annapolis has a character similar to Dublin," Joyce says. "Narrow streets, buildings right on top of the side walks. Both are cities where you don't need a car. You can walk everywhere. We were taken with the architecture, the history, the charm of the city."

In 1997, the Joyces moved their family to Annapolis.

"Six months after arriving in Annapolis we realized that West Street would be a great area to start a pub," Ona Joyce recalls.

And so the plans were laid.

But before Sean Donlon — which Joyce named after a friend and former Irish ambassador to the U.S. — opens, let's jump across the Atlantic Ocean, back to Ireland and back in time. There Ona Joyce managed a large pub and restaurant. Ted Joyce, an architect, designed buildings — even a few Irish pubs. They'd done their homework.

"When I designed pubs in Ireland, I always designed the pub from the eyes of the customer," Joyce says. "I always wanted to make sure the customers feel comfortable and secure and no one is glaring at them as they walk in the door. I try to create a relaxed atmosphere where there is privacy."

And now we return to Annapolis in December, 1999, to wander through Sean Donlon, turning corners and searching through sectioned rooms with tucked-away tables that give Donlon the intimacy and comfort Joyce intended.

Now There Are Three
And now there are three.

Three men came to Annapolis and decided to open Irish pubs. They each reached a similar place in their lives, and their lives intersected in Annapolis. Maybe the time was just right for Quinlan, Galway and Joyce. Maybe, as an Irishman might say, God was smiling on Annapolis.

Is Annapolis big enough to sustain three Irish pubs? Do their owners worry about Irishing O'nnapolis out?

"When I opened this restaurant, I didn't think, 'I'm going to compete with two other Irish bars'," says Galway. "I thought about all the other restaurants that were in Annapolis. The more competition there is, the better everyone is. Sure we have similar themes, but almost every bar has Guinness now. Right now there is no animosity. Everyone is happy. We're all trying to make a living and pay the bills."

The owners of Castlebay and Sean Donlon agree that the three Irish bars help each other.

"It's positive," says Quinlan. "Next to every McDonald's, you see a Burger King or a Wendy's. The three of us can attract more customers than any one of us could on our own. We're all authentic but all different in our own right."

Joyce echoes that sentiment:

"Three Irish pubs helps me. I like the variety. I want more. Each pub projects a different atmosphere."

Authentic in O'nnapolis

Atmosphere is what each pub is trying to build now. Character and personality are not created overnight. They've got to develop slowly over the years.

"Every pub possesses its unique cultural character which has evolved over time from its own distinctive history of multi-generational publicans, barmen, regulars, renowned characters, codes of conduct, dramatic or humorous incidents, or famous episodes of drinking or brawling," author Kevin Kearns writes in Dublin Pub Life and Lore: An Oral History.

Kearns, a retired professor of social history, interviewed publicans, barmen and customers in Dublin for his 1997 book. Not a bad job.

In Ireland the pub becomes a sort of community center for its patrons.

"There is an image of Irishness that has been built up over the years," says Galway. "There's an association with the Irish, drinking, music and good times. The pub is a very social scene."

Commentator Kearns agrees: "There is a close relationship between the pub and the drinker. The pub goers develop a strong sense of institutional identity and membership. This feeling of community solidarity is the heart of pub life."

Community solidarity just might be what's missing from America's made-to-order fantasies of life as it ought to be. You drop into a theme park, you drop out — without leaving an impression.

"Irish pubs are a place for forming friendships," Sean Donlon's Joyce tells me. "Conversation is what the Irish pub is built on. Americans are looking for a local place where they can feel comfortable, where they can talk and meet each other. People are yearning for contact with their neighbors."

That's the goal of all three of Annapolis's Irish pubs: To create this sense of community. Whether it's in Castlebay's urban contemporary brew pub, Galway Bay's rustic, country dining room or one of the small rooms in Sean Donlon's urban Victorian setting, each hopes to be a local pub for Annapolis, to create the solidarity that Irish pubs are famous for. As this identity is built, these owners hope their places will become authentic Irish pubs.

Only time will tell if the personality of an Irish pub can be created in an American town.
But if the Irish can support more than 11,000 pubs, maybe Annapolis can support three.
---
Copyright 2000
Bay Weekly